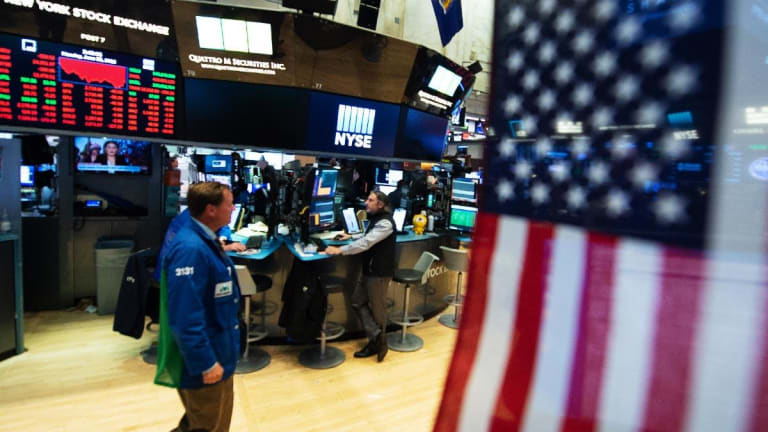 Global Stocks Grind Higher as Trade Tension Ease: U.S. GDP in Focus
With global trade tensions easing and U.S. corporate earnings continuing to impress, stocks are set to close out the week on solid footing, with gains possibly extended by a better-than-expected reading for U.S. economic growth over the second quarter.
The Friday Market Minute
Global stocks rise as trade tensions ease; U.S. Q2 GDP in focus as earnings continue to impress.
Amazon set for record high open after blasting Q2 earnings estimates and soothing FAANG concerns.
European stocks edge higher, but banks remain sluggish after ECB reiterates dovish rate path through summer 2019.
U.S. equity futures point to modest gains on Wall Street with GDP data as well as Q2 numbers from oil majors Chevron, Exxon Mobil and Phillips 66 in focus.
Market Snapshot
Global stocks edged higher Friday, with Wall Street set to cap the week with modest gains as investors take comfort from the easing of trade tensions between Washington and Brussels and focus on the underlying strength of the U.S. economy that reports suggest may have grown the most in four years last quarter.
Senate lawmakers also passed a bill last night that eliminates tariffs around 1,600 imported goods, many of them from China, in a move that suggests the White House could be urged to move beyond the headline rhetoric in its recent trade policies and take a more practical approach to solving disputes with its allies and competitors. This week's agreement on trade with the European Union, as well as comments yesterday from Treasury Secretary Steve Mnuchin that the U.S. would "negotiate with China anytime ... if they're willing to make serious changes just as the EU did yesterday" also suggested a notable easing in tensions between Washington and Beijing.
With the U.S. economy likely having grown by more than 4% over the second quarter, the best pace in nearly four years, and Amazon Inc.
(AMZN)
rescuing the FAANG complex of tech stocks with blowout quarterly earnings last night that sent shares to a record high in after-hours trading, investors are expected to use the recent momentum to build on the market's relatively solid gains through the Friday session.
Early indications from U.S. equity futures show contracts tied to the Dow Jones Industrial Average undefined are indicating a 50 point gain at the opening bell, while those linked to the S&P 500 undefined suggest a 10.1 point advance for the broader benchmark. Nasdaq Composite undefined futures are indicated 33.5 points higher. 
Amazon's after-the-bell beat topped one of the busiest days of the earnings season yesterday, which saw 74 S&P 500 companies report quarterly updates, adding to the collective strength of U.S. corporate bottom lines. So far through this period, around 87% of the companies reporting so far have topped Wall Street estimates, with forecasts still calling for overall quarterly earnings growth of around 22%, one of the best three month periods of the past decade.
Amazon Inc. (AMZN) shares are set to open at a record high Friday after global online retailer posted much-stronger-than-expected second quarter earnings and said aggressive cost-cutting and higher-margin business would deliver forecast busting profits over the summer months.
Amazon shares were marked 4% higher in pre-market trading Friday, indicating an opening bell price of $1,880.10, an all-time high that would extend the stock's year-to-date gain to around 59% and value the group at just over $910 billion.
Apple Inc. (AAPL) , the world's most-valuable company, will report its fiscal third quarter earnings on July 31. Its shares were marked 0.3% higher in pre-market trading at $194.75 each, valuing the Cupertino, Ca.based group at around $950 billion.
Twitter Inc. (TWTR) shares plunged in pre-market trading Friday after the social media group posted solid second quarter earnings and a robust outlook, but noted that changes to its content rules meant fewer people are using the microblogging website.
Twitter shares were marked 14.5% lower in pre-market trading in New York, indicating an opening bell price of $36.72 each, a move that would still leave the stock with a year-to-date gain of around 65%.
Oil majors Chevron (CVX) , Exxon Mobil (XOM) and Phillips 66 (PSX) will highlight Friday's lighter reporting calendar, with numbers also expected from Colgate-Palmolive and Merck & Co. (MRK)
European stocks were modestly stronger at the opening bell, with the region-wide Stoxx 600 index rising 0.32% by mid-day in Frankfurt as benchmarks in Germany and France traded modestly higher from last night's close as the euro drifted to 1.1645 against the dollar following yesterday's reiteration by European Central Bank President Mario Draghi that interest rates won't begin to rise until the end of next summer.
Overnight in Asia, the moderate easing of trade tensions, alongside Amazon's strong full-year signalling, helped boosted regional stocks, with the MSCI Asia ex-Japan index rising 0.3% into the close of the session. In Japan, more reports that the central bank is ready to tweak its long-running program of quantitative easing put the yen under some pressure in foreign exchange markets and helped the Nikkei 225 book a 0.56% gain by the close of trading.
Away from equities, benchmark 10-year U.S. Treasury yields rose to a five-week high of 2.973% in overnight trading as investors anticipated today's GDP reading and some of the so-called "carry trade", in which investors fund purchases of U.S. government debt through cheap Japanese yen, faded as talk of a pullback in Bank of Japan stimulus increased.
"If this high US GDP print is more luck (rather than fundamental), then we won't be surprised to see a 'buy the rumour, sell the fact' type of reaction - with the USD broadly weakening after the release," said ING economist Viraj Patel. "Plus, one shouldn't forget that a strong US consumer isn't exactly bad news for the world economy or global risk appetite."
Global oil prices eased in early New York trading, snapping a three day winning streak even as investors continue to eye developments in the Red Sea, where Saudi Arabia has suspended crude shipments amid concern for the safety of its tankers following attacks from rebel soldiers in Yemen, and a bigger-than-expected decline in U.S. crude stocks published earlier this week by the Energy Information Administration.
Brent crude contracts for September delivery, the global benchmark, were seen 23 cents lower from their Thursday close in New York and changing hands at $74.31 per barrel in early European trading. WTI contracts for the same month were marked 22 cents lower at $69.39 per barrel.