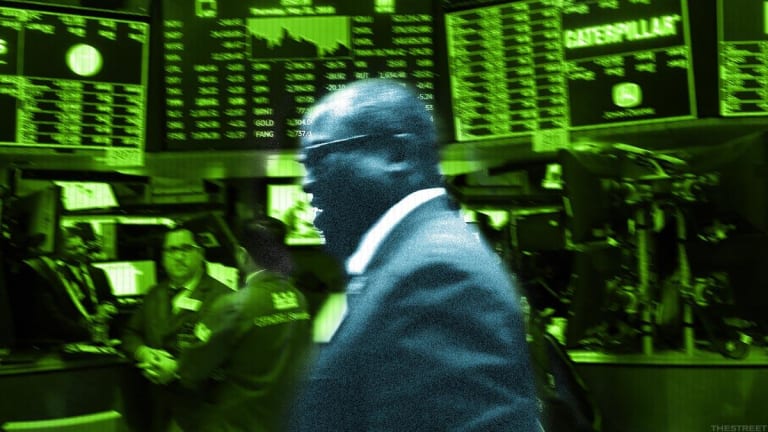 Global Stocks Get U.S Earnings Lift, But China Trade Data Lingers in Background
Global stocks added to gains Friday as investors prep for the start of the U.S. corporate earnings season, but remain cautious after data showing a record China-U.S. trade surplus.
The Friday Market Minute
Global stocks extend gains as investors prep for U.S. earnings season kick-off.
China's U.S. trade surplus rises to record high in June, adding more pressure to ongoing tension between the world's two biggest economies.
Dollar continues to gain, U.S. Treasury yields hold steady after $69 billion in new bond supply.
Oil dips as strong dollar keeps prices in check, but capacity concerns continue to support bullish tone.
U.S. equity futures suggest a stronger open on Wall Street, with a 60-point gain the Dow ahead of bank earnings from Citigroup, JPMorgan, Well Fargo and PNC Financial.
Market Snapshot
Global stocks extended gains Friday as investors prepped for the start of the U.S. corporate earnings season amid ongoing signs of a solid economic growth, although a cautious tone continues to prevail in financial markets, with the dollar leading safe-have flows following a record trade surplus between China and the United States.
China's General Administration of Customs reported trade figures that showed the country's import exceeded its overseas sales, but still found a $41.61 billion surplus with its global trading partners. It also found a record $28.97 billion gap with the U.S., a figure that is likely to be seized-upon by the White House as evidence that its attempts to slap fresh tariffs on China-made goods is even more justified.  China's U.S. trade surplus for the first half of the year rose 13.8% to $133.76 billion, Customs data indicates.
However, while markets have absorbing the 'slow-drip' of tit-for-tat tariffs between the world's two largest economies for several weeks, investors appear relieved to shift focus towards the second quarter reporting season, which is expected to be the second-strongest in eight years.
Wells Fargo (WFC) - Get Wells Fargo & Company Report , PNC Financial (PNC) - Get PNC Financial Services Group, Inc. Report , JPMorgan Chase (JPM) - Get JPMorgan Chase & Co. (JPM) Report and Citigroup (C) - Get Citigroup Inc. Report  kicked things off later today, with a host of blue chip corporates set to follow next week in a season that is expected to see S&P 500 profits rise by more than 20% from the same period last year.
Action Alerts Plus holding JPMorgan topped Street estimates with a second quarter bottom line of $2.29 per share, beating the $2.22 consensus and per share on revenues of $27.8 billion. Shares were marked 1.26% higher from their Thursday close in New York, indicating and opening bell price of closed at $108.20 each, a move that would extend its weekly gain past 4.3%.
Citigroup booked second quarter earnings of $1.63 per share, beating the $1.57 per share estimate, on revenues of 18.47 that narrowly missed the consensus forecast. Citigroup shares edged 0.15% higher to $68.62 each, a move that trims its year-to-date decline to around 7.6%
Wells Fargo was the big miss of the quarter, with earnings for the three months ending in June coming in at 98 cents per share, shy of the $1.13 estimate, on overall revenues of $21.8 billion. Wells Fargo slipped 3% in pre-market trading to $54.4 following the results, extending its year-to-date decline to 10%.
Those solid fundamentals, alongside economic data that suggests inflation is moving at a speed that is both predictable and, as a result, unlikely to change the trajectory of interest rates hikes from the U.S. Federal Reserve, mean stocks have been posting decent gains for most of the week, including last night's 224 point gain for the Dow Jones Industrial Average I:DJI . 
Contracts tied to the 30-stock average suggest investors may add 12 points at the bell, while those linked to the S&P 500 undefined are indicating a 0.26 point bump for the broader benchmark, a move that would take its week-to-date advance to just under 1%.
European stocks were also stronger at the start of trading, with the Stoxx 600 rising 0.25% on the strength of technology and auto stocks by mid-day in Frankfurt and led by 0.4% gains for markets in Germany and France. 
Asia stocks had a solid session as well, with the region-wide MSCI ex-Japan index gaining 0.3% into the close of trading while the Nikkei 225 in Japan took advantage of a weaker yen, which fell to 112.55 against the dollar, to book a 1.85% gain by the end of the session.
Away from equities, the U.S. dollar index, which benchmarks the greenback against a basket of six global currencies, was also better-bid overnight, rising 0.2% to 94.91, the highest since July 2.
Fixed income markets remained broadly stable, with benchmark 10-year U.S. Treasury yields holding at 2.856% in what could have been a testing week for bond traders, who had to take down $69 billion in new supply as part of the funding for last year's Republican-led tax cuts and navigate a tricky set of inflation data that confirmed core consumer price increases of 2.3% last month, a figure that was broadly in line with analysts' forecasts and the Fed's target rate.
In the oil market, global prices eased modestly amid both the stronger U.S. dollar and speculation that Saudi Arabia, the world's largest producer, will be able to increase capacity in order to offset supply disruptions in Norway, Venezuela and Libya, as well as the impact of U.S. sanctions on the purchase of Iranian crude.
That bet, which was underpinned by a report from the International Energy Agency earlier this week, offset concerns for falling U.S. crude stocks which dipped by 12 million barrels in the week ending July 6, putting them at 405.2 million barrels, around 4% below their five-year average.
Brent crude contracts for September delivery were marked 22 cents  lower from their Thursday close in New York and changing hands at $74.23 per barrel in early European trading. WTI contracts for August delivery were seen 8cents lower at $70.25 per barrel.