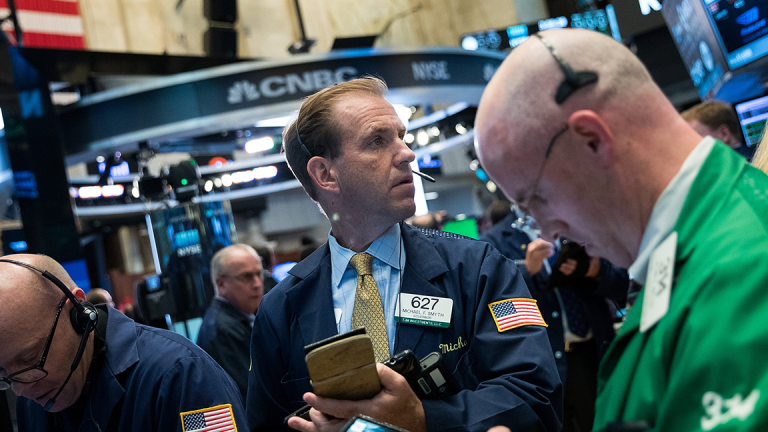 Global Stocks Reverse Gains as UK Government Plunges Into Brexit Turmoil
Global stocks traded higher Thursday, following a five consecutive session of losses on Wall Street led by declines for tech and financial shares, as investors reacted to reports of further progress in U.S. China trade talks and the first step towards clarity in Britain's long exit process from the European Union.
The Thursday Market Minute
Global stocks reverse gains, sending U.S equity futures into the red, after a key U.K. lawmaker resigns from government over Prime Minister Theresa May's Brexit deal, triggering the potential for a leadership challenge or fresh national elections.
Markets had been higher as reports of progress in U.S.-China trade talks gave investors a chance to re-enter risk markets around the world.
Shares in Asia were also supported by solid China housing data and a weaker U.S. dollar, with the MSCI benchmark rising 1.2% towards the close of trading.
European stocks were boosted by decent corporate earnings and some softening rhetoric in the Italy-EU budget debate, but slumping car sales and weak German GDP data are keeping investors cautious.
Wall Street will get a series of updates on the health of the U.S. consumer Thursday, with October retail sales data and quarterly earnings from Walmart, Nordstrom and JC Penney.
Market Snapshot
Global stocks reversed solid early-session gains Thursday after Britain's top U.K. lawmaker tasked with leading Britain's exit negotiations with the European Union  resigned, throwing the recently-agreed deal to take the U.K. out of the bloc into chaos and threatening the leadership of Prime Minister Theresa May.
Dominic Raab, the so-called Brexit Secretary, issued a statement on Twitter Thursday that indicated his inability to support May's agreement, which was reached last night among her most senior party colleagues after a five-hour meeting in which she attempted to win support for her plan to keep portions of the U.K. economy, including Northern Ireland, as closing-aligned as possible to the EU Single Market. His decision was followed by another senior cabinet departure, with Work and Pensions Secretary Esther McVey submitting her resignation to the Prime Minister.
The Stoxx Europe 600, the broadest measure of regional share prices, was marked 0.66% to the downside following Raab's move, as investors grew increasingly concerned that it could trigger either a leadership challenge or fresh elections in Europe's second-largest economy. The pound, meanwhile, plunged more than 1.85% to trade at 1.2765 against the greenback.
Even the the FTSE 100 -- whose constituents earn more than three quarters of their revenues in currencies other than the pound -- was 0.2% higher by mid-day. Britain's FTSE 250, a broader benchmark for domestically-focused U.K. stocks, was marked 1% lower following Raab's decision, as Barclays' Plc (BCS) - Get Barclays PLC Report shares slumped more than 6.8% and government-backed Royal Bank of Scotland (RBS) - Get Royal Bank of Scotland Group Plc Report shed 6.7%. 
"The government is falling apart before our eyes as for a second time the Brexit secretary has refused to back the prime minister's Brexit plan," Labour's shadow Brexit Secretary, Jon Trickett, said in a statement. "This so-called deal has unravelled before our eyes."
U.S. equity futures, which had earlier indicated a 120-pointing opening bell gain for the Dow Jones Industrial Average undefined  , now indicated a 35 point decline, while those linked to S&P 500 undefined  suggest a 1.2 point pullback for the broader benchmark, a move that would extend its five-day losing streak.
The strength of the U.S. consumer will be clearly in focus Wednesday as the Commerce Department publishes October retail sales data at 8:30 am Eastern Time while Walmart (WMT) - Get Walmart Inc. Report , Nordstrom (JWN) - Get Nordstrom Inc. Report and JP Penny (JCP) - Get J. C. Penney Company, Inc. Report will all publish quarterly updates and holiday-season forecasts before the opening bell.
JC Penney plunged after it posted disappointing same-store sales figures that highlight the retailer's struggles in a competitive market that has already pushed Sears Holdings into Chapter 11 bankruptcy despite a surge in consumer sentiment and spending.
JC Penney shares were marked 12.3% lower in pre-market trading Thursday, indicating an opening bell price of $1.07 each, the lowest on record and a move that takes the year-to-date decline to nearly 67%.
Walmart posted stronger than expected third quarter earnings Thursday and said same store sales in its key U.S. market continued to improve, helping it boost earnings guidance for its current fiscal year.
Walmart shares were marked 1.6% higher in pre-market trading following the earnings release, indicating an opening bell price of $103.18 each, a move that take its year-to-date gain to 4% and value the Bentonville, Ar.-based retail giant just over $305 billion.
Chipmakers Nvidia (NVDA) - Get NVIDIA Corporation Report and Applied Materials (AMAT) - Get Applied Materials Inc. Report will also post third quarter earnings that could provide some relief for the beaten-down tech sector, which has been hit by Apple Inc.s (AAPL) - Get Apple Inc. Report slide into bear market territory last night following another 2.8% decline that took the price of the world's biggest company to a four-month low of $186.80 each.
The Brexit turmoil snuffed out earlier optimism from reports of further progress in U.S. China trade talks and the first step towards clarity in Britain's long exit process from the European Union last night after May appeared to broker a deal with her recalcitrant colleagues. 
China has reportedly sent a written response to trade demands from the United States, Reuters reported Thursday, a move that meets a key condition set by the White House in order to take stalled negotiations to the next level, and to establish a framework for a key meeting between President Donald Trump and China's Xi Jinping later this month at the G20 Summit in Argentina. 
That report followed news last night that May had secured agreement from her cabinet on the text of Britain's withdraw agreement with the European Union, a move that allows her to take it to Parliament later this year, although there are significant doubts that she'll get enough support from lawmakers in her own party, let alone opposition members from Labour or the Scottish Nationalist Party, to pass a full Commons vote.
Still, even with major questions hanging over two key developments with respect to U.S.-China trade and Britain's Brexit fate, investors jumped at the chance to use the headlines to add to risk positions following Wall Street's five-session run to the downside, taking the MSCI Asia ex-Japan index 1% higher heading into the close of trading, with stocks in China buoyed by positive house price data, and lifting European stocks firmly into the green at the start of trading in London and Frankfurt.
Global oil prices were also on the rise Thursday after snapping a twelve-day losing streak yesterday following comments from OPEC General Secretary Mohammad Barkindo that suggested the cartel could move to extend production cuts into 2019.
Those remarks appeared to offset data from the American Petroleum Institute that showed domestic crude stockpiles rising my a more-than-expected 8.8 million barrels last week to 440.7 million barrels, a reading that following the Energy Information Administration's forecast of a near 8 million barrel per day output target for the country's shale oil producers.
However, the the pound's decline lifted the U.S. dollar index by 0.4% to 97.20, pushing crude prices lower as a result. Brent crude contracts for January delivery, the global benchmark, were seen 76 cents higher from their Wednesday close in New York and changing hands at $66.88 per barrel, trimming the decline since the October 4 peak to around 23%.
WTI contracts for December, which are more tightly liked to U.S gas prices, were marked 35 cents higher at $56.60 per barrel but still some 25% from the October 4 peak of $76.41.