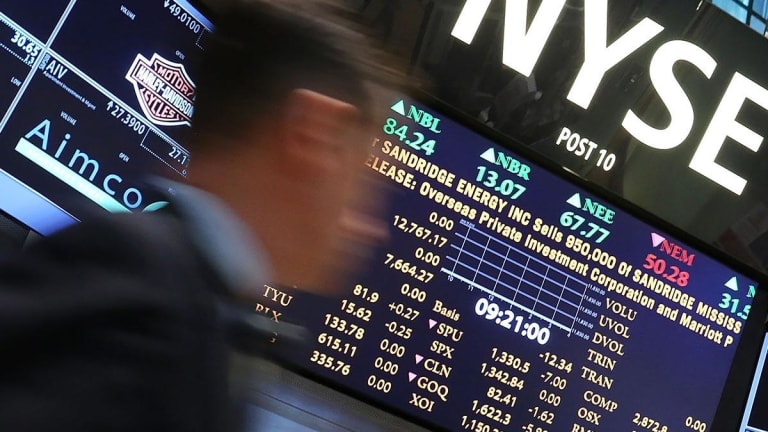 Global Stocks Mixed Amid Extended Tech Woes; BoJ Moves Boost Bond Markets
Global stocks continued to edge lower Tuesday, as tech sector weakness bled into markets in Asia following last night's sell off on Wall Street, putting even more pressure on today's third quarter earnings report from Apple at the close of trading today.
The Tuesday Market Minute
Global stocks drift lower as tech sector weakness extends from last night's sell off on Wall Streeet.
Samsung confirms its slowest quarter in a year as smartphone demand wanes.
Bank of Japan vows to keep rates "very low", but allow for "flexible" QE going forward, pushing U.S. bond yields lower.
Apple will publish its Q3 earnings after the closing bell Tuesday with investors looking for crucial second half guidance amid tech sector jitters.
Wall Street futures point to modest opening bell gains, with earnings from Proctor & Gamble and Pfizer expected before the opening bell.
Market Snapshot
Global stocks drifted lower again Tuesday as tech sector weakness continued to hold down markets in Asia, following last night's extended declines on Wall Street, and investors sifted through a key policy decision from the Bank of Japan that is likely to keep U.S. bond yields in check even as the U.S. Federal Reserve signals faster rate hikes in the months ahead.
The BoJ wrapped up its two-day policy meeting in Tokyo today with a pledge to keep rates "very low" in order to stoke long-dormant inflation in the world's third-largest economy. The Bank said it will continue to target a 10-year bond yield of around zero percent, but noted it will add some "flexibility" to the way it conducts its $720 billion in annual government bond purchases.
The decision allowed some Asia stocks to pare earlier losses, with Japan's Nikkei 225 closing little-changed on the day at 22,553.72 points, and pushed benchmark 10-year U.S. Treasury yields back down to 2.948% after testing the 3% threshold in early Monday trading. Around the region, however, the MSCI Asia ex-Japan index was marked 0.18% by the close of trading as tech sector concerns once again blunted sentiment, a view that was supported by the confirmation of weak second quarter earnings and a gloomy full year outlook from Samsung Electronics Co Ltd.  (SSNLF) . 
Samsung said it expects the smartphone business environment "to remain tough despite strong seasonality due to growing competition to offer higher specifications and lower prices" and that it hopes to "secure profitability by expanding sales of new models in each segment."
Samsung shares fell 0.54% in Seoul Tuesday, compared to a 0.05% gain for the benchmark KOSPI index, and closed at 46,200 won each, extending their year-to-date decline to around 9.5%
European stocks were little-changed at the open, despite another active session for regional earnings, with the Stoxx 600 index edging just 0.63 points into the green by mid-day in Frankfurt while benchmarks in France and Germany booked modest late-morning gains.
Action Alerts Plus holding BP plc (BP) shares were a notable early mover, however, rising 0.5% by mid-morning in London trading after the oil major boosted its dividend by 2.5% to 10.25 pence per share and posted second quarter profits of $2.8 billion thanks to a 16% year-on-year gain in global crude prices.
Early indications from U.S. equity futures, however, suggest a modest opening bell rebound on Wall Street, with contracts tied to the Dow Jones Industrial Average undefined indicating a 46 point gain and those linked to the S&P 500 undefined suggesting a 7.8 point advance for the broader benchmark.
Another busy slate of corporate earnings is expected today, amid a week in which 140 S&P 500 companies will report on the three month period ending in June, with second quarter numbers from Pfizer and Proctor & Gamble Co. (PG) coming before the bell.
Apple Inc. (AAPL) set to report its fiscal third quarter earnings after the close of trading Tuesday, with FactSet estimates suggesting the Cupertino, Calif.-based group will report Q3 EPS of $2.16 per share, a 29% increase from the same period last year, on sales of $52.3 billion.
Pfizer Inc. (PFE)  were marked modestly higher at $38.60 each in pre-market trading after the group posted stronger-than-expected second quarter earnings Tuesday and boosted its full-year profit outlook.
Pfizer said adjusted earnings for the three months ending in June came in 81 cents a share, easily topping the consensus forecast of 74 cents and rising 20.9% from the same period last year. Group revenues came in at $13.46 billion, up 4.36% from the same period last year and beating the consensus forecast of $13.33 billion.
Pfizer said it would lift its full-year earnings guidance by 5 cents, to a range of $2.95 to $3.05 per share, while at the same time lowering the mid-point of its 2018 revenue guidance by $500 million to "reflect unfavorable changes in foreign exchange rates."
The Fed begins its own two-day policy meeting in Washington today with investors modestly reducing bets that it will be able to execute two more rate hikes between now and the end of the year, according to the CME Group's FedWatch tool, although a portion of the reduction is certainly linked to the overnight decline in 10-year bond yields as a result of the BoJ's decision to hold its own policy in place.
Traders are now pricing in a 60.3% chance of a December hike, which would take the Fed Funds rate to a range of between 2.25% and 2.5%. That's down from the 62.5% probability recorded yesterday but firmly ahead of the 47.3% chance the FedWatch tool was pricing in at the end of June.
Global oil prices were notably softer in early European trading, with Brent crude set for a 6.2% monthly decline, its biggest in two years, as investors pulled back on long positions amid reports of faster supply increases from OPEC members and the ongoing rise in domestic U.S. production rates.
Brent crude contracts for September delivery, the global benchmark, were seen 17 cents lower from their Monday close in New York and changing hands at $74.80 in early European trading. WTI contracts for the same month were seen 38 cents lower at $69.75 ahead of data from the American Petroleum Institute later today that analysts' expect will show domestic crude stocks fell by 3.2 million barrels last week.