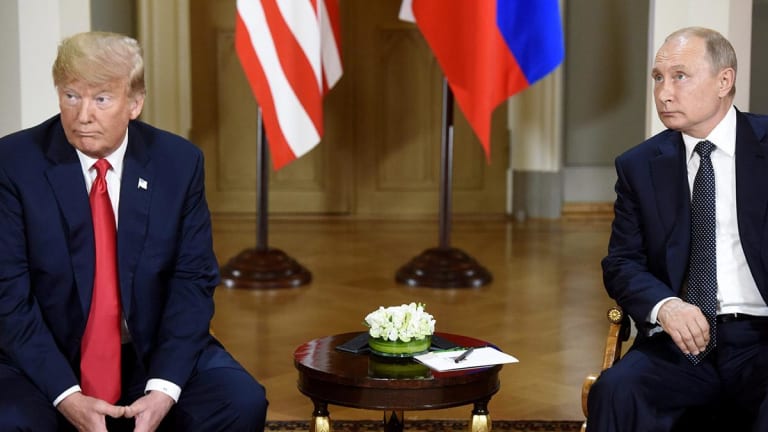 Wall Street, European Stocks Edge Lower Ahead of Trump-Putin Summit in Helsinki
Global stocks edged lower Monday, although investors appeared reluctant to extend gains ahead of today's summit meeting in Helsinki between U.S. President Donald Trump and Russian President Vladimir Putin.
The Monday Market Minute
Global stocks mixed, with weakness in Asia offset by solid start in Europe, as investors brace for Trump-Putin summit in Helsinki.
China's economy grows 6.7% in second quarter, but weak June industrial production readings suggest second-half could see slowing.
U.S. corporate earnings seasons heats up with Netflix, Bank of America and BlackRock hitting the tape Monday.
Oil dips as investors bet Libya supply will start to increase, but Norwegian strikes keep investors from extending bets.
U.S. equity futures suggest positive open on Wall Street, with a 60-point gain for the Dow and a 3-point bump for the S&P 500.
Market Snapshot
Global stocks weakened Monday, with investors adopting a cautious stance to trading ahead of a today's summit in Helsinki between U.S. President Donald Trump and Russian President Vladimir Putin and in the wake of a weaker-than-expected data from China that suggest growth in the world's second-largest economy is set to slow into the second half of the year.
President Trump Tweeted early Monday that U.S.-Russian relations had never been worse, thanks to what he continues to call a biased investigation into allegations that Moscow successfully meddled in the 2016 election, that latest of which produced the indictment of 12 Russians accused of hacking into emails held on the server of the Democratic National Committee
Trump will meet Putin in the Finnish capital later this morning, with both the President and his National Security Adviser, John Bolton, insisting the summit will be unstructured in terms of content and uncertain in terms of outcome.
The meeting will conclude Trump's controversial European visit, during which he harangued NATO allies on their spending commitments, endorsed the chief political rival of British Prime Minister Theresa May and publicly criticised her Brexit strategy and described the European Union as a "foe" of the United States in an interview with CBS News. 
That alone has put investors on the defensive heading into an active week of corporate earnings and key economic data releases, given the impact that the White House's recent trade policies have had on growth in both Europe and Asia, but sentiment was blunted further this morning by figures from China showing a modest slowdown in second quarter GDP and the weakest rate of industrial production growth in more than two years.
China's economy grew 6.7% in the three months ending in June, the National Bureau of Statistics said, down from 6.8% in the first quarter and on track, the government says, for its 6.5% 2018 target. June's industrial production tally, however, as well as slowing retail sales growth and the looming impact of $200 billion in U.S. tariffs on China-made goods means that second half performance in certainly in question.
Regional shares reacted in kind, with the MSCI Asia ex_japan index sliding 0.30% into the close of trading while China's Shanghai Composite fell 0.61% and its blue-chip CSI 300 fell 0.6%. Japan's Nikkei 225 was the region's outlier, with the export-focused benchmark rising 1.85% thanks to a weaker yen, which fell to 112.48 against the U.S. dollar in overnight trading.
European stocks, however, reversed early gains by mid-afternoon in Frankfurt with the Stoxx 600 benchmark falling 0.36% while benchmarks in Germany (-0.15%) and France (-0.40%) all drifted into the red . Britain's FTSE 100 was marked 1.16% to the downside at the start of trading in London, which gains held down by a stronger pound, which rose to a 10-day high of 1.3274 against the dollar.
Early indications from U.S. equity futures suggest a cautious, yet positive start to the trading day on Wall Street, with contracts tied to the Dow Jones Industrial Average marked undefined marked 15 points to the upside while those linked to the broader S&P 500 undefined  implied a 1.16 point opening bell decline. 
Monday's corporate earnings slate kicks-off a relatively hectic week on the data front, with second quarter reports from Bank of America (BAC) , BlackRock (BLK) and Netflix (NFLX) .
Bank of America's second quarter numbers looked fairly solid, with the lender posing three-months earnings of 63 cents a share on revenues, net of interest expenses, of $22.6 billion. Shares in the group rose around 0.93% to $28.83 following the release. 
That will be followed by Goldman Sachs (GS) , Johnson & Johnson (JNJ) , United Continental Holdings (UAL) and United Health (UNH)  on Tuesday, IBM (IBM) , American Express (AXP) , Morgan Stanley (MS) , TMobile US (TMUS) , Ebay (EBAY)  Wednesday and Miscosoft (MSFT) , Travelers (TRV)  and Philip Morris (PM)  on Thursday. General Electric (GE) and Honeywell (HON)  will round of the earnings calendar on Friday.
Goldman Sachs is a key holding in Jim Cramer's Action Alerts PLUS.
Investors will also navigate through retails sales data at 8:30 eastern, an appearance by Fed Chairman Jerome Powell before the Joint Economic Committee of Congress Tuesday and Wednesday and the Philadelphia Fed manufacturing index Thursday.  
Away from equities, however, investors are growing increasingly focused on signals from the bond market, where the difference in yield between 2-year and 10-year Treasury notes has narrowed to just 24.8 basis points, or 0.248%, the smallest since 2007. When short-term rates rise to the point where they are higher than longer-term ones, it creates a so-called "inverted yield curve", a condition many economists say is an accurate forecast for near-term recession.
Others, however, argue that the Federal Reserve's interest rate policy, which has consistently signalled gradual hikes, is pushing two-year yields higher while international investors, dissuaded from purchasing European government bonds owing to their extremely low yields (German bunds, for example, are trading at 0.31%) are buying longer-term U.S. Treasuries instead, holding down their yields.
Global were modestly weaker this morning amid reports that supple bottlenecks in Libya, which drove prices higher early last week, were set to ease and major producers such as Russia and Saudi Arabia were prepared to increase output.
Brent crude contracts for September delivery, the global benchmark, were see $1.38 lower from their Friday close in early European trading and changing hands $73.95 per barrel while WTI contracts for August delivery were marked $1.12 lower at $69.89 per barrel.