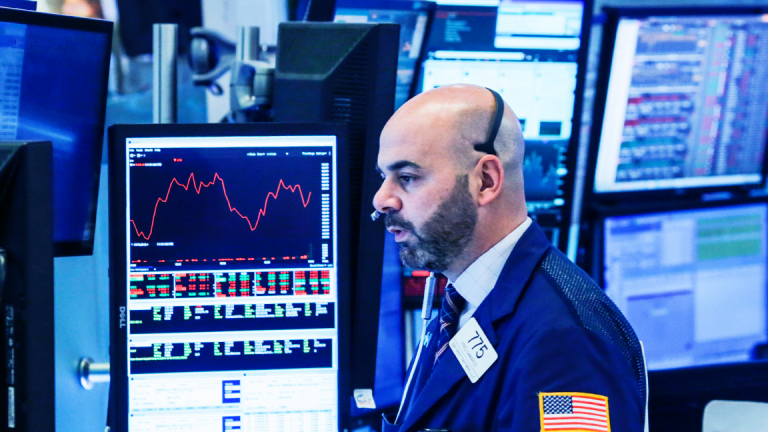 Stocks Drift Lower as Trade War Jitters Offset Earnings Season Optimism
Global stocks traded modestly lower Thursday, with investors reluctant to add to risk positions amid increasing concerns over the pace of economic growth thanks to ongoing trade disputes with Washington.
The Thursday Market Minute
Global stocks slip back as trade war jitters offset solid U.S and European earnings.
Japan's U.S exports slow for the first time in 17 months, highlight impact of White House trade policy.
Copper slides to one-year low, dips below $6,000 per ton amid global demand concerns.
U.S. dollar index tops 52-week high after day two of Powell testimony, U.S. Treasury curve steepens modestly.
Oil markets extend declines as record U.S. production offsets falling domestic stockpiles.
U.S. equity futures point to modest opening bell declines ahead of earnings from Microsoft, Travellers and Philip Morris.
Market Snapshot
Global stocks weakened Thursday, with trade war concerns holding down gains in Asia and mixed corporate earnings failing to support markets Europe as investors continue to grapple with the mixed signals from the world economy heading into the peak of the second quarter reporting season.
Data this morning from Japan illustrated the broader trade war concerns, with exports from the world's third largest economy to the United States falling 0.9% in June -- the first decline in 17 months -- even as the country's trade surplus swelled to $5.24 billion thanks to slowing imports of American-made goods. 
Should Tokyo find itself on the wrong end of President Donald Trump's "America First" trade strategy, in the form of new tariffs, while exports are already slowing, it could notably harm growth prospects in one of the region's -- and the word's -- most import economies. 
U.S. companies, as well, are starting to question the impact of Trump's trade policies, according to the Federal Reserve's 'Beige Book' survey of regional business sentiment for the month of June. The Fed said manufacturers in all twelve of the districts is polled "expressed concern about tariffs and in many districts reported higher prices and supply disruptions that they attributed to the new trade policies."
Fed Chairman Jerome Powell echoed those concerns during his second day of testimony to Congressional lawmakers in Washington, telling the House Financial Services Committee that while "we don't see it in the aggregate numbers yet because it is a $20 trillion dollar economy and these things take time to show up ... we hear many many stories of companies that are concerned and are now beginning to make investment decisions, or not make them, because of this."
With the swirling concerns of a trade war-related slowdown in the global economy, investors were loth to take stocks higher in Asia trade, where the Nikkei 225 in Japan fell for the first day in five, ending the session 0.13% to the downside at 22,64.68 points. The broadest measure of regional shares, the MSCI Asia ex-Japan index, was marked 0.3% lower heading into the end of the session, thanks to late-trading declines for markets in China, where the Shanghai Composite fell 0.72% to 2,767.14 points.
In Europe, stocks opened modestly weaker amid a mixed set of earnings from some of the region's blue-chip stocks, which revealed stronger-than-expected sales and a robust outlook for software services provider SAP SE  (SAP) and disappointing figures from consumer brands giant Unilever plc (UL) .
The region-wide Stoxx 600 index dipped 0.39% by mid-day in Frankfurt, with benchmarks in Germany and France following suit. Britain's FTSE 100 was marked 0.13% to the upside as the pound fell to a fresh 10-month low of 1.2976 against the dollar following disappointing retail sales data for the month of June that raise further questions over the Bank of England's ability to raise interest rates next month.
Second quarter earnings for the Stoxx 600 are expected to grow by 8.2% from the same period last year, according to Thomson Reuters I/E/B/S, with revenues growing by 5.4%. That's less than half the rate expected for U.S. earnings improve, where S&P 500 bottom lines are expected to swell by 21.2% and revenues by 8.1%.
U.S. equity futures were similarly flat, with contracts tied to the Dow Jones Industrial Average undefined marked 96 points to the downside while those linked to the S&P 500 undefined were suggesting a 9 point slip for the broader benchmark ahead of another active session for second quarter earnings, with reports from Travellers (TRV) and Philip Morris (PM)  . Miscosoft (MSFT)  will post its fourth quarter and full year earnings after the bell while General Electric (GE)  and Honeywell (HON)  , another AAP stock, will round of the earnings calendar Friday.
Honeywell and Microsoft are holdings in Jim Cramer's Action Alerts PLUS.
Away from equities, industrial metals prices continued to slide amid the ongoing global demand concerns, with six-month copper futures dipped to a one-year low of around $6,000 per tonne and gold extended its recent slide to a one-year low of $1,2220.41 in overnight trading.
Global oil prices were also active, with Brent crude futures extending declines in the face of rising global supply and ongoing questions for near-term demand while U.S. oil prices followed suit thanks in part to data from the Energy Information Administration showing domestic production hit a record 11 million barrels a day last week, offsetting a 5.84 million fall in domestic crude stockpiles.
Brent crude contracts for September delivery, the global pricing benchmark, were seen 72 cents lower from their Wednesday close in New York and changing hands at $72.18 per barrel in early European trading. WTI contracts for September delivery, the new U.S. benchmark, were marked 83 cents lower at $66.92 per barrel.