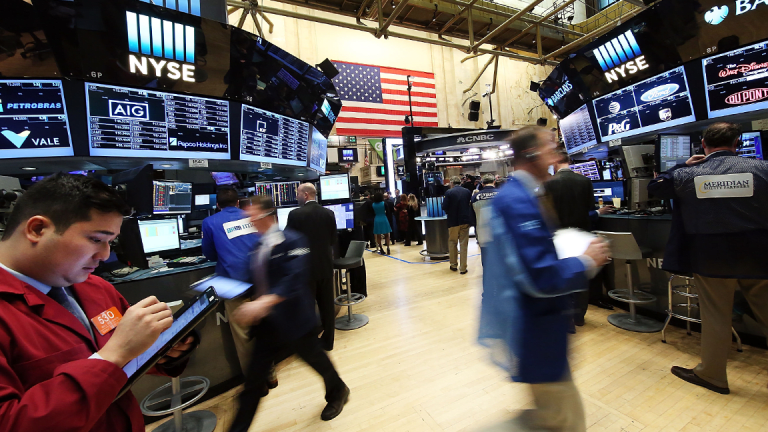 Global Stocks Cautious, Oil Spikes, as Trump's Iran Decision Unsettles Bulls
Global markets traded with a defensive tone Wednesday as investors reacted to President Donald Trump's decision to withdraw from a multilateral treaty with Iran and impose sanctions on the world's fifth-largest oil producer.
Global stocks traded mixed again Wednesday, with U.S. and European markets set to open modestly higher after a softer session in Asia, as investors react to President Donald Trump's decision to withdraw from a nuclear treaty with Iran.
European stocks are called marginally higher at the opening bell by financial bookmarkers IG, with Britain's FTSE 100 expected to gain 0.11% and the DAX performance index in Germany poised for a 0.17% gain. Both markets will once again be supported by weaker domestic currencies, however, as the U.S. dollar index hits fresh 2018 highs in overnight trading, pushing the euro to 1.1845 and the pound to 1.3527 in early European dealing.
Wall Street is also looking at similarly modest opening bell gains, with futures contracts tied to the Dow Jones Industrial Average  I:DJI suggesting a 2 point bump to start the session, while those tied to the S&P 500  undefined point to a small 0.3 point gain for the broader benchmark.
The cautious tone reflects investor concern that Trump's largely unilateral decision to walk away from the Iran treaty, which was designed in 2012 to prevent Tehran from developing nuclear weapons in exchange for broader international economic support, will not only disrupt global oil markets but also unsettle the Middle East region and complicate the President's efforts to negotiate workable trade deals and compromises with America's biggest trading partners.
"We will be instituting the highest level of economic sanction," Trump said Tuesday in his White House address. "Any nation that helps Iran in its quest for nuclear weapons could also be strongly sanctioned by the United States."
"Today's action sends a critical message. The United States no longer makes empty threats. When I make promises, I keep them," Trump insisted.
Iran, the world's fifth largest crude producer with daily output of 3.8 million, is likely to lose customers for around 500,000 barrels of oil each day, analysts have argued, once the full force of the sanctions kick-in over the next six months.
Global oil prices saw the most visceral impact, with Brent crude contracts for July delivery rising 2.33% from Tuesday's New York close to trade at $76.60 per barrel, the highest levels in nearly four years. WTI futures for June gained 2.15% to $70.56 per barrel. 
Overnight in Asia, the region-wide MSCI index slipped 0.05% near to the close of the trading day while Japan's benchmark Nikkei 225 fell 0.44% to close at 22,408.88 points.