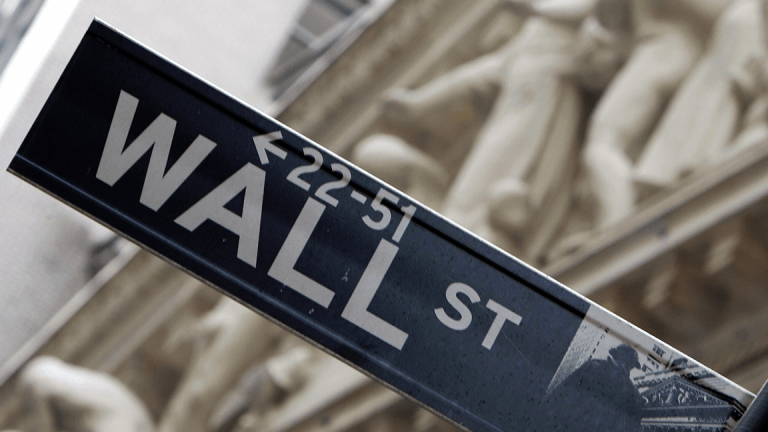 Markets Wobble as U.S. Readies More China Tariffs
President Donald Trump is reportedly set to impose tariffs on about $50 billion in imports from China.
The Friday Market Minute
President Donald Trump  is reportedly set to impose additional tariffs on about $50 billion in imports from China.
Wall Street futures point to a negative opening, with the Dow Jones expected to fall 146 points when markets open.
The dollar index reaches the highest point of the year.
European markets are mostly down 
Market Snapshot
Global markets wobbled on Friday as investors braced for further U.S. tariffs against China.
Wall Street futures were pointing to a negative opening, with the Dow Jones Industrial Average undefined expected to fall 146 points and the S&P 500 undefined expected to shed 10 points when the market opens.
President Donald Trump is reportedly set to impose tariffs on about $50 billion in imports from China. The administration, which is due to make the announcement on Friday, reportedly claims the additional tariffs are justified due to the theft of intellectual property by China. Beijing said it would respond swiftly to any tariffs. 
TheStreet's Brian Sozzi points out these 50 stocks that are at risk in a U.S. trade war with China. Top names include Micron (MU) , Qualcomm (QCOM) and Nike (NKE) .
"Markets will always be vulnerable to trade spats between countries and while the response to the G7 meeting may have been quite muted, that more likely a sign of such an outcome being in line with expectations than markets becoming less sensitive to it," Oanda Senior Market Analyst Craig Erlam said. 
European markets were mixed in morning trading. London's FTSE 100 was down 0.75% to 7,707, Germany's Dax was up 0.18% to 13,083 and France's Cac 40 was marked 0.22% higher at 5,537.
European indices rallied on Thursday after the European Central Bank signaled it would hold key interest rates steady through next year and announced it would end its bond purchasing plan by the end of 2018.
The euro was hovering near a two-year low on Friday, after falling 1.9% on Thursday after the ECB's decision. It was down a further 0.1% to $1.1560.
Meanwhile, The U.S. dollar index was up 0.34% to 94.094, its highest point of 2018.
Qualcomm reportedly has gained approval from Chinese regulators for its $43 billion acquisition of NXP Semiconductors (NXPI) .
One veteran deal-maker TheStree talked with expects a wave of deals later this year. Watch below. 
Rolls-Royce Holdings plc (RYCEY) surged to the top of the FTSE 100, gaining 7.9%, changing hand at 952 pence, its biggest rise in almost two years, after the company said it would exceed its 2020 guidance. In the mid-term the maker of engines said it was aiming for free cash flow per share to exceed £1, up from the 15 pence a share it made in 2017.
Tesco plc (TSCDY) was another big gainer in London. Shares were marked 2.0% higher to change hands at 254 pence after the company reported that sales were up 1.8% in the first quarter of 2018.
H&M Hennes & Mauritz AB (HNNMY) shares fell 3.9% in Stockholm, changing hands at Skr134.58, after reporting sales in local currencies were unchanged in the second quarter, coming in just below expectations. Shares have been under pressure after the fast-fashion retailer's chairman Stefan Persson said there was no truth to the rumors that the founding family was considering a buyout of the chain.
In Asia, the Nikkei 225 gained 0.5% to 22,851 and the Topix was up 0.3% after the Bank of Japan kept its monetary policy on hold.
The Shanghai Composite Index lost 0.53% and Hong Kong's Hang Seng lost 0.17%.
China's ZTE Corp. (ZTCOY) fell a further 10% on Friday, extending losses from earlier in the week, after it resumed trading following an agreement with the U.S. to pay a $1 billion. The company allegedly violated sanctions by selling equipment with U.S. technology to Iran and North Korea.