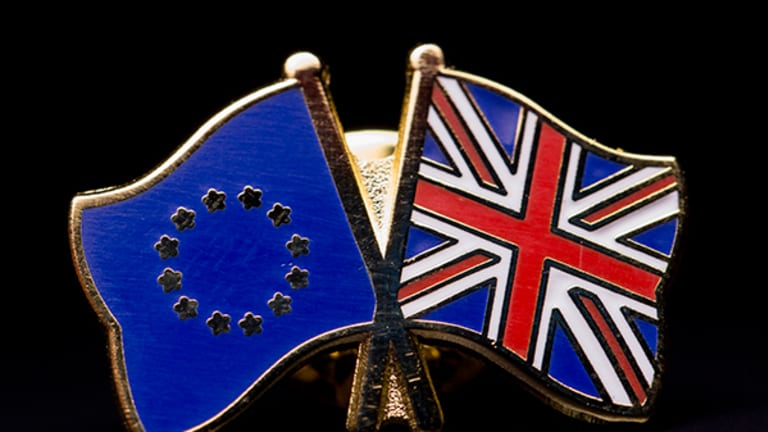 Global Markets Declined Today on Uncertainty Over Brexit
CNBC's Wilfred Frost says uncertainty is the real issue in the wake of the Brexit vote.
CNBC's Wilfred Frost says uncertainty is the real issue in the wake of the Brexit vote.
NEW YORK (TheStreet) -- U.S. stocks, as well as most markets around the world, traded significantly lower on Friday after Britain voted to leave the European Union.
The S&P 500 traded 3% lower to 2,050 by the afternoon, while the Dow Jones Industrial Average had declined by 650 points. Japan's Nikkei 225 fell nearly 8%, the German DAX closed down by 6.8%, The STOXX Europe 600 Banks index saw a decline of more than 14%, and the UK FTSE 100 closed down by 2.76%.
The British pound fell more than 10% against the U.S. dollar, its lowest since 1985. 
UK Prime Minister David Cameron announced his resignation after the UK voted to leave the EU. He will remain Prime Minister until October, CNBC reporter Wilred Frost said on "Closing Bell" this afternoon.
Only after the new Prime Minister is appointed will negotiations with the EU begin in terms of leaving the European Union.
Until then, nothing changes. All of the EU treaties and laws that existed before the vote are still in place.
Frost explained why markets across the globe were falling so drastically, when in fact nothing has changed.
The enormous uncertainty and the possibility of negotiations taking well over 2 years is causing worry about investments and growth all around Europe, Frost said.
"It needs 72% approval from the remaining 27 countries by number and 65% by population. It then needs to get a majority in the European Parliament," he added.
That points why he says, markets have fallen off.
There are so many hurdles for Europe to remain and resume trading that it's had for quite some time.
"The prolonged uncertainty is the issue here," Frost continued.