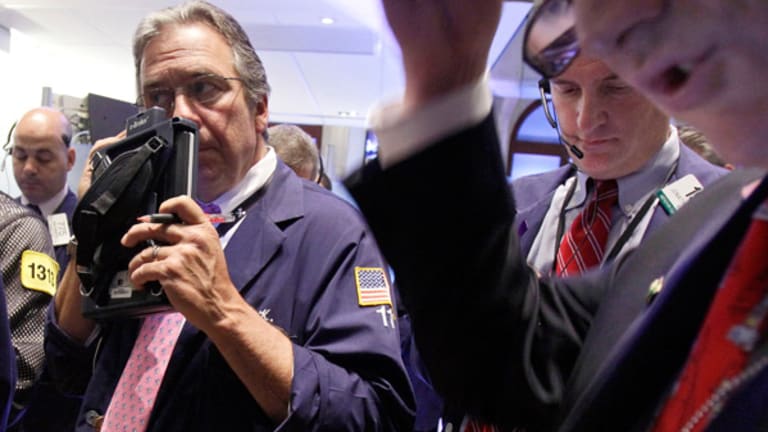 Global Handset Sales Are Off the Hook
Nokia's projections are another sign that gadget sales are booming. So who's benefiting?
This column was originally published on RealMoney on March 30 at 3:50 p.m. EST. It's being republished as a bonus for TheStreet.com readers.
Handset sales are simply booming. Thursday morning,
Nokia
, the world's largest handset vendor, upped the number of units that it expects to be sold by the industry globally. Let's try to put its numbers in perspective:
In 2005, 795 million handsets were sold on planet Earth, according to Nokia.
In 2006, Nokia expects that number to increase 15% to 915 million handsets.
The population of the world is roughly 6,506,672,000.
There were 209 million PCs sold worldwide last year, and 229 million units expected to ship this year.
1.6 billion TV sets are in use globally, according to BusinessWeek.
That means Nokia's now expecting that one handset will be sold for every seven people on Earth, and nearly four times as many handsets as PCs.
Now 795 million handsets is a huge number. Late last year, I wrote about my skepticism that the industry could grow 10%, as most analysts expected. As the data points continued coming in and I started hearing executives on conference calls guide higher and look for sequential growth in the first quarter of this year, I changed my stance and covered my
. Even though my mind can't comprehend how 915 million handsets, enough for one in every seven people on the planet, will be sold this year, that doesn't mean it's not going to happen. Let me rephrase that -- it doesn't mean it's not happening right now.
The takeaway from Nokia's call, as well as
Jabil's
and
Best Buy's
(BBY) - Get Best Buy Co., Inc. Report
, is that consumers -- and increasingly, corporations -- are spending heavily on electronic gadgets and upgrading their cell phones. It also appears that tech spending has accelerated as the first quarter comes to a close.
This spending trickles down through the tech ecosystem -- just as Best Buy does well when Nokia does well, so, too, do Jabil and Nokia suppliers like
Texas Instruments
(TXN) - Get Texas Instruments Incorporated Report
.
To be sure, though, with capacity as tight as it is, there's liable to be some double ordering going on, as well as pockets of excess inventory. With so many moving parts in the supply chain, some companies, such as
SigmaTel
(SGTL)
and
Lexar Media
(LEXR)
, which are suffering due to collapsing NAND storage prices, will find themselves on the wrong side of these dynamics.
Others, perhaps
Broadcom
undefined
and Texas Instruments, might find themselves scrambling to meet excess demand caused by double ordering (which might later lead to excess inventories, of course).
In the upcoming earnings season, we're going to be hit with a barrage of data points that will either confirm or undermine what we've heard thus far. I'll be listening to scores of conference calls trying to get more direction on all of this, so stay tuned.
P.S. from TheStreet.com Editor-in-Chief, Dave Morrow:
It's always been my opinion that it pays to have more -- not fewer -- expert market views and analyses when you're making investing or trading decisions. That's why I recommend you take advantage of our
to TheStreet.com's
RealMoney
premium Web site, where you'll get in-depth commentary
and
money-making strategies from over 50 Wall Street pros, including Jim Cramer. Take my advice --
At the time of publication, the firm in which Willard is a partner was long Best Buy, Broadcom and Texas Instruments, although positions can change at any time and without notice.
Cody Willard is a partner in a buy-side firm and a contributor to TheStreet.com's RealMoney.
He also produces a premium product for TheStreet.com called
The Telecom Connection and is the founder of Teleconomics.com. The firm in which Willard is a partner may, from time to time, have long or short positions in, or buy or sell the securities, or derivatives thereof, of companies mentioned in his columns.None of the information in this column constitutes, or is intended to constitute, a recommendation by Willard of any particular security or trading strategy or a determination by Willard that any security or trading strategy is suitable for any specific person. Willard appreciates your feedback --
to send him an email.