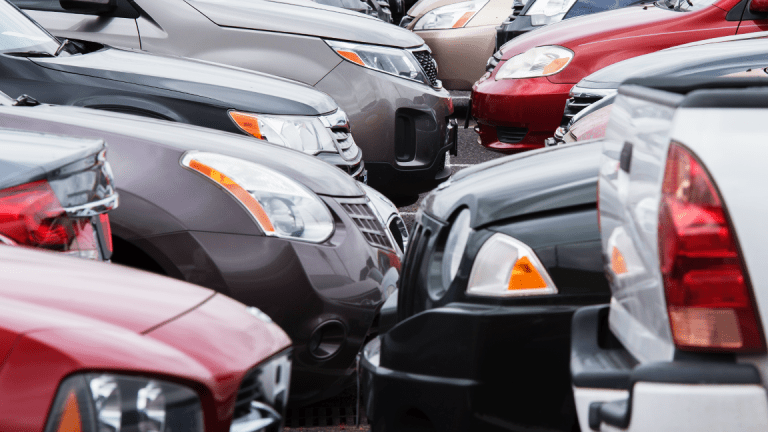 Auto Sales Slow in China, U.S.; Global Decline Seen on Trade Tensions
Higher prices and weakening demand are contributing to a slowdown in global vehicle sales.
Global auto sales remain robust, but a slowdown is in the offing.
Light vehicle global sales for July grew by 1.9% year over year, "but the selling rate continued to fall back from recent highs, down to 96.1 million units per year, from 96.8 million units per year in June," according to a report by automotive forecasting firm LMC Automotive. Light vehicle sales refer to the number of cars, sport utility vehicles and light trucks, including pickup trucks, sold over a specified period.
China's auto industry, which had been rapidly developing over the last decade, is slowing. LMC Automotive noted the July selling rate of 28.4 million units per year was down 1.5% from June and represented the third consecutive month over month decline as trade tensions between the U.S. and China escalated.
"In order to bolster the already slowing economy, the government has announced fiscal stimulus measures and the central bank has shifted to monetary easing, which could possibly help support vehicle sales in the short run," LMC said in its report. "The looser policies, however, go against the government's campaign to rein in excessive borrowing, and thus raise a risk in the long-term economic and vehicle sales outlooks."
Elsewhere around the globe, vehicle sales fell year over year in the U.S. and Canada, while sales soared in Europe, Brazil and Argentina, as well as Korea and Japan.
While light vehicle sales in the U.S. slipped by 3% year over year, automotive information and services provider Edmunds forecasts that 1,496,834 new cars and trucks will be sold in the U.S. in August, which would reflect a small increase year over year.
"Hurricane Harvey depressed August sales by 2% when it hit last year, which is likely why we're seeing a year-over-year lift in sales," said Jeremy Acevedo, Edmunds' manager of industry analysis. "Despite this slight boost, August sales fall in line with the slower overall sales pace we expect to see through the second half of the year."
Edmunds' sales volume forecast by manufacturer suggests two legacy U.S. automakers, General Motors Co. (GM) - Get Report and Ford Motor Co. (F) - Get Report , will see a year over year decline in August of about 8.5% and 1.8%, respectively.
Separately, axle manufacturer for light vehicles Dana Inc.'s (DAN) - Get Report CEO Jim Kamsickas told TheStreet's Brian Sozzi that car, SUV and truck prices "are on their way up" due to tariffs. GM in June cautioned that U.S. tariffs on imported vehicles could lead to "a smaller GM" and fewer jobs.
"There are a lot of things working against the automotive market right now: Incentive spending is maxed out, interest rates are rising, and vehicle prices are reaching record highs," said Acevedo. "Add to that the uncertainty that comes with renegotiating NAFTA and tariff talks and it amounts to what could be a challenging back half of the year for automakers."
Shares of GM fell 0.5% to $37.15 at 11:15 a.m. New York time, while Ford stock declined 0.5% to $9.97.