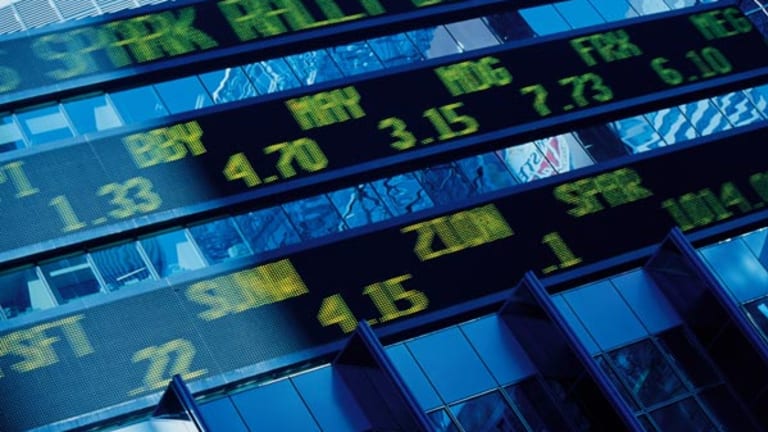 Giving the Semis the Benefit of the Doubt
The chips look set to go higher, but long-term bets are out.
This column was originally published on RealMoney on Feb. 26 at 1 p.m. EST. It's being republished as a bonus for TheStreet.com readers. For more information about subscribing to RealMoney, please click here.
Semiconductors pressed higher last week, raising hopes the group's long-awaited recovery had finally begun. But these volatile issues have been so unreliable in recent months that it will take more than a few upticks to get the bulls on board again. For the moment at least, let's give these stocks the benefit of the doubt.
What would a sustained chip rally mean to the broad market? For starters, it would push the Nasdaq 100 (NDX) back into a leadership role and support a run to new highs across a wide variety of tech sectors. It might also trigger the momentum market I talked about in detail
last week. But let's not get ahead of ourselves.
Despite encouraging signs, I don't recommend jumping back into chip stocks with heavy exposure just yet. There are too many unanswered questions and too much bad karma from past head-fakes that looked like the real thing. If this group finally holds its bid here, there'll be plenty of time to get on board and grab a piece of the action.
In the meantime, let's take a giant step backward and place last week's uptick into its longer-term context. This exercise will tell us where to watch for buy signals in upcoming days and help us to avoid whipsaws in a corner of the market that picks more pockets than Oliver Twist on a good day.
We need to zoom all the way back to the millennium bubble to understand where chip stocks might be headed in 2007. The monthly uptrend of the Philadelphia Semiconductor Index (SOX) topped out near 1400 in March 2000. The instrument then fell like a rock with the rest of the tech universe and bottomed out with the broad market in late 2002.
The group's underperformance shows its roots in early 2004 when the recovery ran out of gas out at 560, below the 38% retracement of the bear market decline. The index traded back to that swing high almost two years later but stalled out again. It's now hovering near the midpoint of the broad range established more than three years ago.
This disappointing price action has unfolded while the
S&P 500
,
Dow Industrials
, small-caps and dozens of other sectors have run to new highs. It's a sad commentary on the public's unhealthy love affair with chip stocks and other tech winners of the 1990s. But trading ranges don't last forever.
So the question remains: Does the most recent upturn indicate that semiconductors are finally ready to start a strong run out of their three-year doldrums? Let's zoom in another level and see what's going on
The weekly SOX chart shows that the 2003 rally stalled at the 78.6% retracement of the final plunge into the bear market low in 2002. This geometry predicts that any rally through 550 will reach 650 as its minimum target. But there's no evidence, to date at least, that the breakout will come on this particular upturn.
That said, there are still good things happening on this chart. Notably, the index has held the midpoint of this three-year trading range for the last six months. This is a common ejection point for well-established sideways markets that are ready to move substantially high or lower. The key will be follow-through momentum after last week's rally.
It's possible that a vertical spike that pushes into pattern resistance at 550 will just keep on going. That move should also benefit from broad market strength as the blue chips and the
Nasdaq
averages press up to new highs. So it seems the short-term price action may decide the long-term fate of chip stocks and other tech groups.
Key Fibonacci levels also come into play on the daily SOX chart. In this view, the bounce off last year's lows stalled at the 62% retracement of the decline beginning at 560. Notice how the broad congestion pattern is playing ping-pong between the 38% and 62% retracement levels. This is common behavior ahead a defining uptrend or downtrend.
The rally is now testing the highs of the congestion pattern, last reached in late November. There's good deal of price instability between 470 and 490, so a pullback is probable in the next few days. The telling moment will come when price finally trades back to the high, especially if the next downturn consolidates at or above 480.
This is a transitional type pattern because a rally above 500 will run into longer-term resistance at 560, which in turn will face even more substantial resistance at 640. But momentum is a beautiful thing, and those overhead dominoes might fall quickly under the right market conditions.
However, you probably know what I'm going to say next. The most profitable sector plays in the weeks ahead will come from well-timed bets that respect the power of these tiered resistance levels. That means buying breakouts and selling resistance as many times as it takes with these attractive but deadly tech stocks.
At the time of publication, Farley held no positions in the stocks mentioned, although holdings can change at any time.
Alan Farley is a professional trader and author of
The Master Swing Trader
. Farley also runs a Web site called HardRightEdge.com, an online resource for trading education, technical analysis and short-term investment strategies. Under no circumstances does the information in this column represent a recommendation to buy or sell stocks. Farley appreciates your feedback;
to send him an email.
Also,
click here to sign up for Farley's premium subscription product The Daily Swing Trade brought to you exclusively by TheStreet.com.
TheStreet.com has a revenue-sharing relationship with Trader's Library under which it receives a portion of the revenue from purchases by customers directed there from TheStreet.com.