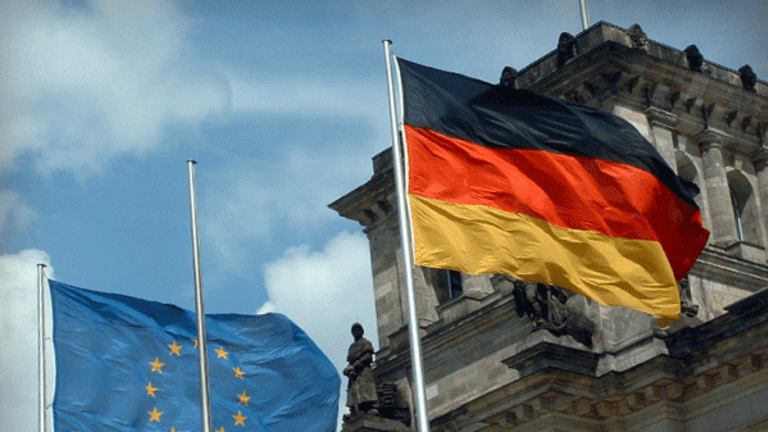 Germany Leads Major Economy Growth in 2016 with a 1.9% Advance
Germany's economy expanded at the fastest pace in five years in 2016 as a weaker euro helped boost growth to the strongest level of any advanced nation in the world.
Germany's economy expanded at the fastest pace in five years in 2016, according to data published Thursday, as a weaker euro helped lift exports and domestic demand boosted growth to the strongest level of any advanced nation in the world. 
Europe's biggest economy grew 0.4% in the final three months of last year, the country's official statistics office Destatis said Thursday, taking the full year advance to 1.9%, the strongest pace of growth since 2011. Domestic demand added 0.9% to the quarterly reading, Destatis said, while exports grew 1.8% from the same period last year and imports were up 3.1%.
A revision from the U.K.'s Office for National Statistics earlier this week, which trimmed full-year growth for the British economy to 1.8%, means that Germany was the fastest-growing advanced economy in the world. 
Germany's budget surplus, which measures the difference between spending and taxation, swelled 13% last year to a post-reunification high of €23.7 billion ($25 billion), or 0.8% of GDP, the highest of the countries that share the single currency.
Data published Wednesday also indicates that the Germany economy has kept its sound footing into the start of this year, as a key indicator of business confidence matched the highest level four years.
The Ifo Institute's benchmark Business Climate Index was measured at 111.0 in February -- matching a four-year high -- and well ahead of the 109.6 reading forecast by analysts and up from a 109.8 reading in January. The Institute's survey of current conditions for the 7,000 company executives remained steady at 116.9 points against a forecast of 116.7 while the index of expectations for the next six months improved to 104.0 from 103.2 in the previous month.
The figures follow data released Tuesday that showed European private sector economic activity surged to its fastest pace in nearly six years as factories in Germany fulled job creation and France's service sector boomed.
IHS Markit Economics' composite reading of Eurozone growth rose to 56.0 in February, up from 54.4 in January and the highest reading since April 2011. Readings above 50 generally indicated economic growth. Markit's measure of manufacturing activity rose to 57.2, another 70-month high (up from 56.1 in January) while the pace of activity in the services sector jumped to 55.6 from a previous reading of 53.7.
The figures indicate first quarter GDP growth of around 0.6%, Markit said, noting that job creation in the services sector rose to its strongest pace in more than nine and a half years and manufacturing headcount surged to a six-year high. Exports also grew the most since April 2011 "due to the combination of rising demand and the weaker euro", Markit said.