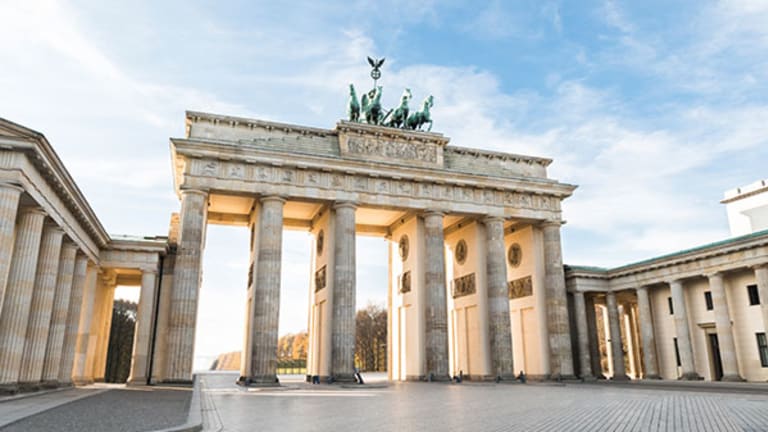 Eurozone economic growth halved, has expected, in the second-quarter as better-than-forecast expansion in Germany was balanced by a surprise stagnation in Italy.
Eurostat's second estimate for GDP growth put the quarterly eurozone growth rate at 0.3% , down from 0.6% in the first quarter. The eurozone economy expanded by 1.6% year-on-year, after a 1.7% first-quarter uptick. The wider 28-nation EU, which includes the U.K., also expanded as expected, by 0.4% and 1.8%, respectively, on the quarter and on the year, compared with 0.5% and 1.8% growth, respectively, in the first quarter.
The figures, which don't offer a breakdown by sector, followed news from national statisticians on Friday of 0.4% quarter-on-quarter growth in Germany, double the rate expected, and stagnation in Italy, compared with expectations for 0.2% growth. Those economies expanded by 1.8% and 0.7%, on the year, respectively, according to the domestic data. Greece came through with unexpected  quarterly growth of  0.3%, whereas analysts had been looking for 0.2% contraction. 
The figures highlight a two-speed eurozone, where German growth is carrying weak French and Italian economies. Germany's Federal Statistical Office earlier on Friday said exports, and household and government expenditure supported second-quarter growth but capital expenditure on industrial machinery was weak.
Capital Economics chief European economist Jonathan Loynes had earlier said the weak Italian data, coupled with already-known news of French stagnation, raised the prospect of a downgrade to the eurozone GDP figure.
"Looking ahead, some survey indicators have perked up a bit so far in Q3. But with growth still likely to be sluggish in the coming quarters and inflation pressures very weak, the ECB still has more work to do," he noted.
ECB President Mario Draghi said last month the bank would scrutinize data for signs of a Brexit-induced slowdown over the coming months as he suggested further stimuli remained on the table.
Eurozone stock benchmarks drifted lower on Friday morning, with the Dax down 0.30% at 10,710.83 and the Cac 40 down 0.14% at 4,497.60.
The euro was recently up 0.11% against the dollar at $1.1149.
Eurostat separately said that June industrial output in the eurozone rose by 0.6% from May - better than the 0.5% forecast - and recovering from a 1.2% decline last month. On the year output rose by 0.4%, less than the 0.7% forecast, but up from a 0.3% annual growth rate in May, which Eurostat revised down from 0.5%.