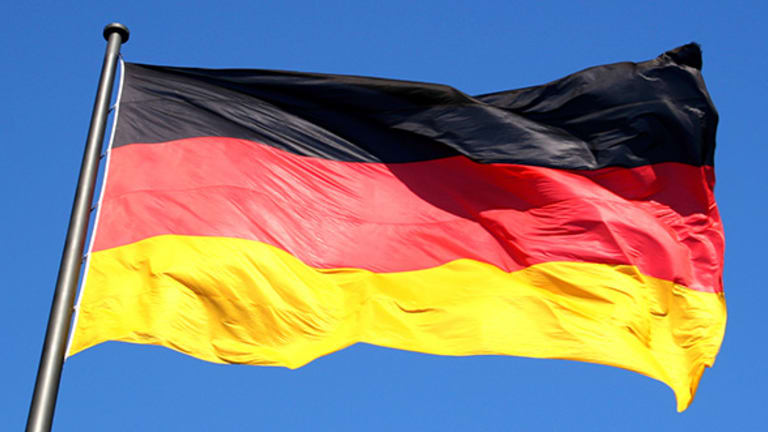 German Inflation Unexpectedly Slows in August
A preliminary report makes the prospect of ECB monetary boosters next week marginally more likely.
Germany's inflation rate unexpectedly slowed to 0.3% in August from 0.4% as the pace of price growth for food and services declined.
Preliminary August data from Germany's Federal Statistical Office found year-on-year price growth slowed on a European Union-harmonized basis. Analysts had generally been looking for a small uptick in inflation in August, with Credit Suisse expecting a rate of 0.6%, before regional data from German states out earlier on Tuesday cast doubt on those forecasts.
Consumer prices fell 0.1% from July, on the harmonized basis, whereas Credit Suisse had been looking for 0.2% price growth after a 0.4% month-on-month price rise in July.
The data comes before preliminary inflation figures for the eurozone as a whole tomorrow and undermines the assumption that price growth will gather speed in the course of the second half. It will also make the European Central Bank marginally more prone to further easing after ECB boss Mario Draghi suggested last month he wanted to vet the impact of Brexit in coming months, and give existing monetary boosters a chance to take effect, before striking out again.
The Dax was recently up 1.0% at 10,649.84, while the euro was down 0.23% against the dollar at $1.1163.
A broad breakdown of the figures showed that the annual pace of food price growth slowed to 0.9% from 1.1% in July, with services prices increasing by 1.3%, down from 1.4% in July. Energy prices declined by 5.9% on the year, smaller than the 7% decrease in July, according to the breakdown, which is not harmonized to reflect EU norms. According to German conventions, the country's annual inflation rate was unchanged at 0.4% in August.
"Looking ahead, we expect annual energy inflation to rise fairly sharply over the coming months as previous falls in oil prices drop out of the annual comparison. But headline inflation in Germany is unlikely to surge. Consumers' inflation expectations are weak, and recent evidence from the Ifo and ZEW surveys suggests that German economic growth will soon slow," said Capital Economics' European economist Jack Allen.
He said German inflation may reach the ECB's target for the whole of the eurozone of about 2% but it "is unlikely to stay there for long. And with price pressures far weaker elsewhere in the region, the ECB has reason to increase its policy support, perhaps as soon as next week."
The ECB next meets to set rates on Sept. 8.
Before Tuesday's German consumer price report, analysts had pencilled in a 0.3% eurozone inflation rate for August, up from 0.2% in July. The EU's statistics arm, Eurostat, will release those figures tomorrow.
The German figures followed news of stronger-than-expected July import prices in Europe's biggest economy and a report showing that Spanish consumer prices picked up in August to fall by 0.3% year-on-year, as expected, better than the 0.7% deflation rate recorded for July.