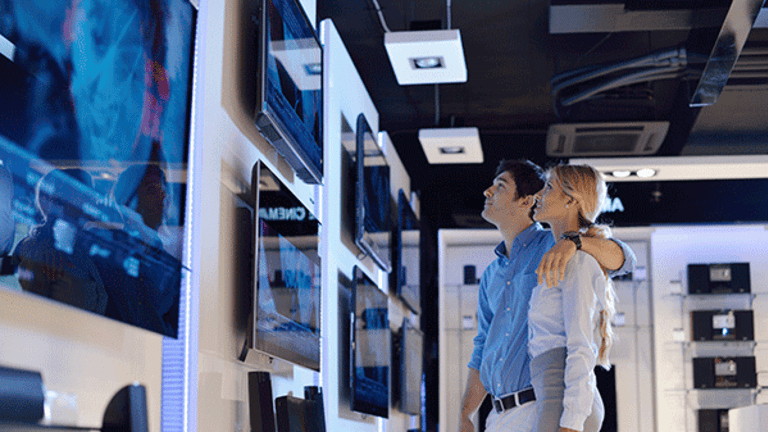 German, French Consumer Confidence Picks Up in August
Above-forecast German figures suggest consumers are unfazed by Brexit and the terror threat, while the French uptick comes as a separate report confirms second-quarter GDP stagnation.
German and French consumer confidence picked up in August, according to separate surveys, though the French index held below its long-term average and a third report showed French household spending had stagnated in the second quarter.
In the German survey, the GfK market research institute noted that good economic data and confidence about household income had eclipsed fears about terrorism and Brexit in consumers' minds to push the forward-looking index to 10.2 points for September, up from 10 points in August and above expectations for a reading of 9.9.
About 2,000 consumers were polled in the study after three attacks in Bavaria in July, including one linked to Islamic fundamentalism. The poll took place more than a month after Britons voted to leave the European Union.
GfK noted that its economic indicator fell only marginally, after a larger loss the month before.
It found that consumers were upbeat about their expectations for their personal income, while their propensity to buy also rose.
"While consumers are rather reserved about overall economic development in the future, they are downright euphoric about their own financial situations," the survey said. "And this attitude is completely justified. An excellent and stable employment situation, considerable pay rises for employees and retirees as well as a virtual lack of inflation will ensure a distinctly optimistic attitude that also continues into the coming months.
GfK added: "The German consumers' appetite to buy ... remains unabated - despite the Brexit decision and terror threat. Consumers appear to be basing their decisions on the currently prevailing hard facts about the employment market, income and inflation, which are clearly giving the green light for consumption."
It said signals from the European Central Bank that rates will remain low in the coming months will boost consumption. GfK conducts is survey on behalf of the European Commission.
"GfK confirms its prognosis that real private consumer spending will rise by around 2% this year. Domestic demand therefore remains an important pillar of growth," GfK added.
The 2015 private consumer spending growth rate in Germany was 1.9%.
Insee's survey of French household confidence came just after confirmation from Insee that second-quarter GDP had stagnated in France, after 0.7% first-quarter growth. Household consumption ground to a halt after 1.2% growth in the previous quarter, the French national statistics agency said.
Insee's consumer survey painted a more fragile picture than the German poll. Insee's household confidence index gained 1 point in August to 97 points, though still held below a 100 long-term average.
Consumers' assessment of their personal financial situation over the past 12 months improved by 7 points to reach the long-term average of minus 21. Their expectations for the next 12 months stagnated at minus 10 for the third consecutive month, however, and held below the long-term average of minus 5.
And in contrast with Germany, French fears about unemployment rose sharply for the second consecutive month.
With the U.K.'s Brexit vote seen hampering trade with a major partner of both Germany and France, and several other key export markets, including China, remaining volatile, domestic consumption has become increasingly important for both economies.
The relatively upbeat assessment by GfK counters downbeat takes on confidence in the German retail and wholesaling industries as measured by the Ifo institute in a survey out on Thursday, and disappointing purchasing managers' indices for Germany out on Tuesday.
European stock benchmarks edged down in early trading on Friday before Federal Reserve boss Jane Yellen's eagerly anticipated speech at the Jackson Hole economic symposium.
The Dax was recently down 0.04% at 10,525.85 and the Cac 40 was down 0.03% at 4,405.36.
The euro was up 0.09% against the dollar at $1.1295.