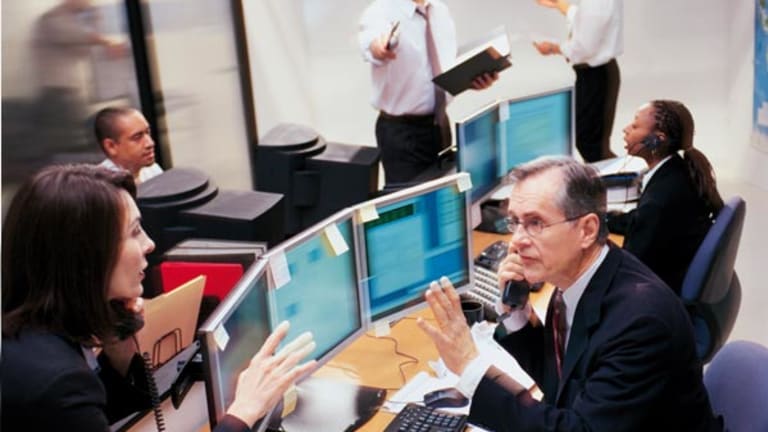 Genlyte a Bright Light Among Stocks
Genlyte has an unbeatable record, and it's trading at an irresistible price right now.
Editor's Note: Jon D. Markman writes a weekly column for
CNBC
on MSN Money that is republished here on
TheStreet.com.
Kevin Poe wants to keep you in the dark. It's for your own good, he says, not to mention the planet's.
A charismatic Bryce Canyon National Park guide who fancies himself the "Dark Ranger," Poe is on a one-man crusade to urge cities, companies and individuals to reawaken to the glories of the night sky. In a series of slide-show lectures given at parks nationwide, he explains why "light pollution" -- the excess of nighttime illumination in most corners of the civilized world -- ought to rank with water and air pollution among the damnable scourges of industrialization.
Considering that there's a trillion times more sky than there is terra firma, Bryce is a place that makes you realize how much we've lost in the manic quest to illuminate modern life. Poe would prefer that we use flashlights when we absolutely must brighten our paths, but that is not exactly practical for inveterate city dwellers who enjoy conveniences such as night baseball and working past sundown.
I'm down with Poe all the way in theory, but you just know the cynic in me can't just stay in the dark. So today I want to share with you one of my favorite stocks of all time that's trading at an irresistible price. Sorry, Kevin, but it's
Genlyte Group
( GLYT), the nation's leading independent maker of commercial and residential lighting fixtures.
Ten Straight Winning Years
Genlyte may seem like an obscure choice for a favorite among all the thousands of public companies available for sale out there in the universe, but it has one unique feature that cannot be beat.
Its shares have risen in each of the past 10 years, including 45% last year, 87% in 2003, 25% in 2001 and even 11% in 2000. Its compound annual return over the period is 28.5%, which totals to 1,110% in the past decade, or about 11 times better than the broad market. According to my research, there are very few more
consistently
profitable stocks.
The Genlyte story has been all about the consistency of revenue, earnings and cash-flow growth, which the company's managers have achieved at a high double-digit pace by buying every capable competitor in sight and skillfully blending them into a crack sales and marketing system. Shares right now are trading at a modest 12 times 2008 estimated earnings, which is well under Genlyte's projected growth rate, making it an absolute bargain today.
Why can you pick up this stellar performer on the cheap? Well, you may have heard the U.S. is experiencing a residential construction slowdown. We've been hearing about this crisis for so long, it seems that it must be almost over by now. But sadly, it is not. When you scan newspapers around the country, business sections continue to report on an industry in severe decline.
In the suburbs around Kansas City, for instance, home starts in March were down 38% from a year ago, according to the community's
Sun Tribune
. New permits for homes in Platt County, which is on the outskirts of Kansas City, were off by almost double that -- down 68% from a year ago last month.
The problem is that builders put up a lot of houses over the past couple of years while speculating there would continue to be a large influx of new buyers in the market. It turned out that a lot of the marginal new buyers, though, were not creditworthy.
Banks lent them cheap money, but only with loans that had the hidden time bomb of interest rate "kickers" that made payments unmanageable in many cases after a year. Many of these buyers have lost their homes to foreclosure, and their absence from the marketplace has left a gaping hole.
Not Just Home Lighting
A lot of companies that service the homebuilders have been ravaged in this environment. However, hard times test companies' resilience, and that is where Genlyte shines, so to speak.
Rather than focusing only on home construction, the Kentucky outfit has found success in buying smaller companies that provide lights for a wide range of commercial and office applications as well. So when the Dark Ranger scans urban skylines and curses the ghostly glow of lit-up skyscrapers and industrial parks at night, you can be sure that he's shaking a fist at a lot of Genlyte-made illumination systems inside, from the cool "architectural" lights in lobbies to innovative, low-power fluorescent track lights over the cubicles.
You may not recognize Genlyte as a top lighting brand, and that's probably because rather than putting the Genlyte brand on everything, the company allows its subsidiaries to keep their names on products, which you may know as Lightolier, Capri, Hadco, Metrolux, Stonco or Thomas. To keep their lights in builders' plans, its salespeople are known for keeping close relationships with architects and the reps who service them. These relationships also make the company less price-sensitive than rivals, as customers simply want the right brand regardless of cost.
As the biggest pure play in the illumination biz, Genlyte owns a 16% share of the $8 billion North American fixture market, according to analysts. It has used that scale to execute successfully on a promise of 10% annual revenue growth. Figure on seeing 15% earnings growth over the next several years as the company creates value by inventing new lighting systems and driving down the costs of manufacturing.
This is a great time to buy Genlyte, because weakness in residential construction has led analysts to trim estimates, and that has weakened the stock. But the company's fundamentals are actually as good as ever, with a lot of nonresidential exposure and a history of growing and providing shareholder return through smart acquisitions and cost controls during tough times. Moreover, a lot of people don't seem to realize that residential lights were only 15% of the company's total revenue anyway.
While year-over-year sales in residential might be down as much as 15% this year, nonresidential should be up the usual 20% or more. Bottom line: I estimate that Genlyte will earn $5.80 a share in 2008. If we put a very reasonable 15-times-earnings multiple on that, we get a price target of $87 for next year, which is 20% above the current quote. With apologies to the Dark Ranger, that's a bright buy in my book.
At the time of publication, Jon Markman was long Genlyte.
Jon D. Markman is editor of the independent investment newsletter The Daily Advantage. While Markman cannot provide personalized investment advice or recommendations, he appreciates your feedback;
to send him an email.