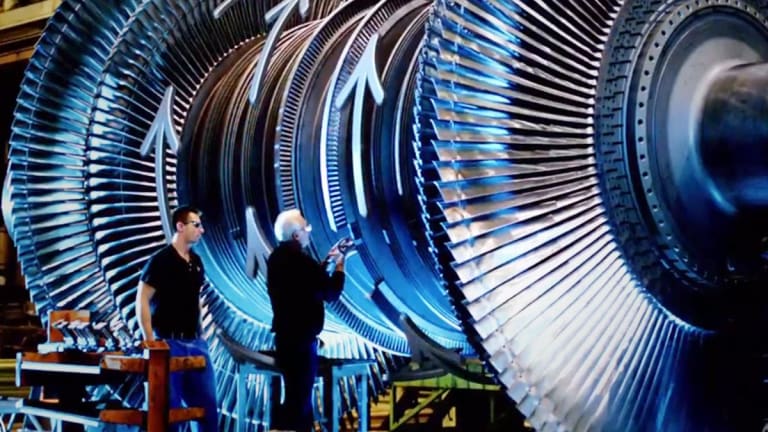 General Electric Is Losing Market Share in Gas Turbines, Says JPMorgan's Tusa
The analyst says there are concerns 'around communications from a company that continues to get material benefit of the doubt around credibility, though appears to us to be stopping short of telling the whole story.'
General Electric's (GE) market share in gas turbines seemed to have been rising, but a closer look by JPMorgan analyst Steven Tusa revealed that may not be true, highlighting the argument that GE management isn't focused on fundamentals.
General Electric said on its earnings conference call in April that its market share in gas turbines was heading in the right direction. On Tuesday, sources close to the matter told Reuters that GE had won the most orders for gas turbines in the latest round of supply orders. GE won six orders for the turbines, up from zero last year, and better than Mitsubishi's (MSBHY) five and Siemens' (SIEGY) four. A McCoy Power Report indicated the same.
"But a closer look shows externally sold utility grade HDGT orders of ~1 GW, well below both Siemens and MHI (~2.5+ GWs each), and far from a signal of a change in trend or upside versus our thesis," Tusa wrote in a note released Wednesday. 
The market for those turbines has shrunk, as plants now rely more on wind turbines. "A full accounting of the situation with a closer look at the data, even a rudimentary review, supports our view that GE is indeed losing market share in a stable HDGT market," Tusa said, "which in a flat market means [GE] revenue declines." 
Perhaps more importantly, the analyst said, the "dynamics here raise concern around communications from a company that continues to get material benefit of the doubt around credibility, though appears to us to be stopping short of telling the whole story." This, to Tusa, is "evidence of a company that appears to manage to headlines rather than on-the-ground fundamentals." 
In late November, GE employees revealed to The Wall Street Journal that the company exhibited lax oversight over its insurance business, which ultimately saw a cash crunch, as management had underestimated the amount in reserves it needed to cover potential payouts to policyholders.
Tusa has long been a bear on General Electric, which has seen several failing business units causing the company's debt to EBITDA to rise to close to 4. The shares have fallen 30% since last May, but were down more than 50% at their December lows.
Shares of General Electric were at $10.26, down 0.53% on Wednesday. Tusa's price target is currently $5 a share. His price target in September 2018 was $10.