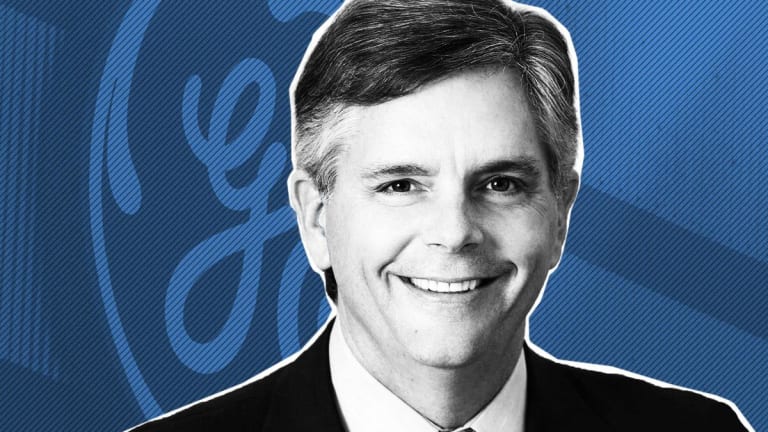 GE Surges as John Flannery Ousted After Miserable Year; Larry Culp Named New CEO
General Electric shares trade sharply higher Monday after the company says it is replacing CEO John Flannery with Larry Culp after just over a year at the helm of the struggling conglomerate.
General Electric Co.  (GE) - Get General Electric Company (GE) Report shares traded sharply higher Monday after the company said it was replacing John Flannery with Larry Culp after just over a year at the helm of the struggling conglomerate.
Culp, 55, will replace Flannery "effective immediately," the company said, adding that weakness in the GE Power business will mean it will fall short of indicated guidance for free cash flow and earnings over the 2018 fiscal year. GE also said that the Power business will take a goodwill charge of nearly $23 billion, although it noted the final amount was "not yet finalized and remains subject to review."
"GE remains a fundamentally strong company with great businesses and tremendous talent. It is a privilege to be asked to lead this iconic company," Culp said in a statement. "We will be working very hard in the coming weeks to drive superior execution, and we will move with urgency."
"We remain committed to strengthening the balance sheet including deleveraging," he added."Tom and I will work with our board colleagues on opportunities for continued board renewal. We have a lot of work ahead of us to unlock the value of GE. I am excited to get to work."
GE shares were marked 9.6% higher at the opening bell Monday and changing hands at $12.38 each, a move that would still leave it with a year-to-date decline of 25%. 
Culp takes over the helm of GE after joining the company's board in April. Prior to joining the board, Culp was the CEO of Danaher Corp. between 2001 and 2014. During his tenure at the diversified conglomerate, Culp led the company to better revenue and increased the market capitalization. In addition to his new role at GE, Culp serves as a director for T. Rowe Price Group Inc. (TROW) - Get T. Rowe Price Group Report , according to BoardEx, a relationship mapping service of TheStreet Inc. 
GE did not immediately respond to TheStreet's request for comment on what Flannery's next move is. 
Flannery, who took over from Jeff Immelt in August 2017, had been attempting a major overhaul of the group that included plans to spin off its healthcare division and sell its stake in oil services group Baker Hughes (BHGE) - Get Baker Hughes, a GE Company Class A Report . 
GE said the plans, which follow its ongoing strategic review, will mark a shift in focus towards its power, aviation and renewable-energy businesses and create "a simpler, stronger, leading high-tech Industrial company." Flannery said the moves "finished" his restructuring ambitions that would "empower" the group going forward.
However, GE shares have lost more than half their value under Flannery's short tenure, with recent pressures mounting over the fate of its Power division amid concerns that a key gas turbine launch would hit the group's earnings. The board apparently had grown frustrated with the slow pace of change under Flannery's leadership, which led to his departure, CNBC reported, citing sources familiar with the issue. 
JPMorgan analyst Stephen Tusa, who has an underweight rating on the stock, lowered this price target from $11 to $10 a share last month as he reiterated concerns for the company's power division, adding that checks on two initial U.S. installations revealed failures of the first stage blade of GE's H-frame gas turbine. 
In August, analysts at JPMorgan noted that "increased competition and lower demand for turbines and power plants" were creating a "prisoner's dilemma" for GE, where the company either "walks from business, turning up the heat on the melting ice cube, or cuts price to maintain the installed base, slowing the speed of the secular decline, while they figure out a strategy forward."
Credit rating giant Moody's has been monitoring GE's struggling power division for several months, noting in late April that GE's rating could be downgraded if "Moody's expects that revenues in the Power segment will be subject to further declines beyond 2019."
"The market continues to be difficult with softness in orders putting pressure on our cash flow and working capital," CEO John Flannery told investors on July 20. "The team continues to focus on rightsizing footprint, reducing base cost, improving quality, and maximizing value of our installed base. This transformation is taking place in the context of a very dynamic macro environment."
GE was dropped from the Dow Jones Industrial Average I:DJI by S&P Dow Jones Indices in favor of Walgreens Boots Alliance Inc (WBA) - Get Walgreens Boots Alliance Inc Report  in June.
-- Anders Keitz contributed reporting. 
Want to Buy Stocks for a 10% or Greater Discount? You can with certain so-called "closed-end" mutual funds - an often overlooked investment class. Click here to register for a free online video in which TheStreet's retirement expert Robert Powell and an all-star panel run down all you need to know.