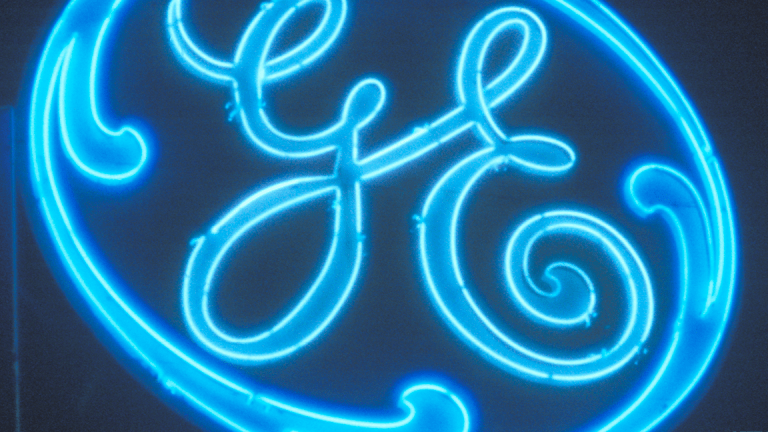 GE Shares Spike After It Confirms Healthcare Spinoff, Baker Hughes Stake Sale
General Electric shares jumped Tuesday after the group confirmed plans to spin off its healthcare unit and exit its stake in oil services company Baker Hughes.
Lean and mean. 
General Electric Co. (GE) shares jumped higher by 7% Tuesday after the struggling conglomerate confirmed earlier reports it is planning to spin off its healthcare division and sell its stake in oil services group Baker Hughes undefined .
GE said the plans, which follow its ongoing strategic review, will mark a shift in focus towards its power, aviation and renewable-energy businesses and create "a simpler, stronger, leading high-tech Industrial company". The group also said it will maintain its dividend until the healthcare unit is separated, but will "adjust" it after that to put it "in line with industrial peers". The announcements comes as the former equity market bellwether faces its first day of trading outside of the Dow Jones Industrial Average undefined after having been turfed from the benchmark last week by S&P Dow Jones Indices in favor of the Walgreens Boots Alliance Inc (WBA)
"Today marks an important milestone in GE's history," said CEO John Flannery. "We are aggressively driving forward as an aviation, power and renewable energy company-three highly complementary businesses poised for future growth. We will continue to improve our operations and balance sheet as we make GE simpler and stronger."
Flannery said the slimmed-down GE would target a debt to earnings ratio of under 2.5 and a long-term single-A credit rating. It also plans to reduce its existing debt burden by $25 billion over the next two years and keep at least $15 billion in cash on its balance sheet. 
Healthcare delivered $4.7 billion in revenues for GE over the three months ending in March, a 9% gain from the same period last year, while profit margins imporved 20 basis points to 15.6%. "Segment profit of $735 million was up 11% reported, driven by continued volume growth and productivity, offset partially by negative price and higher program investments," the company said.
The sale of the healthcare unit will be divided between a 20% cash generation and an 80% tax-free distribution to GE shareholders, the company said.
Watch what one NYSE trader told TheStreet about GE's breakup. 
"The structure, sequence and timing of these transactions will be determined and announced at a later date, but are expected to be completed over the next 12 to 18 months," GE said. "GE Healthcare will conduct business as usual throughout this process, continuing to serve its partners and customers."
GE owns a 62.5% stake in Baker Hughes following a 2017 deal with the Houston based oil services company orchestrated by former CEO Jeff Immelt, but had said as recently as February that it would exit the partnership prior to the expiration of a two-year lockup period. A sale before that period would require the approval from a committee of board members, but the company said it will exit the partnership "in an orderly manner over the next two to three years."
GE said its last weeks its expulsion from the Dow wouldn't change its focus on executing earlier plans to improve the company's performance, telling TheStreet that the move "does nothing to change those commitments or our focus in creating a stronger, simpler GE."
GE shares have held largely steady in the months following its first-quarter earnings in April that included an impressive topline of $28.7 billion, double-digit earnings growth for its transportation, aviation and healthcare businesses and a promise from Flannery that there would be "no sacred cows" in hits plans to streamline the business.
"We are reviewing a number of structures. We are working through this right now in great detail with the board," Flannery told investors on April 20.
In fact, only yesterday that Boston-based group said it will sell its Distributed Power business to private equity firm Advent International for $3.25 billion, furthering Flannery's plan to divest $20 billion of assets. Under the terms of the deal, Advent will acquire the Jenbacher and Waukesha engine brands as well as three facilities in Austria, the U.S. and Canada, GE said in a statement. The Distributed Power business, a unit of GE Power, had sales of $1.32 billion last year. The transaction is expected to close by the fourth quarter.
Last month, GE and Wabtec Corp. (WAB) agreed to an $11.1 billion merger that will combine the transport operations of the two U.S.-based companies and further the ambitions of CEO John Flannery to streamline the Boston-based conglomerate.