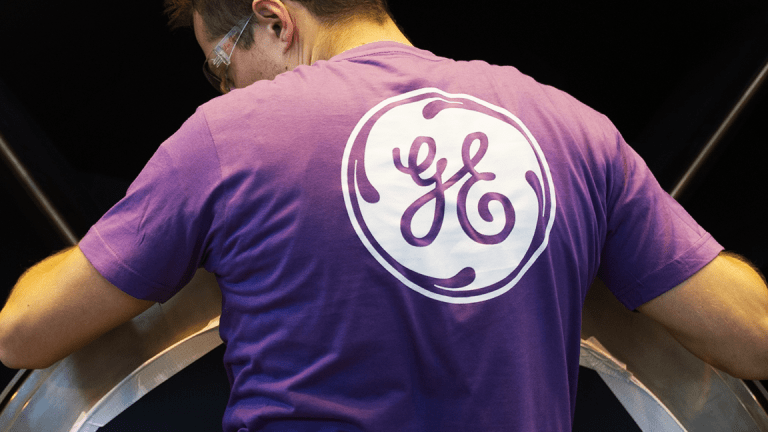 GE Confirms $11.1 Billion Transportation Merger With Wabtec
GE confirmed Monday that it's merging its transportation business with Wabtec in an $11.1 billion tie-up that's also the biggest deal to day for first year CEO John Flannery.
GE confirmed Monday that it's merging its transportation business with Wabtec in an $11.1 billion tie-up that's also the biggest deal to day for first year CEO John Flannery.
General Electric Co.  (GE) - Get Report and Wabtec Corp. (WAB) - Get Report agreed to merger terms Monday to an $11.1 billion deal that will combine the transport operations of the two U.S.-based companies.
The deal, earlier reported by Reuters and later confirmed by both companies, will see GE receiving $2.9 billion in cash from Westinghouse Air Brake Technologies Corp., also known as Wabtec as the groups combine to create a transportation group with annual revenue of $8 billion. GE shareholders will hold about 50.1% of the combined group, the companies said, and will maintain the right to increase that ownership percentage going forward.
GE's 50.1% equity stake will be split into two stakeholders, Cowen equity analyst Gautam Khanna said. GE will retain 9.9% while the remaining 40.2% will be held directly by GE shareholders. The Boston-based industrial conglomerate is obligated to exit its 9.9% position within three years of the combination.
Wabtec Chief Financial Officer Patrick Dugan said the deal is expected to generate more than $6 billion in cumulative free cash flow between 2019 and 2022 but will generate a 15% cash EPS accretion in the first year after closing. Management expects the deal to close in early 2019. Wabtec makes transit systems and freight railroad equipment, while GE Transporation makes train engines.
"Wabtec and GE Transportation are global industry leaders and we believe that together we have a unique opportunity to drive tremendous growth in 2019 and beyond as the industry continues to improve," said CEO Ray Betler, who will remain in charge of the combined group. "By bringing together our highly complementary strengths we are confident that this transformational combination will create value for both Wabtec and GE shareholders, innovative solutions for our customers, and new outlets for long-term career growth for our employees."
Shares of Wabtec closed 3.53% higher on the session at $98.5 while GE stock ended the day 1.94% to $15.26.
Boston-based GE has rallied about 5% since it reported first-quarter earnings last month that included an impressive topline of $28.7 billion, double-digit earnings growth for its transportation, aviation and healthcare businesses. and a promise from Flannery that there would be "no sacred cows" in hits plans to streamline the business.
GE's transportation business booked $1.5 billion in new orders in the three months ending in March, up 46% from the same period last year, and notched sales of $872 million. The group's profit margin was 14.9%, GE said, just below Healthcare at 15.2% but well shy of the 22.5% figure for the Aviation group.
"We are reviewing a number of structures. We are working through this right now in great detail with the board," Flannery told investors on April 20.
The deal is a strategic plus for the Boston-based industrial conglomerate, Cowen equity analyst Gautam Khanna said, as it "furthers GE's move away from deeply cyclical industries."
RBC Capital Markets analyst Deane Dray echoed that sentiment, saying the removal of "this capital-intensive and secularly-challenged business is still a net positive overall for GE's portfolio transformation."
"We note that the $2.9 billion cash infusion helps give GE some welcomed cushion for its liquidity needs," Dray said in a May 21 research note.
-- Anders Keitz contributed to this story. 
-- This story has been updated to include analyst commentary. 
*****************
TheStreet presents on May 22: "How to Stomach Market Volatility." Hosted by Fisher Investments, the exclusive live webinar will give you the tools to successfully navigate market volatility and discuss why having a wealth manager is more critical than ever before. Quickly register for the event here.