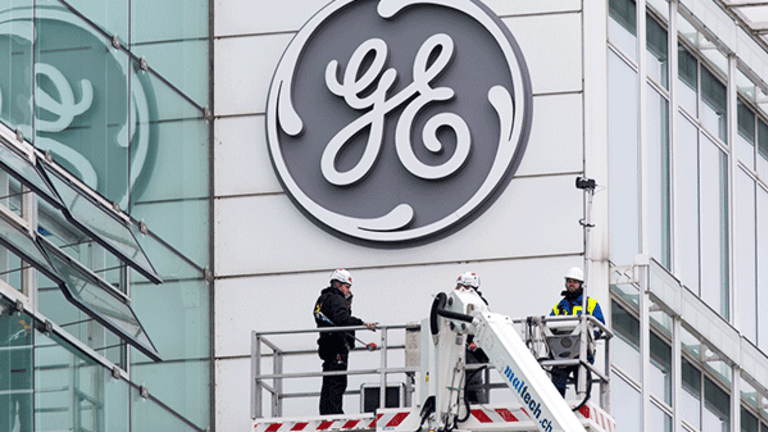 General Electric (GE) - Get General Electric Company (GE) Report  is on track to cut fixed costs by $1 billion in 2017, one of the targets set in talks with activist Nelson Peltz's Trian Fund Management, and CEO Jeffrey Immelt expects the reductions to pick up speed later in the year.
The Boston-based conglomerate reduced expenses by about $375 million in the three months through March before boosting spending in its digital manufacturing business and raising wages by about $80 million, executives said on an earnings call. That left a net reduction of about $76 million.
"The goals for industrial operating profit and structural cost-out are in sight," Immelt said on the call.
Operating earnings from manufacturing businesses including power, jet engines, locomotives and medical devices rose 9.6% to $3.6 billion in the first quarter, according to a company presentation Friday. That showed the payoff from Immelt's strategy of refocusing the company founded by Thomas Edison on its manufacturing roots while moving out of non-core businesses like consumer credit cards, broadcast and entertainment.
Altogether, industrial profit and earnings from finance businesses the company is retaining after winding down its once-sprawling lending division reached 21 cents, well ahead of the 17-cent average from analysts surveyed by FactSet.
"GE had a good quarter in a slow-growth and volatile environment," Immelt said. The company benefited from a $3.4 billion sale of its water business that "exceeded our expectations," he added, and completed $7 billion of loan-portfolio sales.
Total revenue of $27.7 billion was down 1% but still topped forecasts. On an organic basis, excluding the sale of GE Appliances completed a year ago, revenue increased 7%, and orders were 10% higher.
The company maintained its full-year earnings target of as much as $1.70 a share, with 9 cents to 10 cents a share coming from the Alstom power business that GE purchased for $10.6 billion in 2015.
The deal added about a penny a share to earnings in the three months through March, and most of the profit contribution will come later in the year, CFO Jeff Bornstein said in an interview Friday. 
GE's other large-equipment businesses "earn most of what they earn in the second half of the year, and I don't think Alstom is going to look much different," he said.
EXCLUSIVE LOOK INSIDE: General Electric is a holding in Jim Cramer's Action Alerts PLUS charitable trust portfolio. Want to be alerted before Cramer and the AAP team buy or sell the stock? Learn more now.
While GE dropped 2.4% to $29.55 in New York trading on Friday, analyst Nicholas Heymann of William Blair said the stock has a good chance of rebounding to $33 this year if the company continues to meet operating targets.
CFRA Research's Jim Corridore, meanwhile, maintained a 12-month price target of $36 a share.
That would give a boost to the holdings of Peltz's Trian. The activist investor struck a deal earlier this year to give Immelt and his senior management team a 20% bump in their bonuses if they deliver $17.2 billion in industrial operating profit while reducing structural costs in manufacturing by $1 billion both this year and next.
Continued improvement in oil prices, now around $50 a barrel, could make achieving the first goal easier. GE had the strongest orders in its oil and gas business -- the fourth-biggest unit by sales -- in more than two years, Immelt told investors.
Total orders in the unit rose 7% to $2.6 billion, with equipment orders climbing 30%, the company said. In January, GE was chosen to supply eight integrated compressor lines that will be used by Open Grid Europe and Trans Austria Gasleitung to transport gas across the region.
While the division has benefited from a rally in oil prices, which had dropped from a 2014 high above $107 a barrel to around $26 in early 2016, crude will need to reach at least $60 for producers to move beyond simply reopening North American-shale drilling operations and actually increase investment, Bornstein said.
"There's no question that activity picked up significantly" in the U.S. onshore market, the CFO said in the interview. The number of operating rigs rose about 70% from a year earlier, he said, and 25% from the end of last year.
"The producers themselves, particularly independents, have gotten a lot more productive over the past 18 months on how to get stuff out of the ground, both oil and gas, much more cheaply," Bornstein said. "At $50 to $55 a barrel, they can make investments work, where two years ago, they couldn't, because the productivity and the technology wasn't there to make it happen."
This article, originally published at 6:41 a.m. on Friday, April 21, 2017, has been updated with commentary from executives and analysts as well as market reaction.