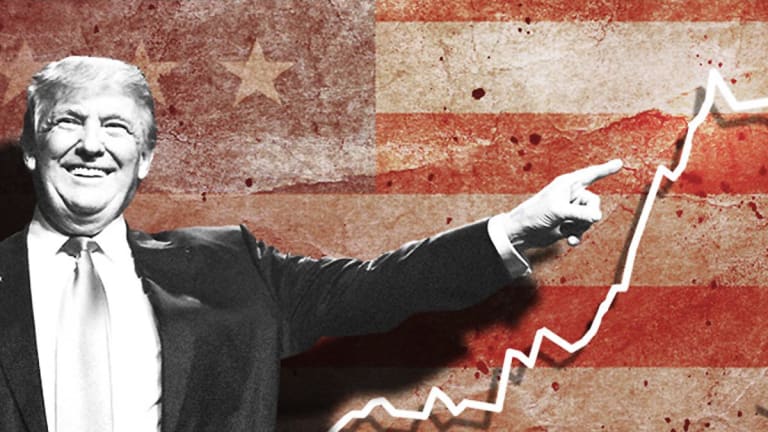 Economy Jumps 4.1%, Prompting Victory Lap From Tax-Cutting Trump
Gross domestic product rises at an annualized rate of 4.1% in the second quarter, doubling from the first quarter's pace to the highest in four years. Trump said the numbers were "great."
The U.S. economy grew at its fastest pace in almost four years during the second quarter, prompting President Donald Trump to claim credit following his tax cuts in December. 
Gross domestic product rose at an annualized rate of 4.1%, compared with last quarter's 2.2% clip, the Commerce Department's Bureau of Economic Analysis said Friday in a statement. The mark exceeded the 4% growth rate expected by economists in a survey by data provider FactSet. The Atlanta Federal Reserve's GDPNow forecast model on Thursday estimated a 3.8% rate in the second quarter.
The second-quarter growth was driven by higher personal spending, exports, non-residential fixed investment, federal-government spending and state and local government spending, according to the bureau's statement. 
"We're continuing to get very strong GDP growth even though many thought we were too late in the cycle for that to happen," George Mokrzan, economics director for Huntington Private Bank, said in a phone interview. "That's something everyone should take credit for."
U.S. equities fell on the news, as some economists predicted that the gains weren't sustainable. The Dow Jones Industrial Average undefined  slid 0.3%, the S&P 500 undefined  fell 0.7% and the Nasdaq undefined  lost 1.5%.
Whether the momentum from Trump's tax cuts in December will lead to sustainable growth in the economy remains an open debate. A report earlier this week from LendingTree noted that the recent uptick in personal spending was fueled with credit-card debt, rather than extra cash in consumers' wallets.
The economy is projected to slow down in the second half of the year and average 2.8% over the full 2018, based on the FactSet survey. After that, the economy would slow even further, to 2.4% in 2019 and 2% in 2020.
Trump took a victory lap after Friday's economic report, tweeting that the GDP figures were "GREAT," and hosting a live press briefing.
"These numbers are very, very sustainable," Trump said. "This isn't a one-time shot." He predicted that growth would reach the highest average annual rate in 13 years. The economy grew 3.5% in 2005 and 3.8% in 2004. 
Upon his inauguration in January 2017, Trump promised that his economic plan would return the U.S. to 4% annual growth, a clip not seen since the late 1990s. The president's $1.5 trillion of tax cuts in December, including a steep reduction in the corporate rate, was central to that effort -- though at the cost of rising federal budget deficits that have ballooned the national debt past $20 trillion. 
Treasury Secretary Steven Mnuchin has said it would take sustained 3% economic growth to generate enough new revenue for the government to cover the cost of the tax cuts.  
One problem, as some economists see it, is that Trump himself has sowed so much uncertainty about his policies that businesses aren't willing to invest their tax savings in new plants, equipment and expansion plans. While the president's agreement earlier this week with the EU to resolve trade differences encouraged investors, the president's threatened tariff war with China has prompted concern from Wall Street to the Federal Reserve over its potential effect on growth.
And in fact, it turns out that some of the jump in in second-quarter growth was due to higher exports, according to Standard & Poor's. The ratings firm's chief U.S. economist, Beth Ann Bovino, wrote in a report that some businesses may have been "frontloading" shipments "to get ahead of the storm of proposed tariffs from the dueling governments."
"Over the longer term, we see the U.S. economic shedding the growth of 2018 and 2019 and moving more towards the trend of 1.8%," Bovino wrote. "The boost from the tax cut will have filtered through without perhaps delivering the long-term, productivity-generating results expected by the White House." 
Many companies are simply using their tax windfall to pay out dividends to shareholders and buy back their own shares -- a financial-engineering tactic that helps CEOs meet short-term targets for earnings per share but does little to assure future revenue growth -- or bolster the economy in the short term.
What's more, accelerating growth could reinforce the Federal Reserve's case for continuing to increase U.S. interest rates in a bid to keep inflation from heating up. The U.S. central bank has been raising rates since 2015, and Fed Chairman Jerome Powell has insisted that a "gradual" pace of increases remains warranted.
Those rate hikes would theoretically act as a brake on the economy -- cutting against Trump's growth impulse.