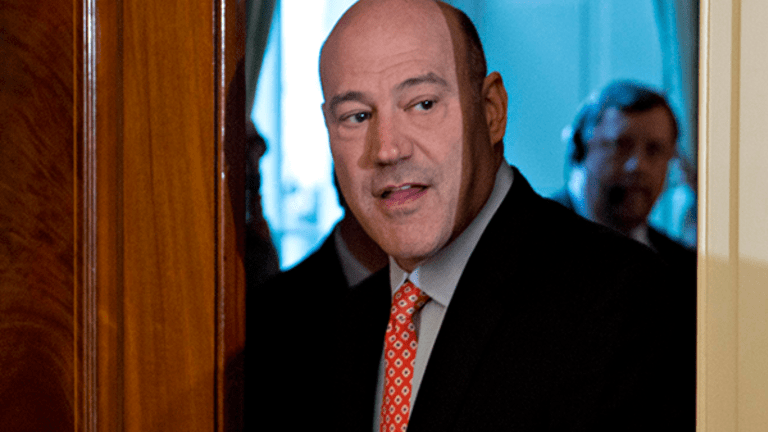 Make Gary Cohn the Next Federal Reserve Chair, Jim Cramer Says
Former Goldman Sachs exec Gary Cohn could help the central bank sell down its huge bond position.
Jim Cramer says President Trump should pick top economic adviser Gary Cohn to head the Federal Reserve next year if the president declines to give current Fed chief Janet Yellen a second term.
"I want Gary very much to be the head of the Fed," Cramer said during his exclusive monthly conference call with members of his Action Alerts PLUS club for investors.
Speculation has swirled for months about whether Trump will reappoint Yellen after her current five-year term ends in 2018. Some sources have said the president might instead tap Cohn, an ex-Wall Streeter who currently heads the U.S. government's National Economic Council.
Cohn served as chief operating officer at Goldman Sachs (GS) before resigning last year to work for the Trump administration, but he isn't a trained economist as recent Fed chiefs have been. But Cramer, who said Cohn is a personal friend, said that shouldn't matter at a time when the Fed will likely begin selling trillions of dollars of bonds that the bank bought as part of its recession-fighting quantitative-easing program.
"People say: 'Oh, Jim, he's not an economist,'" Cramer said. "[But] what would be great is he understands bonds. If you're going to wind down that balance sheet ... you want Gary Cohn as your Federal Reserve chairman."
Want to join in on Jim's monthly conference calls? Click here for a free 14-day trial subscription to Action Alerts PLUS and hear all of the latest call, plus get e-mails before Jim makes any trade and enjoy lots of other exclusive material.
More of What's Trending on TheStreet: