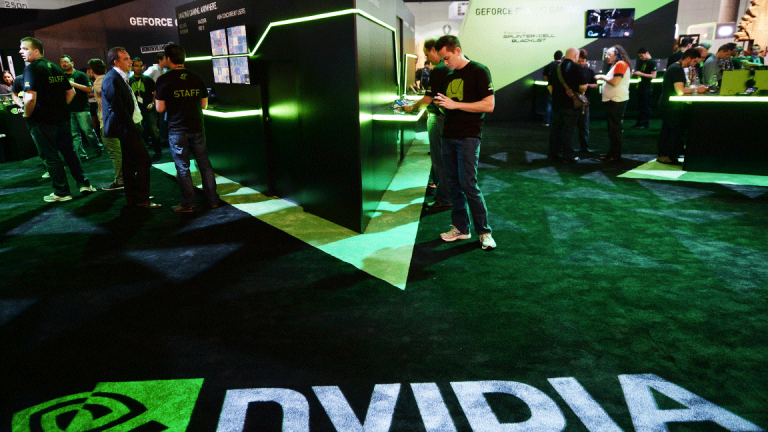 Publish date:
Gambling and Weed Get Big Boosts; What to do With Nvidia -- ICYMI
Here's what you need to know now for Monday, May 14.
Here's what you need to know now for Monday, May 14.
The Dow rose Monday for the eighth straight day as President Donald Trump's pledge to support Chinese telecommunications company ZTE raised the prospect of a near-term agreement on trade with China.
Get your betting tickets ready. The U.S. Supreme Court on Monday overturned a federal law prohibiting sports betting. U.S. gaming sector stocks surged Monday as the 7-2 ruling could pave the way for other U.S. states to challenge the 1992 Federal Professional and Amateur Sports Protection Act that effectively allowed only Nevada, Oregon, Delaware and Montana to offer full or limited facilities in the $150 billion sports betting market. Justice Samuel Alito said the law meant that "state legislatures are put under the direct control of Congress," and argued that "a more direct affront to state sovereignty is not easy to imagine." Traditional casino operators MGM Resorts International (MGM) - Get Report  and Caesars Entertainment (CZR) - Get Report  finished higher. Also in the black was The Stars Group Inc. (TSG) - Get Report  , the Nasdaq-listed parent company of such online gaming properties as PokerStars and online sports books that are available in Canada. Looking a bit further down the road, the door now seems open for the IPOs of DraftKings and FanDuel, two companies backed in part by the major sports leagues whose main practices of daily fantasy sports blurred the line between illegal betting and legal skill games.
Ditch the betting ticket for a doobie. The pot industry got another boost on Monday as Aurora Cannabis (ACBFF)  , the third-largest publicly traded pot producer, sparked the largest weed-related deal to date with a C$3.2 billion ($2.5 billion) all-stock acquisition of fellow producer MedReleaf. I spoke with the Aurora's CCO, Cam Battley, who talked about the company's desire to continue its rapid pace of dealmaking. And the company's willingness to tap the public markets to raise funds. "When it comes to large acquisitions we have to move quickly and there isn't a moment to lose," said Battley, adding that his company has gained scale in Europe and Canada through eight acquisition in just over 12 months. "We need to move quickly." Though Aurora doesn't have operations in the U.S., Battley said his company is "poised to pounce" when the opportunity arises. My full story is available on TheStreet's sister site The Deal.
Don't believe in pot? You're not alone. Doug Kass makes a bit of a bear case for the cannabis industry.
For those of you skipping the three-team parlay and laying off the grass, TheStreet dug back into Nvidia's (NVDA) - Get Report  earnings report last week. Despite a sizable beat, its shares fell 2.2% on Friday, due to the company's forecast that sales of graphics cards meant specifically for cryptocurrency miners (only 9% of last quarter's revenue) would drop by two-thirds this quarter. Though gaming and data center trends generally looked very good, bad crypto news was enough to spark some profit-taking. Still, shares now trade at lofty forward earnings multiples, writes Eric Jhonsa, so it's now worth taking a closer look at the things that could derail the GPU giant's momentum, in addition to the positive trends that could keep the party going.
This is an excerpt from "In Case You Missed It," a daily newsletter brought to you by TheStreet. Sign up here.
Photo of the day: Selling a stake in 'Peanuts'
DHX Media Ltd. (DHXM) - Get Report is selling a stake in Charles Schulz's Peanuts to shed debt. Sony Corp. (SNE) - Get Report said Sunday that it will pay C$237 million ($185 million) for a minority position in Peanuts Holdings LLC. The deal is part of a larger review by DHX that could include more deals, a suspension of the dividend or a de-listing of the Canadian company's stock from the Nasdaq as the company looks to reign in debt. Read More
Read more from "In Case You Missed It." Sign up here.