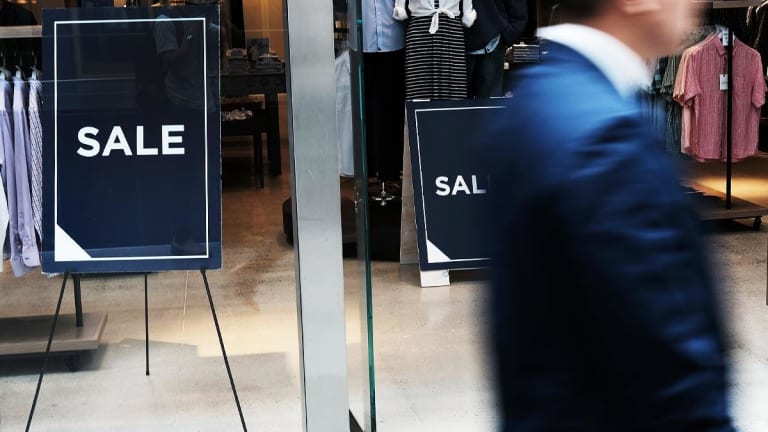 G-III Apparel Group Falls Following Downgrade on China Tariffs Worries
Piper Jaffray lowers its rating on the apparel group as well as shoe company Steve Madden as the trade war with China escalates.
G-III Apparel Group (GIII)  fell more than 6% on Tuesday after getting downgraded by Piper Jaffray on China tariff fears and other related worries.
G-III Apparel's shares were trading around $31.85 on Nasdaq after a team of Piper Jaffray analysts lowered the clothing and lifestyle brand to neutral from overweight and reduced its price target to $35 from $43. 
Steve Madden (SHOO) was also downgraded in the note, "as tariff rhetoric accelerates across our group weighing on names that have large U.S. businesses & a disproportionate share of production in China," wrote analysts Erinn E. Murphy, Eric T. Johnson and Christian M. Yonkoski.
"While both management teams are resourceful, have strong relationships with their retailers and have already made meaningful progress diversifying production in China, they still produce a large amount of their goods in China," wrote the analysts. 
The move comes just days after the U.S. raised tariffs on hundreds of billions of dollars worth of Chinese imports to the U.S. and a day after Beijing retaliated with its own tariffs on $60 billion worth of U.S. goods.
"We lower our estimates based on existing tariffs in place," said the team, forecasting the taxes would hurt earnings in the second half of the year.
G-III Apparel in March forecast its fiscal year 2020 would see net sales of about $3.28 billion and adjusted net income between $167 million and $172 million, or between $3.25 and $3.35 per share.
"While both vendors likely can increase pricing to some extent, we believe their overall exposure to China & recently proposed tariffs to the apparel/footwear categories will weigh on their multiple. Even if there is tariff relief in the next month--we are not certain we'll see a full recovery of the multiples. As such, we prefer to sit on the sidelines with both stocks for now," said the analysts at Piper Jaffray.
The team also said that incremental tariffs on shoes and clothing will likely harm U.S. shoppers more than those in China. 
They also fears other ripple effects, such as anti-American feelings or boycotting of U.S. brands.
Steve Madden fell around 3% Tuesday to trade at $30.76 on Nasdaq.