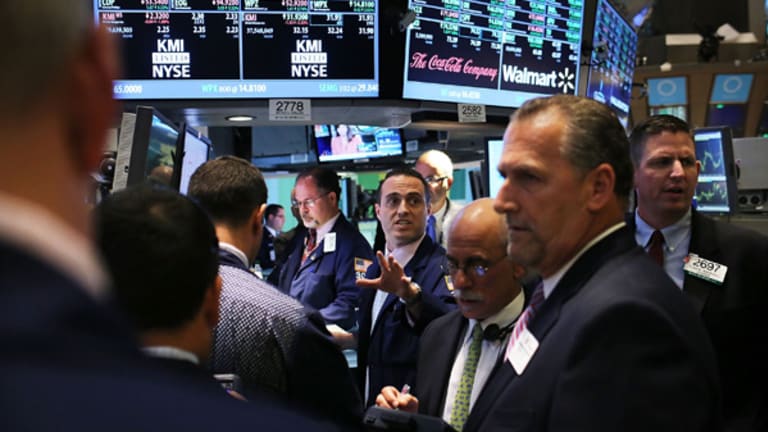 Dow Chalks Up a Win on M&A Chatter, Earnings
The Dow breaks a five-session losing streak as investors absorb an influx of data, earnings and Potash's rejection of a $38.5 billion takeover offer from BHP Billiton. Gregg Greenberg has The Real Story.
NEW YORK (
) -- The
Dow
broke a five-day losing streak Tuesday as an
of
Potash
(POT)
lighted a fire under the basic materials sector. Capital goods and transportation stocks also saw strong gains on the same day that industrial production showed better-than-expected growth in July, and several retail names reported promising results.
The Dow Jones Industrial Average gained 104 points, or 1%, to 10,406. The
S&P 500
added 13 points, or 1.2%, to 1093, and the
Nasdaq
finished ahead by 28 points, or 1.3%, at 2209.
A confluence of factors were moving stocks higher today, according to one analyst. While both
Home Depot
(WMT) - Get Walmart Inc. Report
and
Wal-Mart
(WMT) - Get Walmart Inc. Report
reported earnings in the morning, alongside a collection of retail names, it was an M&A headline that was giving the market a particular lift today.
Potash
(POT)
turned down
, but the news was enough to boost confidence that M&A activity may be making a comeback.
Art Hogan, chief market strategist at Jefferies attributed the gains to three factors:
"First -- we've been down five days in a row second, so we're due. Second -- we're impressed with M&A activity picking up in waning days of summer. Third -- we think Wal-Mart gave relatively upbeat guidance, which makes you think the death of the American consumer was probably overstated," said
The
Treasury Department also held discussions Tuesday
where officials traded ideas on how to handle the government's involvement in America's mortgage market.
"In backdrop you have people talking about what to do with Fannie Mae and Freddie Mac, and it looks like there are some good ideas being discussed today in Washington. ... You've got some smart people talking about credible possibilities," Hogan continued. "Put on top of that some
PPI and productivity data that's better than expected, I think we've got a pretty good cornucopia of positive catalysts today."
Speaking before the Conference on the Future of Housing Finance, Geithner said the current housing finance system is untenable and that a fundamental change is needed.
"We will not support returning Fannie and Freddie to the role they played before conservatorship, where they fought to take market share from private competitors while enjoying the privilege of government support," Geithner said.
Overseas Tuesday, Hong Kong's Hang Seng rose 0.1% while Japan's Nikkei slipped 0.4%. The FTSE in London gained 1.4%, and the DAX in Frankfurt was ahead by 1.6%.
>>The Economy
>>Company News
>>Commodities and the Dollar
>>Treasuries
The Economy
The Department of Commerce said
July housing starts rose 1.7% to 546,000 from 537,000, which was downwardly revised from 549,000. Economists had been expecting July's level to rise to 555,000, according to Briefing.com. Meanwhile, July building permits dipped to a lower-than-expected 565,000 from 583,000. Wall Street had been anticipating 573,000 permits in July.
The Labor Department's
producer price index increased by an as-expected 0.2% in July after dipping by 0.5% in June. The core rate, which excludes volatile food and energy prices, rose 0.3%, which was stronger than the 0.1% uptick that economists had been expecting, according to Briefing.com.
Industrial production jumped 1% in July, surpassing Wall Street's expectations for an uptick of 0.6% and June's decline of 0.1%. Capacity utilization also strengthened in July, coming in at 74.8%, which was better than the 74.5% level that economists had been projecting and up from last month's 74.1%, according to Briefing.com.
At 4:30 p.m. ET, the American Petroleum Institute said crude oil supplies gained 5.87 million barrels in the week ended Aug. 13, disappointing analysts' expectations for a drawdown of 2.25 million barrels, according to a Platts poll.
>>Company News
>>Commodities and the Dollar
>>Treasuries
Company News
Kraft Foods
( KFT) and JPMorgan Chase were the only Dow components to finished the session in the red.
Meanwhile,
Home Depot
(HD) - Get Home Depot Inc. (The) Report
,
Alcoa
(AA) - Get Alcoa Corporation Report
and
Boeing
(BA) - Get The Boeing Company Report
led the blue-chip average higher.
rejected an unsolicited takeover offer from
BHP Billiton
(BHP) - Get BHP Group Limited American Depositary Shares (Each representing two) Report
for $130 a share. Potash's stock soared 27.6% to $143.12, while BHP's stock lost 2.4% to $70.20.
Fellow agribusiness companies
Mosaic
(MOS) - Get Mosaic Company (The) Report
,
Agrium
(AGU)
and
Potash One
were lifted by the Potash rejection news. The stocks saw gains of 8.7%, 4.6% and 14.2%, respectively.
Shares of
M&T Bank
(MTB) - Get M&T Bank Corporation Report
gained 5.9%, to $90.50 on rumors that it was in merger discussions with
Banco Santander
(BSBR) - Get Banco Santander Brasil SA American Depositary Shares each representing one unit Report
.
topped profit estimates by a penny, although sales of $19.4 billion fell short of the $19.59 billion that analysts had been expecting. Shares rose 3.4%, to $28.31.
(WMT) - Get Walmart Inc. Report
reported second-quarter earnings of 97 cents a share, which was a penny above estimates. The stock gained 1.2%, to $51.02.
Shares of
Eli Lilly
(LLY) - Get Eli Lilly and Company Report
shed 2.3% to $34.74 after the pharmaceutical company halted the development of an experimental drug for Alzheimer's disease because a look at two late-stage clinical trials showed that the drug was ineffective.
In other earnings news,
Abercrombie & Fitch
(ANF) - Get Abercrombie & Fitch Company Report
swung to a profit of 22 cents in the second quarter, surpassing estimates for earnings of 16 cents a share. Sales rose 17% to $745.8 million. The stock, however, lost 6.9% to $35.02.
Saks
(SKS)
reported a loss that was narrower than expected and
TJX
(TJX) - Get TJX Companies Inc. (The) Report
met profit expectations. Saks shares increased 2.5% to $7.80 and shares of TJX advanced 1% to $41.49.
>>The Economy
>>Commodities and the Dollar
>>Treasuries
Commodities and the Dollar
Crude oil for September delivery gained 53 cents, or 0.7%, to settle at $75.77 a barrel.
Elsewhere in commodity markets, the December gold contract rose by $2.10, or 0.2%, to settle at $1,228.30 an ounce.
The dollar was trading lower against a basket of currencies, with the dollar index down by 0.4%.
>>The Economy
>>Company News
>>Treasuries
Treasuries
The benchmark 10-year Treasury was down by 16/32, increasing the yield to 2.629%.
The two-year note was largely unchanged with a slightly higher yield of 0.5%. The 30-year bond was down by 25/32, lifting the yield to 3.760%.
--Written by Melinda Peer and Sung Moss in New York
.
>>The Economy
>>Company News
>>Commodities and the Dollar
Disclosure: TheStreet's editorial policy prohibits staff editors and reporters from holding positions in any individual stocks.