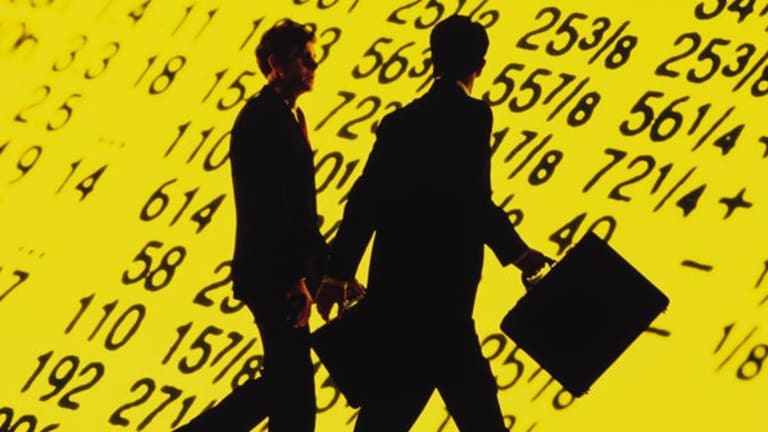 Stock Futures Slip as Debt Crisis Eats at Europe's Core
Stocks futures signal a lower open on fears that Europe's debt crisis is intensifying in core countries Italy, France and Germany.
NEW YORK (
) -- Stocks futures signaled a lower open on fears that Europe's debt crisis is intensifying in core countries Italy, France and Germany.
Futures for the
Dow Jones Industrial Average
were down 17 points, or 14.5 points below fair value, at 11,217. The index is at its lowest level since late October after logging six straight down days, including a 2.1% loss on Wednesday.
Futures for the
S&P 500
were down 2.3 points, or 2.4 points below fair value, at 1157. Futures for the
Nasdaq
were down 4 points, or 9.4 points below fair value, at 2157.
The U.S. stock market, closed Thursday for the Thanksgiving holiday, was headed for more losses on Friday, again due to worries over Europe's debt contagion. Despite calls for greater fiscal union from leaders in Italy, Germany and France, officials have yet to come up with a convincing plan to backstop the crisis.
Officials shot down several proposals on Thursday to try to fix the debt crisis, including the creation of region wide euro bonds. European Central Bank executive board member Jose Manuel said that euro-area nations should not rely on the central bank to resolve the debt crisis.
"Europe continues to drive the early morning action as there were some comments yesterday from Germany's Angela Merkel, displaying opposition for an expanded role of the ECB," added Todd Salamone, director of research at Schaeffer's Investment Research.
Earlier, Italy paid record interest rates at a government bond auction in order to raise a planned amount of €10 billion. Italian 10-year bond yields rose to 7.32%, considered far too high to be sustainable in the long-term. Economists are doubtful that Italy, which faces a debt pile 120% of its gross domestic product, will be able to escape trouble purely by way of fiscal austerity.
"The country is also likely to need an external financial 'shield' to protect against destabilizing market dynamics," wrote analysts at Barclays Capital.
Signs that the debt crisis is spreading are rampant. On Thursday, Hungary's debt was downgraded one notch to junk status by Moody's Investors Service. The country said last week it was ready to let the International Monetary Fund assist with its budget deficit, which some economists saw as a desperate move.
The euro was dropping 0.84% to a near seven-week low of $1.32 on Friday. The greenback was gaining by 0.59% against a basket of currencies.
London's FTSE was about flat while Germany's DAX was down 0.37%. Japan's Nikkei Average closed down 0.06% and Hong Kong's Hang Seng was down 1.37%.
such as
Wal-Mart
(WMT) - Get Report
,
J.C. Penney
(JCP) - Get Report
,
Sears
(SHLD)
and
Gap
(GPS) - Get Report
are expected to take advantage of Black Friday madness to revive business.
"It will be interesting to see whether the retailer sector can disengage from the broader market later in the day," added Salamone. Positive commentary from companies may give sentiment a lift, he explained. "What's different this year than prior years is that stores opened earlier, so the news flow may come in earlier than usual."
In other corporate news,
AT&T
(T) - Get Report
was slipping 0.18% in premarket hours after the company said it will take a $4 billion pretax charge in the fourth quarter to reflect breakup fees related to its planned acquisition of
T-Mobile USA
, owned by
Deutsche Telekom
(DT) - Get Report
.
is an acknowledgment that the prospects look increasingly bleak for the $39 billion transaction to pass regulatory muster.
J.P. Morgan Asset Management
, a unit of
JPMorgan Chase
(JPM) - Get Report
, received permission from the Beijing city government to create a $1 billion RMB fund, according to
The Wall Street Journal
. JPMorgan will become the biggest foreign manager of a yuan-denominated fund to date. Shares were down 0.4%.
The January crude oil contract was slipping 60 cents to trade at $95.57 a barrel. Gold for December delivery was down $18.40 to trade at $1677.50 an ounce.
Ten-year Treasuries were off 14/32, pushing the yield to 1.929%.
U.S. stock markets close at 1 p.m. EST while the bond market closes at 2 p.m.
-- Written by Chao Deng in New York
.