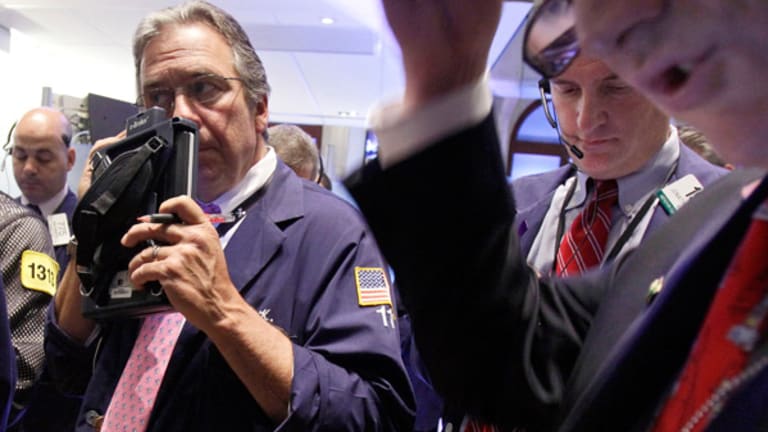 Further Out, Microsoft Could See the 50s
With Vista and Xbox under its belt, it's important to take a long-term approach.
This column was originally published on RealMoney on April 28 at 9:36 a.m. EDT. It's being republished as a bonus for TheStreet.com readers.
Microsoft's
(MSFT) - Get Microsoft Corporation Report
weak report is hitting the market like a two by four across the forehead.
We all know that Vista got delayed and that, in 2006, every Xbox success is an earnings drag to Microsoft. How much will the delay combined with what could be a full year with Xbox as the only new game console in the world actually hit Microsoft's bottom line? The company has tried to quantify for us at about 15 cents per share of earnings on a consensus base earnings estimate of $1.50 or so. With those new estimates and the stock at $25, the P/E is about 17 instead of the 18 it was at yesterday.
But look, investing in Microsoft isn't about this quarter or next. You need to look at what's on deck in 2007. You have the Vista operating system rolling out to a world and Street that fully expects a slight incremental improvement on Windows XP.
You have an Xbox 360 system that will have sold millions upon millions of copies by the end of 2006. The losses from those systems will start to fade in 2007 as the costs drop. More importantly, the licensing for the games and the sales of the games themselves are going to hit the bottom line in 2007 and 2008.
In other words, it looks like 2007 and 2008 will show big big earnings growth from this crusty ol' tech company. And I expect the stock to run into the 30s, then the 40s and, given that stocks usually overshoot to the upside just as they usually overshoot to the downside, why not be optimistic and look for a $50 price target in two years?
What does it mean that Microsoft is down 3 bucks today? Well, perhaps it means that what might have been a burgeoning rotation into tech is already over. It might mean that some sort of short-term bottom can finally be put into tech. What I know for sure it means is that I'm aggressively buying Microsoft this morning and I plan to own it for another two or three years.
P.S. from TheStreet.com Editor-in-Chief, Dave Morrow:
It's always been my opinion that it pays to have more -- not fewer -- expert market views and analyses when you're making investing or trading decisions. That's why I recommend you take advantage of our
to TheStreet.com's
RealMoney
premium Web site, where you'll get in-depth commentary
and
money-making strategies from over 50 Wall Street pros, including Jim Cramer. Take my advice --
At the time of publication, the firm in which Willard is a partner was net long Microsoft, although positions can change at any time and without notice.
Cody Willard is the manager of a hedge fund, author of
The Telecom Connection
, a newsletter published by
TheStreet.com
and a contributor to the
Financial Times
and
VON Magazine
. He is also a regular guest on CNBC's
Kudlow & Company
and an adjunct professor at Seton Hall.
He earned a bachelor's degree in economics at the University of New Mexico. Willard appreciates your feedback --
to send him an email.