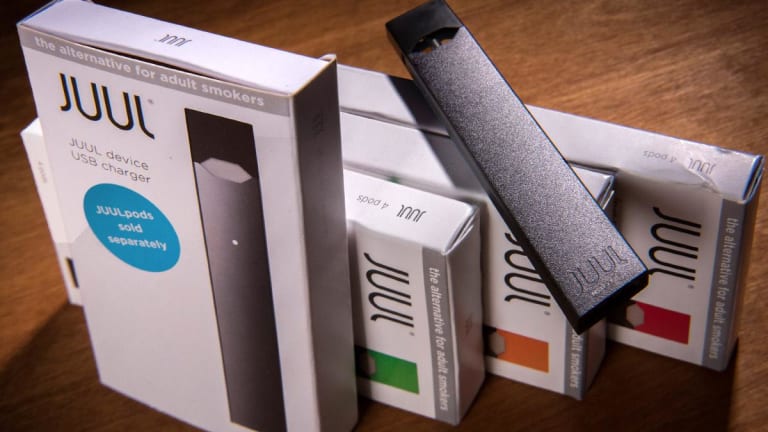 Juul's Marketing Practices Being Investigated by FTC - Report
A report says FTC investigators are looking at whether Juul 'engaged in deceptive marketing, including by targeting minors or using influencers.'
The marketing practices of e-cigarette startup Juul Labs are being investigated by the Federal Trade Commission, the Wall Street Journal reported on Thursday, citing people familiar with the matter.
According to the report, the FTC is looking at whether Juul "engaged in deceptive marketing, including by targeting minors or using influencers" and "determining whether to seek monetary damages."
A Juul spokesman told the Journal the company is transparent and fully cooperates with government agencies and regulators. The company said its products are intended for adult cigarette smokers and not marketed to youth. The spokesman also told the Journal its pilot paid influencer program was short, never formalized and ended last year.
An FTC spokesman said the agency doesn't confirm or deny whether it's conducting investigations and that its investigations are not public.
Late last year, tobacco giant Altria Group  (MO) - Get Free Report  invested $12.8 billion for a 35% stake in Juul.
Altria shares fell 3.5% after the news broke on Thursday. At last check, the stock was down 3.4% to $44.30. The stock is trading near its 52-week low of $42.40 in January. The stock hit a 52-week high of $66.04 in November. 
The Marlboro maker recently confirmed it's in talks to merge with Philip Morris International (PM) - Get Free Report .
In an email to TheStreet, a Juul spokesman reiterated comments made to the Journal saying that, "Without commenting on any specific investigation, we fully cooperate and are transparent with any government agency or regulator who have interest in our category."
The spokesman also stated that, "We have never marketed to youth. Our earliest marketing campaign in 2015 was intended for adults in the 25-34-year-old demographic and lasted for six months. If one views the sales and revenue data, there is no evidence that it drove use, youth or otherwise. Nonetheless, we regret that the campaign was executed in a way that was perceived as appealing to minors."
The spokesman added that, "To avoid any misconceptions, we changed our approach to advertising in a way that offers no room for misinterpretation about the mission of our company or our intended customers."
Juul said the company's marketing efforts today only feature adult smokers aged 35 and up "who offer their personal experiences about switching to JUUL products - all conveyed in a style, tone and message that is a direct appeal to current adult smokers."
The company has also exited social media "entirely," the spokesman said, and has asked social media platforms to delete "inappropriate" third party posts.
"We have no higher priority than to prevent youth usage of our products," the company stated, while adding that the product is intended for "current adult smokers and our marketing specifically is designed to help achieve that goal."
An Altria spokesman said, "Thank you for contacting us, we are declining to comment."
Save 57% With Our Labor Day Sale. Join Jim Cramer's Action Alerts PLUS investment club to become a smarter investor! Click here to sign up!