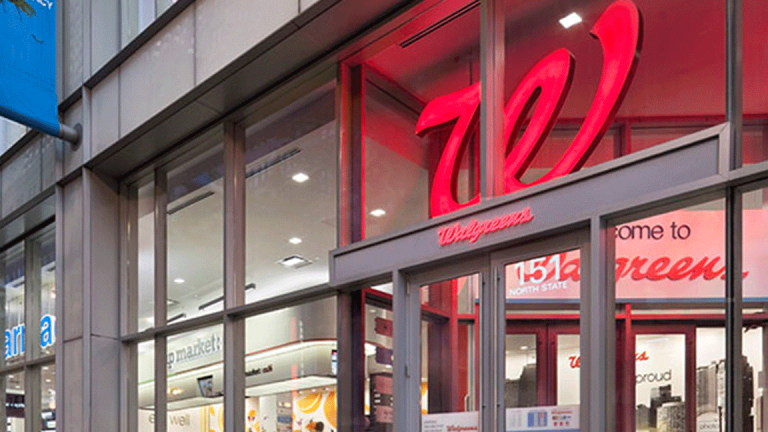 FTC Chair Says Agency Is Ready to Take on Big Tech; Walgreens Joins Dow -- ICYMI
Here's what you need to know for Wednesday, June 20.
Here's what you need to know for Wednesday, June 20.
Stocks finished mixed on Wednesday, June 20, but investors remained cautious amid the deepening trade dispute between Washington and Beijing. Wall Street also was processing comments from Federal Reserve Chairman Jerome Powell, who said at a European Central Bank conference in Portugal that the central bank was likely to gradually increase interest rates. The Dow Jones Industrial Average closed down while the tech-heavy Nasdaq posted a new record close.
While folks were fixated on trade wars and tariffs, the newly minted chair of the Federal Trade Commission, Joseph Simons, gave his first press briefing since taking office. He said the commission is willing and able to exercise greater antitrust scrutiny of technology giants such as Amazon (AMZN) - Get Report  , Alphabet (GOOGL) - Get Report  and Facebook (FB) - Get Report  . While acknowledging to The Deal's David Hatch that many of the mechanisms to review these businesses and their anticompetitive practices or lack thereof, there may need to be new regulations implemented to help the agency deal with the lot of massive tech companies. "I have an open mind" about enforcement in this area, Simons said during his first press briefing, emphasizing that "the antitrust laws are very adjustable and malleable." The dominance of tech giants such as Amazon and Google has sparked a debate in antitrust circles over whether government enforcers can and should do more to rein in Internet-based companies. By acquiring a steady stream of burgeoning startups before they blossom into full-blown rivals, these and other Silicon Valley icons have been able to expand rapidly without facing much antitrust scrutiny. A segment on "60 Minutes" may have brought some of these issues to light, but it seems that it's something the agency has been looking at for some time.
Lots of talk today about how Walgreens (WBA) - Get Report  , the newest member of the Dow Industrial Average, isn't indicative of the overall strength of the economy and why it shouldn't be included in the index. But when you look at the other components of the index and where Walgreens is headed, I'd argue that it is actually one of the best choices to replace General Electric (GE) - Get Report  on the index. Healthcare is, of course, about a third of the U.S. economy and Walgreens is becoming much more of a healthcare company than a simple pharmacy chain. Much like its competitor CVS (CVS) - Get Report  , Walgreens continues to deepen its relationship with insurers and drug companies. On Tuesday, for instance, Humana (HUM) - Get Report  announced a pilot program with Walgreens to operate senior-focused primary care clinics inside two Walgreens stores in Kansas City. This could go national if it's successful and doesn't change the persistent speculative narrative that Walgreens could look to buy Humana, as CVS acquired Aetna (AET)  .
This is an excerpt from "In Case You Missed It," a daily newsletter brought to you by TheStreet. Sign up here.