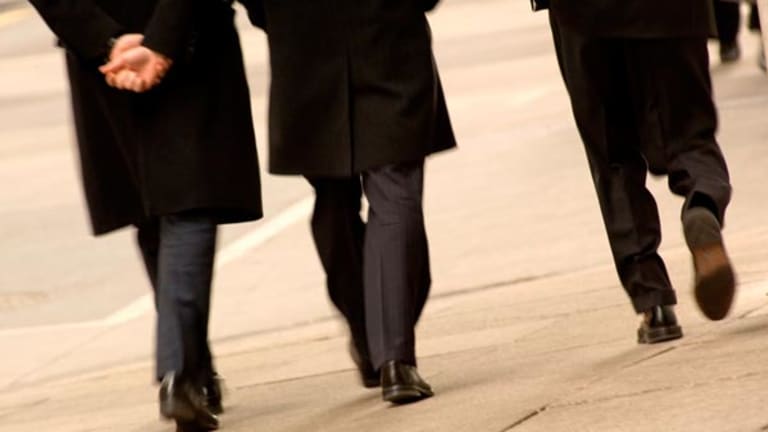 Friday's Market: Week Ends Weakly as Big Tech Drives Indices Lower
Several of the news items from Thursday night proved to be market killers today.
News that U.S. and British aircraft fired upon two military command and control centers outside Baghdad caused the
Nasdaq and the
Dow Jones Industrial Average to hit their lows of the day, but didn't keep them there.
Not that they needed any help descending. Both spent the day on the downside and finished well below the break-even line, wiping out any gains they made yesterday. The Nasdaq even chalked up triple-digit losses.
The indices can blame their falls on a plethora of crummy earnings news, a surprisingly high
Producer Price Index number and a mixed bag of other economic news.
Look at the top of the list of most actively traded stocks on the
Big Board and you'll see a string of sad stories.
First off is
Nortel Networks
(NT)
, which
warned after the close Thursday of a sharp earnings and revenue shortfall, saying that the U.S. economic slowdown is "faster and more severe" than it had expected. Nortel tanked 32.8% to $20.
Yesterday, its competitor
Ciena
(CIEN) - Get Ciena Corporation Report
was the market's savior, after reporting
better-than-expected earnings and raising its revenue estimates. Ciena was the victim of the bad news and some profit taking. It was off 7.2% to $82.63.
Also, fiber-optic
Corning
(GLW) - Get Corning Incorporated Report
was caught up in the Nortel mess, not to mention creating
its own when it lowered its revenue outlook this morning. It fell 21.4% to $33, below its 52-week low of $34.48.
Another Nortel casualty was
JDS Uniphase
(JDSU)
, which also got socked with a negative note from
Credit Suisse First Boston
. The firm lowered JDS' 2001 and 2002 forecasts. It was 20.6% lower to $35.81.
"We believe it is prudent to have more conservative estimates at this time given the deterioration in visibility in optical spending, particularly in North America," CSFB wrote in a memo to investors this morning. "We believe the lowered visibility encountered by Nortel is not an isolated event and anticipate that
Lucent
(LU) - Get Lufax Holding Ltd American Depositary Shares two of which representing one Report
and
Alcatel
undefined
may also be experiencing weakness."
Plenty of Pain to Go Around
Who else was suffering today?
Schering-Plough
(SGP)
dropped 14.6% to $41.25 on news that the
Food and Drug Administration
probe into the company's manufacturing processes and quality control was hurting sales.
Sepracor
(SEPR)
, which licenses Claritin to Schering and is also working with the company on Clarinex, fell 10.5% to $58.06.
Then there's the inflation news that shook up investors. The
Producer Price Index, which measures the change in wholesale prices, rose much more sharply than expected in January. The main number gained 1.1%, almost four times more than the 0.3% rise that was expected by economists polled by
Reuters
. It is the largest gain in the index since Sept. 1990. Excluding the volatile food and energy sector, prices rose 0.7%, also far higher than the 0.1% increase that was predicted.
The number would seem to indicate that there's still a risk of inflation, which would mean interest rate cuts are not merited right now and that there's nothing that the
Fed can do.
TheStreet.com
further examined the
gravity of the number in a separate story.
John Bartlett, director of economics and market strategy at
Commerce Bank
, said that he thought the report was "fluky," and not an accurate reading. Instead, he said pay attention to the
University of Michigan's
twice-monthly indicator of consumer sentiment, which showed that consumer confidence levels slid to levels unseen since 1993, coming in at 87.8. That was well below analyst expectations for a 95.1. The consumer expectations index, which tracks how people feel about the future, tumbled to 77.6 from January's 86.4.
Bartlett said it's a sign of ongoing weakness and Fed chairman
Alan Greenspan has indicated that he pays attention to consumer confidence. He also said the interest rate cuts from last month are already starting to help, looking at housing starts, which showed that people were feeling good enough about the state of the economy to borrow for new homes.
As far as what to look for in trading action, he said that the market is drifting, letting any bit of news push it around. He said it will be that way until there are signs of stabilization, which could be next month or even next quarter.
Market Internals
Most Active Stocks
Back to top
Sector Watch
The sector that follows computer hardware makers got battered today. The
Philadelphia Stock Exchange Computer Box Maker Index
was down 5%. Components
Dell
(DELL) - Get Dell Technologies Inc. Class C Report
and
Hewlett-Packard
undefined
were mainly responsible for the action -- both reported earnings after Thursday's closing bell.
Dell announced that it
missed lowered estimates by a penny, even though its revenue rose 28%. On a conference call, the company cut its guidance for earnings and revenue for its fiscal 2002 first quarter, which ends in April. The stock fell 6% to $23.50.
And blue-chip H-P, which beat estimates,
unhappily, reported revenue that came in below already skeptical estimates. Also, the company pointedly told analysts and investors that it didn't expect business to get any better for the rest of the year. Analysts came out in droves to
praise and scold. H-P dropped 8.9% to $33.13.
Back to top
Bonds/Economy
Treasury prices were up as varied economic news and weakness in equities are giving bonds a "safe haven" quality at present. The money market had opened lower for the fifth successive session this morning as traders continued to adjust to a less aggressive climate for interest rate-cuts.
But short-term notes led a turnaround as some bellwether technology companies disclosed poor corporate performance. Such an inverse development is normal when stock worries make investors move their money to liquid risk-free government securities. Wholesale price data released this morning hints of inflationary possibilities but industrial output is down, thus keeping economic signals mixed.
The benchmark 10-year
Treasury note lately was up to 15/32 to 99 4/32, lowering its yield to 5.111%.
The
Producer Price Index
(
definition |
chart |
), which measures the changing costs involved in the manufacturing process, was up by 1.1% in January after a gain of 0.2% the previous month. This is way above expectations and the biggest increase in more than a decade. Economists in a
Reuters
poll had predicted a 0.3% rise.
The sharp upturn does not change much when excluding the more volatile food and energy prices. The index still registers 0.7% growth, which is 0.6% more than expected. These numbers suggest that despite
Federal Reserve officials repeatedly stating that inflation remains in control, there may still be cause for concern. In such a scenario, the central bank will be even more wary of lowering interest rates in the near future.
Housing starts
(
definition |
chart |
source
) show that the real estate market is retaining considerable strength. The number of new privately owned units being built rose by 5.3% to 1.651 million in January, while 1.697 million building permits were issued in the same period, up by 12.6%. This rate hasn't been seen since Jan. 1990. Although private home building has been robust for the last three months, both numbers are higher than anticipated.
Industrial production
(
definition |
chart |
) fell by 0.3% last month, which was less-than-expected. The capacity utilization rate, which shows how much of the factory equipment and personnel is being put to use, was 80.2% for January and not much below the earlier reading of 80.7%. These anemic manufacturing numbers are well accounted for by the bond market since it is well understood that this sector of the economy is having problems.
The
Consumer Sentiment Index
(
definition |
chart ), which has a 1966 base value of 100, is 87.8 in the first half of February, its lowest level since Nov. 1993 and down sharply from the revised number of 94.7 last month.
Back to top
International
The Nortel news didn't just demolish American bourses. It crushed a would-be rally in Japan and wreaked havoc on Europe.
London's
FTSE
slid 109.6 to 6088.3, as telecommunications companies continued to get creamed in the wake of last week's failed attempt to float shares of telco
Orange
. Between the Nortel warning and recent troubles in
Lucent
(LU) - Get Lufax Holding Ltd American Depositary Shares two of which representing one Report
, telecommunications has faced much adversity lately. Frankfurt's
Xetra Dax
dropped 152 to 6439. The Parisian
CAC
dropped 109.4 to 5595.1.
Lately, in those wild and wooly currency markets, the euro has been sliding while the yen has been firming. After trading around 93 cents, the euro has slid back down to a level just above 90 cents. It was last at $0.9146. And the yen, which was at the 117 level just a few days ago, has strengthened to 115.70.
Over in Asia, markets were disappointed by the Nortel news, which came out after the trading day yesterday. Usually, Japan's
Nikkei
would have rallied, since the Nasdaq Composite rallied. Japanese trading tend to follow what occurs here. But Nortel's warning ruined that rally and Nikkei fell 151.9 to 13,175.5. Hong Kong's
Hang Seng
slid 126.1 to 15,630.3.
Back to top