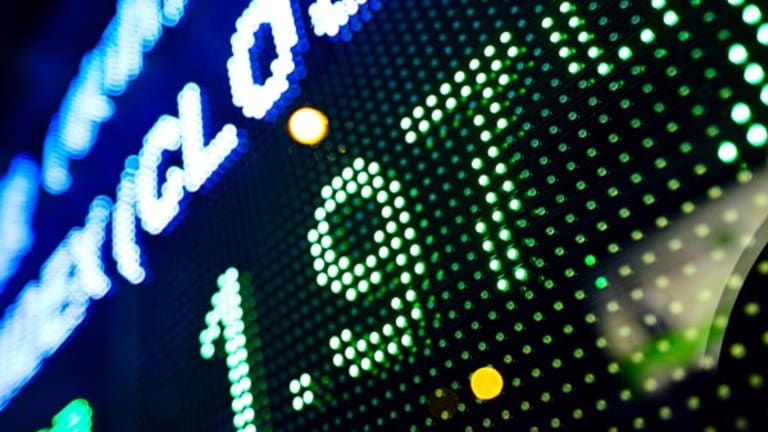 Friday's Market: Stocks Gain Here, There and Everywhere; but Florida Ruling Could Make Everyone Run for Their Lives
Mother Superior jumped the gun ...next week could start off on a pretty ugly note.
On the 20th anniversary of one of
rock music's saddest days, the stock market
imagined an end to the
mind games recently played by the presidential election. It was a pretty positive
day in the life of the
Dow and the
Nasdaq had
nothing to hide (except for me and my monkey).
Indeed, most stocks needed no
help today.
The
Nasdaq finished up a volatile week of big jumps and drops by racking up triple-digit gains. The
Dow, which hasn't missed out on the tumult, had a solid finish as well.
About an hour and a half before the closing bell, judges from two Florida counties ruled against throwing out thousands of absentee ballots despite irregularities. That sign of resolution sent the stocks soaring to their highs of the day. Still, Wall Street had to wait until after the closing bell for a statement from the state's highest court.
And when
the Court did speak, it issued a surprising decision that keeps Al Gore in this race and will likely shake the market when the opening bell strikes on Monday morning.
But for today, the ruling didn't matter. The market got off to a rolling start this morning on word of a relatively friendly
jobs report. The jobs report showed that nonfarm payrolls -- a measure of net new jobs created -- slowed significantly in November, hitting a 94,000 rise vs. the forecast 140,000.
While the other components of
the report were mixed, that payrolls number was giving further credence to the idea that the economy is slowing enough to spur a
Fed
interest-rate cut in the near future. Recent economic data and earnings warnings had started rumblings of the Fed changing its stance, but the rumblings turned into a roar on Tuesday when
Big Al acknowledged the economy had responded to rate hikes and had slowed.
The major indices responded with a big run up that day, but toppled into the red on Wednesday following a warning by
Apple
(AAPL) - Get Free Report
and the market kept on the downward trend yesterday.
So, last night's post-close
warning by chipmaking giant
Intel
(INTC) - Get Free Report
-- something that would typically be terrible news -- should have sent the stocks right back down, right? It didn't.
Intel came out last night saying it would miss fourth-quarter estimates because of slowing PC sales. Analysts lined up to dole out negative notes, but they couldn't hurt the stock. In fact, Intel was one of the most actively traded stocks on the Nasdaq.
Dan Ament, associate vice president and investment executive at
Dain Rauscher
, said the stock didn't fall or send the market down because in the past month stocks, including Intel, have been oversold due to investor concern. Ament said Intel couldn't really fall lower. At the beginning of November, Intel was at about $46.75. Today, the stock closed up 5.2% to $34.
Investors were
prepared for the warning, since "slowing PC demand" has prompted warnings from
Gateway
undefined
,
Motorola
(MOT)
and
Apple
(AAPL) - Get Free Report
recently.
The Comp received some major lift from fiber-optics company
JDS Uniphase
(JDSU)
, computer networking company
Juniper Networks
(JNPR) - Get Free Report
and telecommunications equipment maker
Ciena
(CIEN) - Get Free Report
.
Also on the Comp, weak Internet ad sales hit search engine
Ask Jeeves
undefined
, which got the stuffing kicked out of it after last night's announcement that its CEO resigned. It also revised downward its revenue and loss expectations for the fourth quarter.
Over on the Dow, tech stocks Intel,
IBM
(IBM) - Get Free Report
,
Hewlett-Packard
undefined
and
Microsoft
(MSFT) - Get Free Report
were all up. Financials
Citigroup
(C) - Get Free Report
and
J.P. Morgan
(JPM) - Get Free Report
weren't slacking either.
Before the 4 p.m. statement from the Florida Supreme Court, Ament said about the rally "the issue of sustainability is becoming reality now." He said everything was in the market's favor, with the jobs data coming in favorably, Greenspan's acknowledgement of a slowing environment and tremendous cash balances on the sideline, waiting for a catalyst to come back in.
The negatives he said were continued earnings warnings and political uncertainty. With the court's ruling, uncertainty has come storming back.
Next week ought to be a load of laughs.
Back to top
Market Internals
Breadth was positive on heavy volume.
New York Stock Exchange: 2,079 advancers, 816 decliners, 1.347 billion shares. 218 new 52-week highs, 55 new lows.
Nasdaq Stock Market: 2,817 advancers, 1,144 decliners, 2.147 billion shares. 84 new highs, 180 new lows.
Back to top
Most Active Stocks
NYSE Most Actives
Nasdaq Most Actives
Back to top
Sector Watch
When the market does well, so do brokers and dealers. The
American Stock Exchange Securities Broker/Dealer Index
jumped 8%.
Morgan Stanley Dean Witter
undefined
got a boost today after
Merrill Lynch
upgraded the stock to accumulate from neutral. The note said the stock was upgraded because of its unusually attractive valuation. It was up 9.3% to $74.19.
Sliding oil prices have put transports back in the green. The
American Stock Exchange Airline Index
was 5.2% higher, while the
Dow Jones Transportation Average
hopped 3%.
TheStreet.com Internet Sector
index hasn't really been embraced in recent weeks, but today the sector, which is also call the DOT, was bouncing 9.2%.
Check Point Software Technologies
(CHKP) - Get Free Report
got the blue ribbon. Yesterday, the Israeli company received
Network Computing
magazine's Editor's Choice Award for the "integration, interoperability and breadth of security solutions, applications and hardware platforms it provides" through one of its platforms. It moved up 15.2%.
Back to top
Bonds/Economy
Treasury note and bond prices fell after the November
employment report
(
definition |
chart |
) showed that wages and salaries rose at the fastest pace in nearly two years last month. That throws cold water on expectations for a near-term interest-rate cut by the Fed to stimulate economic growth, which has been slowing.
The benchmark 10-year
Treasury note was unchanged at 103 12/32, lifting its yield to 5.299%.
The economy added fewer jobs than economists expected in November, a sign that growth continues to slow. Nonfarm payrolls grew by 94,000, compared to an average forecast among economists polled by
Reuters
for a gain of 137,000.
The unemployment rate rose to 4% from 3.9%, further confirming that demand for workers is ebbing.
But the average hourly wage rose 0.4% to $13.94 from $13.88, lifting the earnings growth rate to 4%, the fastest since January 1999. A fast rate of earnings growth has the potential to cause inflation to rise by creating more demand for goods and services than the economy can produce. As long as the Fed sees the risk of rising inflation, it will hesitate to lower interest rates, even though growth is slowing.
At the
Chicago Board of Trade
, traders of
fed funds futures contracts downgraded the odds of a near-term interest rate cut by selling the contracts. The odds that the Fed will lower the
fed funds rate to 6.25% from 6.5% this month, indicated by the price of the December fed funds futures contract, fell to about 30% from 41%. The odds of a 25-
basis-point rate cut by the end of January slipped to about 95% from 102%.
Back to top
International
Yer bloody right!
London's stock market made some serious headway as telecommunications stocks pushed higher as the American market rallied. The
FTSE
gained 57 to 6288.
British Telecom
undefined
was one of the best, along with
Cable & Wireless
(CWP)
.
In both Paris and Frankfurt, markets were mixed. France's
CAC
dipped 45 to 5939, while the German
Xetra Dax
rose 125 to 6691.
The euro was much higher than it has been in recent months and recently traded at $0.8886. This is about where the euro has been for much of the week, unable to break past 90 cents. The yen was also relatively unchanged, with the greenback getting 110.99.
Asian markets usually track the performance of the Nasdaq since they've got a sizable chunk of technology names, just like the Comp. And after yesterday's slight drop, instead of rallying, the markets were only tentatively higher -- mindful of last night's warning from
Intel
(INTC) - Get Free Report
. Japan's
Nikkei 225
rose 36 to 14,756, while the Hong Kong
Hang Seng
rose 178 to 15,189.
Back to top