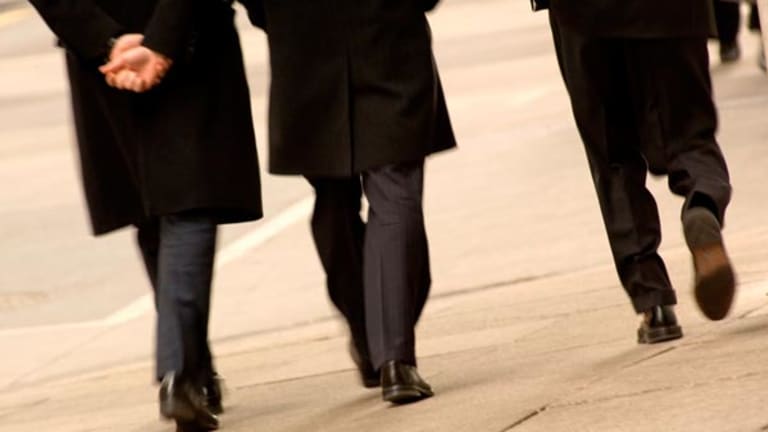 Friday's Market: Stocks Close Down; Nasdaq Has Worst Year Ever
It's been a crummy year for stocks: The Nasdaq lost a record-setting 39.3% in 2000, while the Dow ended the year with a 6.2% loss.
What a year this was!
The stock market started off 2000 like a house on fire and ended the year charred and smoldering, with all the major indices in the red. If
Traffic or
Almost Famous are in the running for the year's best movie, the stock market was
Battlefield: Earth.
True to form, stocks ended today's trading session on the negative side of the ledger.
The
Dow Jones Industrial Average was off 80.77 to 10,787.99, while the
Nasdaq Composite Index, lost 86.3 to 2471.4 today.
Mush along the doggies. Tally up that Christmas bill. Wall Street was a ghost town this afternoon, even worse than it was this morning, as traders and everyone else tried to get out of Dodge before a blizzard makes travel impossible.
One of today's most important indices was the Comp. 83 was the magic number. If the Comp could have gained 83 points today, or 2%, then this would not go down in the books as the worst ever year for the Nasdaq. The current worst end-to-end performance was 1974, when the Comp dropped 35.1%. Forget it. The Comp ended off 39.3% for 2000.
Juniper Networks
(JNPR) - Get Juniper Networks Inc. Report
was something of a hothead today. Over the past six trading sessions, this stock went from $90 to $144, including a 30-point post-Christmas bonanza that even got our own
Jim Cramer talking. (Then again, what doesn't get Cramer talking?)
But today, it was time to take a little off the table and the stock fell 9% to $126.06.
On the large-cap technology front, the sellers were out there all day.
Sun Microsystems
(SUNW) - Get Sunworks Inc. Report
, off 3.5% to $27.88;
Microsoft
(MSFT) - Get Microsoft Corporation Report
, down 2.4% to $43.50;
Qualcomm
(QCOM) - Get QUALCOMM Incorporated Report
, off 7.6% to $82.19;
JDS Uniphase
(JDSU)
, down 5.5% to $41.69;
Cisco
(CSCO) - Get Cisco Systems Inc. Report
, off 3.3% to $38.25;
Oracle
(ORCL) - Get Oracle Corporation Report
, down 6.5% to $29.06; and
Dell
(DELL) - Get Dell Technologies Inc. Class C Report
, down 1.4% to $17.44, were all caught up in today's crossfire.
So were
Intel
(INTC) - Get Intel Corporation Report
,
Xilinx
(XLNX) - Get Xilinx Inc. Report
,
Biogen
undefined
and
Protein Design Labs
(PDLI) - Get PDL BioPharma, Inc. Report
.
Are you seeing a pattern yet?
TheStreet.com Internet Sector
index coughed up close to 75% of its value this year. At one point, it traded above the 1,100 level -- and today it was down 3.3% to 300.68. That's more than just painful -- that's
Celine Dion
live at the Apollo. It's a horrifying spectacle that makes eyes bleed.
And as
America Online's
(AOL)
merger with
Time Warner
(TWX)
continues down the rocky road to acceptance, the rest of the Internet names were taking a dive. AOL was off 1.3% to $34.80, while Warner fell 2.5% to $52.75.
After clearing the first government hurdle, getting acceptance from the
Federal Trade Commission
, the combined companies were facing down the
Federal Communications Commission
. The FCC controls communications -- even new kinds -- despite the fact that most people know it as nothing more than
Howard Stern's
frequent nemesis. And this role means that the FCC is concerned about a would-be monopoly on communications -- especially the highly-popular
Instant Messenger
market, where AOL has a big lead on rivals Microsoft and
Yahoo!
(YHOO)
.
And speaking of Yahoo!, it slid yet again. That said, so did
Amazon.com
(AMZN) - Get Amazon.com Inc. Report
. Jeff Bezos' seller of more-than-just books dipped 10.5% to $15.56. This caps a very bad year -- one that opened with high hopes, a slate of oddball Christmas commercials and the unveiling of z-Shops, Amazon.com's foray into selling more than hardcovers.
Blech. Blech. Blech. The blue-chips played hopscotch on both sides of the flatline for much of the day, but then turned solidly down in the last hour of trading. There were few movers in excess of a buck. The losers were led by easing in
J.P. Morgan
(JPM) - Get JP Morgan Chase & Co. Report
, which spent yesterday pushing the Dow higher.
IBM
(IBM) - Get International Business Machines Corporation Report
, which shrugged off a revenue estimate cut from
Prudential Securities
yesterday, continued to shrug this morning, though it ended down 0.3% to $85.
Retailers were stronger, with
Home Depot
(HD) - Get Home Depot Inc. (The) Report
and
Wal-Mart
(WMT) - Get Walmart Inc. Report
closing solidly higher.
Back to top
Market Internals
Breadth was narrowly mixed on moderate volume.
New York Stock Exchange: 1467 advancers, 1489 decliners, 1.03 billion shares. 303 new 52-week highs, 36 new lows.
Nasdaq Stock Market: 2103 advancers, 2044 decliners, 2.43 billion shares. 139 new highs, 272 new lows.
Back to top
Most Active Stocks
NYSE Most Actives
Nasdaq Most Actives
Back to top
Sector Watch
After yesterday's valiant, yet failed, attempt to rally, the
Philadelphia Stock Exchange Semiconductor Index
slid 4.4% today.
Like the aforementioned
TheStreet.com
Internet index, the other tech sectors closed down. The
American Stock Exchange Networking Index
fell 2.5%. The
Philadelphia Stock Exchange Box Maker Index
fell 2%.
Back to top
Bonds/Economy
Treasury notes and bonds closed higher on the last trading day of year. Manufacturing data came in mixed but mostly in tune with less-than-robust factory outputs. Yields were close to the lows last recorded in mid-1999.
The benchmark 10-year
Treasury note closed up 3/32 to 104 25/32, lowering its yield to 5.112%.
In economic news, the
Chicago Purchasing Managers' Index
(
definition |
chart ), the day's most relevant report, rose higher than expected, to 44.7 for December from 41.7 the previous month. Economists polled by
Reuters
had predicted a reading of 43 for the month. In the larger context however, it remains the index's third consecutive reading under 50 and the fourth so in the last six months. Readings under 50 indicate a contraction in industrial production, while readings over 50 indicate an expansion.
The
APICS Business Outlook Index
(
definition |
chart |
source
) for December fell to 45.7 from its annual high of 54.9 in November. This national manufacturing index represents a survey of manufacturing firms and signals a factory sector expansion when it is above 50 and a contraction when below it.
This is the business outlook index's lowest reading since June. The gauge showed a decline in almost all of its major components. The
durable goods orders
(
definition |
chart |
) excluding aircraft and defense dropped again, unfilled orders slipped, and current and planned production were down sharply.
Finally, the
Help-Wanted Index
(
definition |
chart |
) dropped to 75 in November from 79 in October, suggesting a loosening labor market.
Back to top
International
The yen ended the year with its first annual decline in three years, on concern that Japan is headed toward a recession.
Japan's currency rose slightly today, however, after dropping to a 16-month low yesterday of 114.64. At market close the dollar/yen cross was trading at 114.32. The euro closed much higher on the day at $0.9416. The European Currency Project has surged 12% since sinking to an all-time scare of $0.8231 on Oct. 26.
Germany kicked butt today, while the Frenchies closed with a modest gain. So scream out
Mannesmann
and do something French! Paris'
CAC-40
closed up 5.82 to 5926.42 and Frankfurt's
Xetra Dax
closed up 61.97 to 6433.6.
London's
FTSE 100
ended a rotten year with a loss of 0.7 to 6222.5. Today's disappointing dip came despite a run-up in
Vodafone
.
Asian markets have gone to bed for the year. And these guys certainly need some rest. If you think the whirlwind of hate unleashed on technology was bad in the States, just take a short 15-hour flight to the land of the rising sun, or rather, land of the obliterated stock price.
Just last week, the
Nikkei 225
turned the clock back to 1998, broke below the psychologically important 14,000 level while hitting two-year lows as investors beat stocks with the same shovel used to dig the grave. Today, the Nikkei 225 closed off 161.97 to 13,785.69. Naturally, technology stocks were the primary reason for the fall.
The Hong Kong
Hang Seng
, which is almost as much fun to say 10 times fast as it is to watch trade, rose 298.98 at 15,095.53.
Back to top