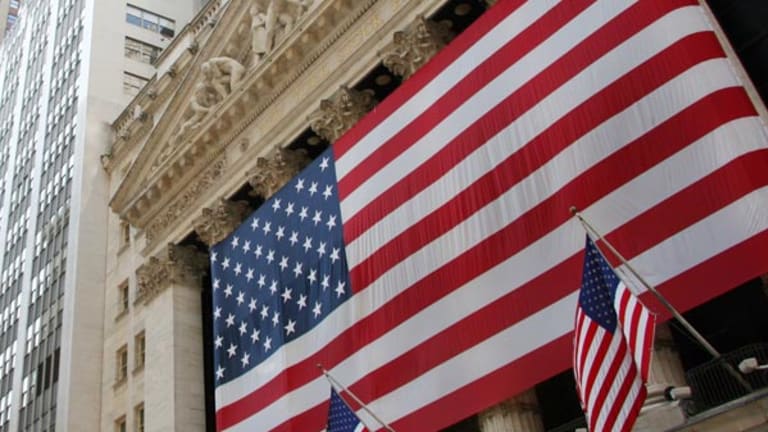 Friday's Market: Ouch! For the Week, Dow Off 800 Points and Nasdaq Down 7.9%
A bad week just got worse today as more earnings warnings and uncertainty about Tuesday's Fed meeting dealt another blow to stocks.
A bad week just got worse today as more earnings warnings and uncertainty about Tuesday's Fed meeting dealt another blow to stocks.
After a weeklong roller-coaster ride on the stock market, the
Nasdaq Composite Index and
S&P 500 closed at their lowest levels in more than two years: For the week as a whole, the Nasdaq tumbled 7.9%, while the broader market index slid 6.7%. The
Dow Jones Industrial Average ended off more than 200 points for the day, and off 817 points -- or 7.7% -- for the week. At 9823.41, it was also well below the critical 10,000 mark.
Uncertainty about next week's
Federal Reserve powwow (will it be a 50 or 75 basis-point cut?), more bad news about corporate earnings and general fear among investors kept the selling pressure on the market today. "There was a lot of indecision over Greenspan's thought process," commented Bob Basel, director of listed trading at
Salomon Smith Barney
. Traders observed a lot of selling ahead of Tuesday's
FOMC meeting.
"There was no momentum or catalyst today to sustain a bottom on the indices," said one trader at a large Wall Street firm. Market internals were poor: Decliners edged out advancers by 2 to 1 on the
New York Stock Exchange and by 2.5 to 1 on the Nasdaq. Both the S&P and Nasdaq (now below 1900) are pitted firmly in bear territory, meaning they're more than 20% off their all-time highs.
Volume was heavy, as today was
triple-witching Friday -- the quarterly and simultaneous expiration of futures, index options and equity options contracts. The phenomenon can cause atypical gyrations in the overall market and may have exacerbated today's market moves, as market makers and institutional investors adjusted positions by either buying or selling securities or futures contracts.
A sign of strength in the economy, unveiled this morning, had traders quivering in their turrets this morning. Stronger-than-expected data on
consumer sentiment hinted that the erosion in confidence might be at a bottom. Right now, the
fed fund futures contract, a good proxy for monetary policy, is pricing in a high-probability of a 75 basis-point cut at the Fed's meeting next week.
"On the basis of economic data alone, the Fed would not consider lowering rates more than 50 basis points," said Josh Feinman, chief economist at
Deutsche Asset Management Americas
. "But the stock market's performance, combined with the fact that confidence is still at a low level, may carry the day for a 75 basis-point cut."
Today's losses on the major stock market indices came alongside other data that showed inflation has been restrained. The core rate of February's
producer price index, which excludes volatile food and energy prices, fell 0.3% -- the biggest drop since August 1993. The overall PPI
rose 0.1%. The PPI, a key indicator of inflation at the producer level, has been rising slowly on a year-over-year basis.
In company news,
Computer Sciences
(CSC)
warned about its upcoming earnings results. The company also plans 700 to 900 job cuts.
Goldman Sachs
was swift to punish the company, banishing it from its recommended for purchase list and slashing its 2001 and 2002 EPS estimates. CSC closed down a whopping 39.6% to $32.70.
Computer Sciences' warning came on the heels of less-than-sparkling news released after the close yesterday by
Oracle
(ORCL) - Get Report
and
Compaq
(CPQ)
.
Business software giant Oracle managed to meet lowered earnings estimates, but
offered no real guidance for future quarters, while PC manufacturer Compaq
lowered first-quarter earnings estimates and said it would cut 5,000 jobs, or 7% of its workforce. Analysts acted quickly against both companies, trimming estimates. Oracle fell 4.3% to $14.06; Compaq closed down 2.7%, to $18.
Among other tech stocks,
Juniper Networks
(JNPR) - Get Report
fell 4.2% to $53.06,
Cisco
(CSCO) - Get Report
lowered 1.9% to $19.94, and
JDS Uniphase
(JDSU)
decreased 7% to $22.44.
IBM
(IBM) - Get Report
closed behind 5.7% to $90.10 on the heels of a downgrade from
Merrill Lynch
. The firm doubts that IBM's systems integration contracts will hold up in a weakening environment.
Market Internals
Back to top
Most Active Stocks
Back to top
International
Tech and telecom issues were weighed on Europe's major indices. One of the biggest drags was Dutch chip production equipment maker
ASM Lithography
(ASML) - Get Report
, which warned 2001 sales would fall 10% to 25% because of sliding demand in semiconductors.
France's
CAC 40
finished down 73, or 1.4%, to 5105. Germany's
Xetra Dax
tumbled 156 to 5734 and the U.K.'s
FTSE 100
sank 166 to 5563.
The euro was last trading at $0.8981.
Asian indices fared better, with Japan's
Nikkei 225
gaining 80 to 12,233 overnight and Hong Kong's
Hang Seng
tacking on 18 to jump to 13,522. Asian markets are being watched closely this week because of fears that Japan's economic problems are starting to hurt investor confidence in the United States.
The dollar was trading at 122.51 yen.
For more on the world stock markets, check out
TheStreet.com's
global indices information.
Back to top