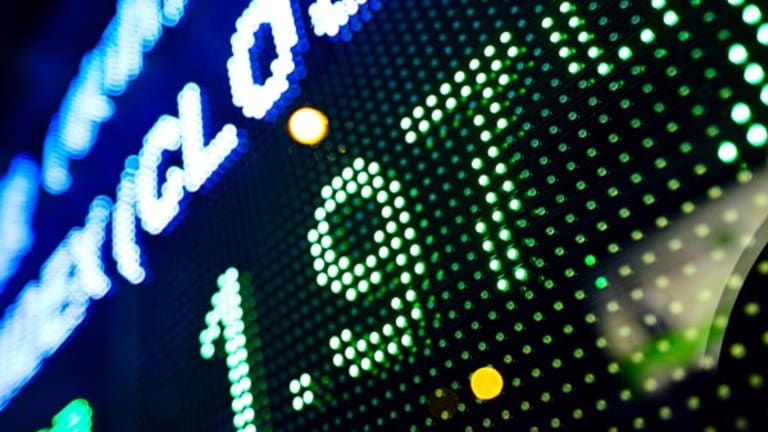 Friday's Market: Furious Rally Caps a Big Week
The Dow closes up 4.1% Friday, while the Nasdaq jumps 4%.
The Dow closes up 4.1% Friday, while the Nasdaq jumps 4%.
Updated from 4:11 p.m. EDT
Stocks closed up sharply Friday for the second straight day, as traders continued to find bargains in a market that had been sitting at five-year lows. A raft of corporate and economic news was solid if not spectacular, and analysts chalked up much of the enthusiasm to perceptions that recent selling was overdone.
The
Dow Jones Industrial Average
rose 316.3 points, or 4.1%, to 7850, while the
Nasdaq
climbed 47 points, or 4%, to 1210.5. The
S&P 500
was up 31 points, or 3.9%, at 835. The gains followed a rally Thursday in which the Dow gained 3.4% and the Nasdaq lifted 4.4%.
For the week, the Dow was up 4.2%, the Nasdaq ahead 6%, and the S&P 500 higher by 4.3%.
Some of the most beaten-down groups over the past few weeks saw the biggest pops on Friday, including the semiconductor, bank, airline, cyclical, computer and Internet sectors. Among Dow components,
J.P. Morgan
(JPM) - Get Report
rose 7.8% to $17.19;
Honeywell
(HON) - Get Report
gained 10% to $21.48;
American Express
(AXP) - Get Report
lifted 5.4% to $30.87; and
Citigroup
(C) - Get Report
ended up 6% at $30.40.
Among big tech names,
Microsoft
(MSFT) - Get Report
added 5.4% to $48.87;
Cisco
(CSCO) - Get Report
tacked on 5.9% to $10.32; and
Intel
(INTC) - Get Report
advanced 7.3% to $15.22.
While a solid profit report from
General Electric
(GE) - Get Report
and an
IBM
(IBM) - Get Report
upgrade contributed to the buoyant tone, analysts said the buying had more to do with price than earnings.
"We hit an oversold condition. I think there is a positive trend," said Paul Cherney, an analyst at S&P MarketScope. "With short interest so high, bears are feeling pressure to close out positions."
On Thursday, the Chicago Board of Exchange volatility index, a measure of fear in the marketplace, began the day above 50 but finished the session below that level for the first time since July 24.
"That is the most important thing that happened yesterday," said Cherney, adding that other unseen factors could be influencing direction. According to Cherney, the lowest close for October has historically happened by the ninth trading day. "You tend to see weakness at the beginning of the month," he said.
Probably not coincidentally, stocks' strength continued one day after Rick Bensignor, chief technical analyst at Morgan Stanley, told clients the averages had seen their worse levels of the year.
"Here's a place I'm willing to stick my neck out," Bensignor said. "We're still in a secular bear market. But this could be a real good bouncing point, and one you wouldn't want to miss."
Bensignor called it "one of the best buying opportunities of the year," noting the potential for a "double bottom" by the S&P at 775; a higher low for the Relative Strength Index on Wednesday despite the lower lows for major averages; a drop in bullishness in the Investors Intelligence poll to 31% from 38%; and Wednesday's spike in new 52-week lows on the Big Board.
Meanwhile, fundamental strategists continued to be skeptical of gains amid a weak outlook. "We are in a vulnerable place today," said Bob McCooey, a trader at Griswold, a New York brokerage firm. "For the past 18 months, every time we have had a rally, we have given it back and more."
Previous rallies have petered out after a session or two. Still, some saw reason for optimism in the market's internals Friday, with advancing issues leading declines 3-to-1 on the
NYSE
and 2-to-1 on the Nasdaq. Volume was heavy at about 1.5 billion shares traded on each exchange.
Two government reports on Friday matched economists' forecasts: Retail sales fell.2% in September amid a dropoff in car sales. Excluding autos, the sales rose 0.1%. The producer price index, a measure of inflation, was up 0.1% on both a headline and core basis, in line with consensus estimates.
Separately, the University of Michigan's consumer sentiment index fell to 80.4 in the first half of October, down from 86.1 in September and below the consensus expectation of 85.2. The market's ability to shut out the weak sentiment number, which was published about 30 minutes after the open, was also being cited as a reason Friday's move was more technical than fundamental.
GE said its third-quarter earnings were $4.09 billion, or 41 cents a share, matching the First Call consensus. That compares to $3.28 billion, or 33 cents a share, in the year-earlier period. Revenue rose 11% to $32.6 billion from $29.47 billion a year earlier. Analysts had been looking for revenue of $33.22 billion. The shares closed up 7.1% at $24.21 after hitting a 52-week low earlier in the week.
Elsewhere, Lehman Brothers said it expects information technology spending to pick up next year, causing it to raise its investment rating on IBM to overweight from equal weight. Lehman said IBM should be able to meet recently lowered earnings estimates as growing stability in U.S. markets offsetting European weakness. IBM gained 11% at $63.92. The stock also hit a low for the year this week.
Meanwhile
Lucent
( LU) said it will lose about 65 cents in the fourth quarter, wider than its previous 45-cent estimate, cut 10,000 more jobs and record a $3 billion charge to cover a pension shortfall. The shares closed the session down 5.7% at 66 cents.
Shortly after the Lucent news,
Nortel
( NT) affirmed its third-quarter revenue will be $2.36 billion and that its breakeven revenue point is $2.4 billion.
Household International
(HI) - Get Report
finished up 7.2% at $28.20 after it announced at midday that it had settled a predatory lending case for $484 million. The settlement is the biggest ever for such an offense, which in Household's case allegedly involved misleading borrowers about the size of the obligations they faced.
Overseas stocks were uniformly higher, with London's FTSE 100 up 4.1% to 3932 and Germany's Xetra DAX up 4.6% to 2860. In Asia, Japan's Nikkei rose 1% to 8530 while Hong Kong's Hang Seng added 1.2% to 8966. Treasuries were lower, with the 10-year note losing 4/32 to yield 3.67%.