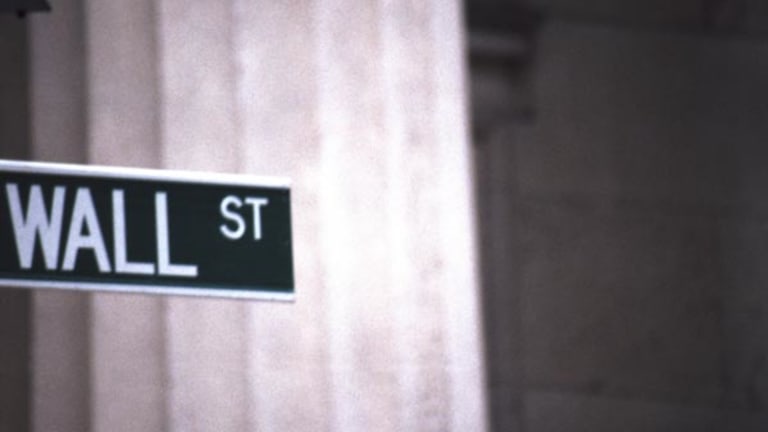 Friday's Market: Big Tech's Woes Bludgeon Both the Dow and Nasdaq -- Week Ends Weakly
The major indices all ended the week on the downside, as the market's mood soured to end the week.
The
Nasdaq Composite Indexand the
Dow Jones Industrial Average behaved badly today.
So badly, in fact, that at one point they both were racking up triple-digit losses. They popped a bit right at the bell, but the losses were deep enough to inflict some major damage to sentiment since both have just about wiped out any gains they've made so far this year.
Tech stocks were again out of favor with investors thanks in part to bad news from software-maker
Oracle
(ORCL)
and PC-giant
Dell
(DELL)
as well as continuing negativity for networking giant
Cisco
(CSCO)
.
Oracle was the victim of some cautious comments from
Morgan Stanley
analyst Chuck Phillips after he attended a dinner where the company's CEO Larry Ellison talked of weakness in the company's database business. Also raising flags, Ellison has sold about 27 million of his shares, worth about $850 million, between Jan. 22 and Jan. 29, according to filings with the
Securities & Exchange Commission
. Oracle fell 13.1% to $23.56.
Dell was under pressure from
reports that it was cutting expenses by up to 10% and that it may cut as many as 4,000 jobs. The stock ended the day down 9.8% to $23.50.
Cisco continued to bleed, falling 6% to $28.19. It was the most actively traded stock on the Nasdaq for the third straight day. In a post-close announcement Tuesday, the company
announced that it missed earnings targets for the first time in three years and gave a murky forecast for the future.
On the
Big Board, the ever-troubled communications-equipment maker
Lucent
(LU)
was taking a beating, after the
Wall Street Journal
reported that it is being investigated by the SEC for possible fraudulent accounting practices. Specifically, the SEC is investigating whether Lucent improperly booked $679 million in revenue during its 2000 fiscal year, which ended Sept. 30. The stock was off 9.1%, about $2 away from its low hit in late December of $13.50.
But that news wasn't any huge surprise. Lucent already did its own investigation of the revenue booking and in December restated its financial results to eliminate the $679 million in revenue. And with so much bad news already priced into the stock, investors probably wonder how much further it can fall.
After five disappointing quarters, a string of high-level executive firings and a round of lower-level layoffs, the company's stock price is already down 78% from the highs of last year.
TheStreet.com
took a look at Lucent's
approach to accounting early on, and has been following Lucent's
other woes.
Finnish mobile-phone maker
Nokia
(NOK)
was off 6.8% to $27.99 after
UBS Warburg
removed the mobile-phone giant from its list of top 10 global technology stock picks. That move helped put drag on the overseas markets, with Nokia falling 9% in Europe.
Also not looking good today was
Power One
(PWER)
, which makes power supply systems, on news that it was lowering its 2001 growth estimates. The company cited slowing business and inventory reductions by its customers, particularly the aforementioned Cisco. It was down 10.7% to $28.75.
One shining star was network storage systems maker
Network Appliance
(NTAP)
, which was up 8% to $38 after its earnings report from Thursday night. The bounce was a nice relief from the drag it experienced this week after being caught up in the Cisco conundrum.
The company reported fiscal third-quarter earnings that beat estimates after the market closed Thursday. But the company's sales came in a bit below forecasts, an uncharacteristic shortfall for a company well positioned in one of the fastest growing technology markets. It is yet another sign that corporations aren't spending as freely on tech gear as they once were.
TheStreet.com's
Thomas Lepri
took a look at
what the report means for Network Appliance.
Meanwhile, the Dow was under pressure from its tech stocks, including
IBM
(IBM)
and
Microsoft
(MSFT)
, which got a downgrade from
Merrill Lynch
yesterday with a warning about the maturing PC market.
Adding to the negative side was the world's largest retailer
Wal-Mart
(WMT)
, which had started out with a rally trying to recover some of the losses it and most of the retailing sector took on the chin yesterday, but succumbed to the pull again. It ended the day down 3.6% to $50.40.
But home improvement retailer
Home Depot
(HD)
was able to edge up thanks to news from its competitor
Lowe's
(LOW)
that the company will meet lowered fourth-quarter earnings estimates. Also,
Goldman Sachs
added Lowe's to its U.S. Recommended for Purchase list.
Back to top
Market Internals
Back to top
Most Active Stocks
Back to top
Sector Watch
Defensives relished this latest bit of weakness in tech stocks, with oil, tobacco and drug stocks moving to the upside.
Blue-chip
ExxonMobil
(XOM)
was up 1.6% to $85.86. The stock's been beaten down in the past couple days, so the recovery was a nice breather for the stock. The
American Stock Exchange Oil & Gas Index
was 2.1% higher.
The
American Stock Exchange Pharmaceutical Index
rose 0.5% and the
American Stock Exchange Tobacco Index
jumped 1.4%, off a bit from hitting its all-time high of 348.50.
There was one pocket of tech that wasn't being completely killed today. The
Philadelphia Stock Exchange Semiconductor Index
was off only 0.7% after spending most of the day in positive territory. The decline occurred despite that lovable
Rambus
(RMBS)
, which rose 7.3% to $45.38. It was getting a nice boost from news that Japanese company
Toshiba
will more than triple its output of Rambus DRAM chips, which use technology from Rambus that speeds up memory chip performance. The faster chips are twice the price of commodity DRAMs and are used by
Sony
undefined
to make 3-D graphics for its PlayStation 2 and by
Intel
(INTC)
for its new Pentium 4 microprocessor.
Back to top
Bonds/Economy
Treasury prices are up as weakness in equities has brought investors' focus back to notes and bonds. The money market is also consolidating after absorbing $32 billion in government debt that was auctioned over the last three days. The long end of the market is showing greater strength, with the 30-year up by a half-point.
A $5 billion auction of three-year notes from
Freddie Mac
undefined
should keep the trading volume up today. Next week, $21 billion worth of three- and six-month Treasury bills will be sold.
The benchmark 10-year
Treasury note lately was up 15/32 to 99 25/32, lowering its yield to 5.028%.
Analysts will once again be hoping for
Federal Reserve chairman
Alan Greenspan to hint of more rate cuts as he addresses the
Senate Banking Committee
on Tuesday. In the wake of the Fed's two January cuts, the
Bank of England
cut interest rates yesterday and the Japanese central bank followed through with a cut overnight.
Treasury Secretary
Paul O'Neill
said in his round of conversations with television networks yesterday that he agrees with Greenspan's recent view that the economy is near zero growth. O'Neill estimates the present growth rate at 0.5% - 0 .6%. But he expressed confidence that technology-led productivity gains would take the nation to a "golden era of economic prosperity" as 80% of their contribution was still to be realized. His statements suggest that last quarter's higher-than-expected productivity gains amid a weakening economy were due to structural improvements in supply-chain management techniques.
There is no economic news today.
Back to top
International
European markets were weak. Paris'
CAC-40
fell 61 to 5712; Frankfurt's
Xetra Dax
dropped 126 to 6511, and London's
FTSE
was off 42 to 6164.
Japan, meanwhile, still trying to sift through the wreckage of stagnation, said today it was attempting to find ways to prop up its stock market, a day after the
Nikkei 225
hit a 28-month low. That index rose today, gaining 284.60 to 13,422.83, a 2.2% rise. Meanwhile, the
Bank of Japan
, that country's central bank, cut its key interest rate to 0.35% from 0.5%. About two years ago, Japan had a zero-interest rate policy, but began raising rates when the economy showed some signs of recovery.
In Hong Kong, the
Hang Seng
lost 36.12 to 15,873.28.
Back to top