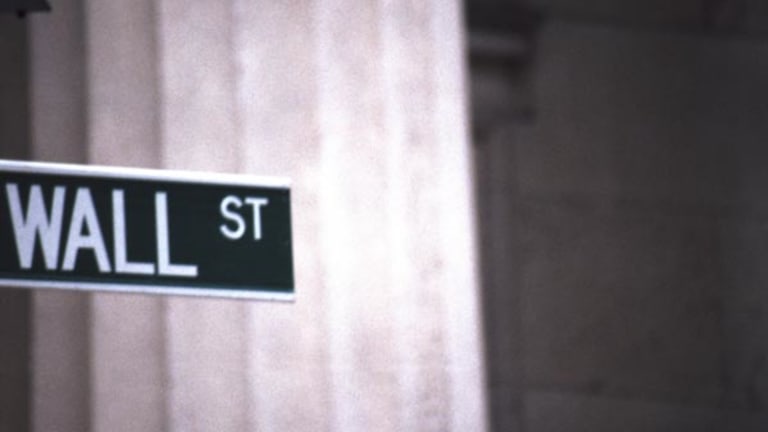 Friday's Market: After the Storm, Signs of Spring -- Nasdaq Ends in the Green; Dow Pops Off Lows
Grim news from Sun and Motorola sent markets reeling; in a dramatic final hour, though, the Nasdaq recovered, while the Dow rebounded from a 200-point loss.
Freakish doesn't even begin to describe the recent activity of the market.
And today is no exception, with the
Nasdaq Composite Index falling more than 80 points around 1:45 p.m. EST only to cross over the flatline in the last half hour of trading for a finish on the upside. It ended up 17.6 to 2262.5. And the
Dow Jones Industrial Average was no less volatile: It plunged more than 220 points at around 2:20 p.m. EST, but finished the day well off its session lows, down 84.91 to 10,441.90
Before you break out the Champagne about the Comp, remember that, before this week, closing levels this low hadn't been seen since March 3, 1999. Also, the
S&P 500 is very nearly in a bear market for first time in 10 years.
A variety of negative notes and some earnings warnings waylaid the market today.
One of the most noxious pieces of news came from networking computing giant
Sun Microsystems
(SUNW) - Get Sunworks Inc. Report
, which in a conference call
sharply lowered fiscal third-quarter earnings and revenue guidance after the close of regular trading Thursday. Sun was the second most-actively traded stock on the Nasdaq. It fell early in the session but managed to finish unchanged.
The company's shares have plunged over the last week as
investors worried that Sun would make just such an announcement on its regularly scheduled quarterly call. In the usual fashion, such analysts as
Goldman Sachs
,
Credit Suisse First Boston
and
Lehman Brothers
came out with their
scissors to trim the stock's estimates, but they all maintained their existing ratings.
It's been a tough week for the Nasdaq, with its biggest names hitting 52-week lows. And while today the Comp finished on the upside, it still saw 193 issues hit new lows. Such big-cap techs as
Oracle
(ORCL) - Get Oracle Corporation Report
and
Intel
(INTC) - Get Intel Corporation Report
made the list today.
Cisco
(CSCO) - Get Cisco Systems Inc. Report
, which was on it earlier this week, managed to attract some bargain hunters. It inched up 1.9% to $27.
The already severely beaten-down telco sector received another harsh blow with mobile-phone maker
Motorola
(MOT)
warning earlier today that it will miss already lowered first-quarter earnings estimates and might even post a loss. Motorola was down 6% to $16.25, and was the second most-actively traded stock on the
New York Stock Exchange.
In yesterday's action, rival
Nokia
(NOK) - Get Nokia Corporation Sponsored American Depositary Shares Report
took a dive on worries about a profit warning, pulling down
Ericsson
undefined
with it, and killing European markets. Today, Motorola took Nokia's place as the big telco domino, knocking them way down again. Nokia, which along with
Alcatel
undefined
was downgraded by Goldman, ended 8.2% lower to $21.34.
Another related stock --
Qualcomm
(QCOM) - Get QUALCOMM Incorporated Report
-- got killed, down 7.7% to $61.81, It got socked by Sun and by
Deutsche Banc Alex. Brown
, which downgraded Qualcomm to buy from strong buy along with five other wireless telecom products and services companies.
Tekelec
(TKLC)
, which makes switches and diagnostic systems for the communications industry, and
Powerwave
(PWAV)
, which makes amplifiers for wireless networks, were among those on the list and that were getting punished. Tekelec tumbled 13.5% to $19.75, while Powerwave sank 14.5% to $17.44.
The
blue-chip Dow had little support earlier in the session, but gradually had 11 of its 30 components rooting for it. Software behemoth
Microsoft
(MSFT) - Get Microsoft Corporation Report
was its biggest cheerleader, adding about 10 points to the upside. Bellwether
IBM
(IBM) - Get International Business Machines Corporation Report
was its biggest detractor. The PC maker got sucked into the Sun mess and was also slapped with a negative note by
Salomon Smith Barney
, which cut the company's price target to $135 from $140, and shaved its third-quarter sales and profit targets. IBM took 32 weighted points from the Dow.
Hugh Johnson, chief investment officer at
First Albany
, said, "The bottom-line simple truth is even though
Alan Greenspan said the economy is going to recover in the second half of the year, investors don't believe it."
He said that with all the recent economic news coming out strong in a slowing economy, the
Federal Reserve can't reduce short-term interest rates to help the economy, and even if the Fed did reduce the rates aggressively, investors are wondering what good it's going to do.
Johnson said the only way a rate cut is going to work is if it's big (50 basis points) and it's a surprise (intermeeting).
"I suppose, if I were to look into my crystal ball, I believe the February employment numbers are going to be incredibly weak, and the Federal Reserve will reduce interest rates another 50 basis points and that will hopefully get us to the point where the outlook improves," Johnson said. "But I don't know. This is gut-wrenching. At first, it was denial, with us saying 'this is not a bear market, this is a correction.' Now, it looks like a bear market."
He added that he's seeing a "sick feeling" in investors' eyes, but that could be good news. Why? Because he believes there are slight indications that the environment is right for a bull market to start again. Such signs as consumer cyclicals doing OK and small cap stocks getting attention are somewhat encouraging. So is the fact that the Fed has already reduced rates, that the money supply is growing faster than the economy and that leading indicators may be turning up.
But he allows that more is needed. "If the Fed reduces interest rates before the next meeting, it might just turn the sucker." Johnson said it has to be 50 points and it has to be a surprise, so it actually helps the market and isn't already priced in.
Market Internals
Back to top
Most Active Stocks
Back to top
Sector Watch
Investors sought shelter in the ultimate defensive sector -- gold. The
Philadelphia Stock Exchange Gold and Silver Index
was 3.8% higher.
Brokerages, which suffer when the market is off, got slammed today, with the
American Stock Exchange Broker/Dealer Index
tumbling 2.3%.
Back to top
Bonds/Economy
Bonds closed down after spending most of the day higher.
The benchmark 10-year
Treasury note lately was up to xx/32 to 99 xx/32, lowering its yield to 5.xxx%.
There are no economic releases due for today.
-- Staff reporter Anwar Husain contributed to this article.
Back to top
International
The crisis in Turkey continued to take its toll on that country's currency, although its stock market recovered somewhat in trading today. The
ISE National-100
, Turkey's leading stock index, ended up 454.54 to 8344.94, nearly 6% rise.
European markets extended losses at the end of their session. London's
FTSE
finished down 59 to 5944, Paris'
CAC-40
ended off 130 to 5323 and Frankfurt's
Xetra Dax
dropped 203 to 6075.
Asian markets were strong today, with Hong Kong's
Hang Seng
gaining 182 to 15281, and Tokyo's
Nikkei 225
finished strong, gaining 173 to 13246.
Back to top