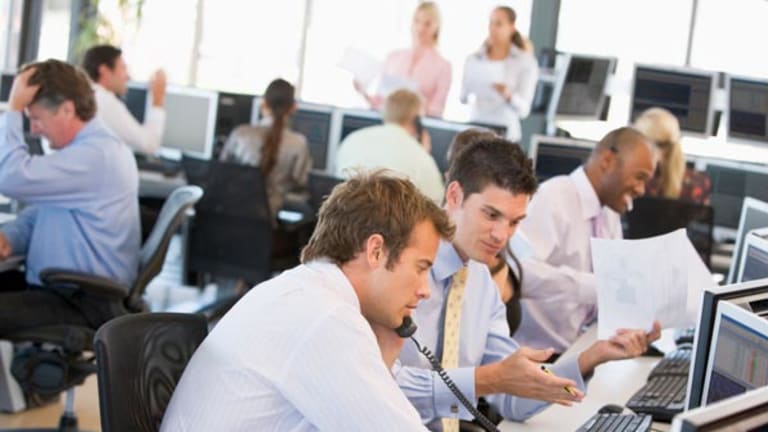 Don't uncork the Champagne, and please, no balloons or confetti today.
Heading into a three-day weekend, the major indices ended the week with in the doldrums, though the week as a whole was pretty positive for tech and the broader market.
The
Dow Jones Industrial Average spent the entire day in the downside. The
Nasdaq Composite Index had a more promising morning but finished the day just below the flatline.
The Dow got pressure from tech component
Hewlett-Packard
(HWP)
, which issued an earnings warning after the close yesterday. Fellow PC maker
Gateway
(GTW)
also
confessed that it would miss estimates and both were hit with
oodles of negative analyst notes this morning. H-P finished down 5.2% to $30. 69, while Gateway was 7.9% lower to $21.66.
A quick aside: H-P had some sadder news today, with the passing of one of its co-founders, William Hewlett. He founded the company with David Packard back in 1939. Hewlett was 87.
Now, back to the Dow, which had the most drag coming from
United Technologies
undefined
. The diversified industrial had a nice run-up in the past several weeks, but today was the victim of some hefty profit-taking. It was down 4.3% to $70.69 and took about 21 points from the index. Also, Scotch-tape and Post-It note maker
3M
was another weight on the Dow, shaving off about 16 points.
Still, the fact that H-P
wasn't
the hardest component hit on the blue-index suggests that the market isn't putting as much credence in bad news as it has in recent months, where any bit of bad news sent indices downward. This week, investors isolated the bad-news bearers, including
Nokia
(NOK) - Get Nokia Oyj Sponsored ADR Report
and
Yahoo!
(YHOO)
, punishing them, rather than the entire sector.
TheStreet.com
wrote about this
recent trend in an earlier story.
Pat Dwyer, senior vice president at
Cantor Fitzgerald
, said there's a little more resiliency at current levels. Also, he said people are expecting bad news, especially in the tech arena, so when companies report anything remotely close to estimates, they're not hit as hard as they have been in past quarters.
He said today's selling was relegated to certain stocks like consumer issues. Tech, meantime, was merely giving back a bit after making some good gains the past couple days.
Dwyer added that despite some of the giving back today, investors are still going to keep heading into tech because the risk is worth the reward. "The upside potential is just too big to ignore," he said.
Online ad company
DoubleClick
(DCLK)
pulled off a nice rally after announcing better-than-expected results for its fourth quarter. The stock was 32.2% higher to $14.75.
Broadcom
undefined
got some love from investors after some tough losses last week. All week the chipmaker's been steadily climbing. Today, it was up a respectable 6.5% to $123.19.
Software makers have had a rotten week. The trend continued today with
Ariba
(ARBA)
getting showered with a scad of analyst actions -- both
good and bad. Yesterday, the company announced that it
beat estimates and that it was raising its outlook, but that didn't help. The stock slid 18.9% to $35.19.
Jabil Circuit
tacked on 9.5% to $30.38 after it got an upgrade from
Prudential Securities
on news that the contract electronics manufacturer had agreed to buy five factories from British telecom equipment maker
Marconi
for $390 million.
So, what's going to happen next week? Dwyer said to get a rally going, companies are going to have to prove that their earnings outlooks are going to improve. He said he still thinks institutional investors aren't sure that stocks are the place to put their money.
As for the Fed, Dwyer said that he thinks the Central Bank will make another 50-basis point cut when it meets at the end of the month. A rate cut isn't a given, though, and some are saying they don't believe the Fed will cut again this month. No matter what, though, whether it's one cut or two this month, it won't be felt in the economy until the second half of this year.
Market Internals
Breadth was just barely positive on the NYSE on heavy volume. The Nasdaq's breadth and volume were both strong.
New York Stock Exchange: 1458 advancers, 1399 decliners, 1.3 billion shares. 103 new 52-week highs, 4 new lows.
Nasdaq Stock Market: 2371 advancers, 1459 decliners, 2.5 billion shares. 58 new highs, 14 new lows.
Back to top
Most Active Stocks
NYSE Most Actives
America Online (AOL) : 34.4 million shares. Lucent (LU) : 27 million shares. AT&T (T) - Get AT&T Inc. Report: 26.2 million shares.
Nasdaq Most Actives
Back to top
Sector Watch
TheStreet.com Internet Sector
index, aka the DOT, made some nice gains today, rising 5%. Components
Amazon.com
(AMZN) - Get Amazon.com, Inc. Report
and
Yahoo!
(YHOO)
recovered some of what they've lost this week. Earlier,
Check Point Software
(CHKP) - Get Check Point Software Technologies Ltd. Report
had a rally going, but by the end of the day had lost them and was down 0.5% to $124.
The
Philadelphia Stock Exchange Semiconductor Index
had a nice bounce yesterday, but was paying for it today. Its components were the victims of some mean, old profit-takers. The sector fell 2.6%.
Back to top
Bonds/Economy
Treasuries finished lower, sharply so in the long-term market, as the latest economic reports have traders wondering if the recent dire predictions of the economy are accurate. Yields on the 10-year note and the long bond climbed.
Analysts are increasingly concerned about the possible
Federal Reserve reaction to the most recent information on the economy. The retail sales report for December, though hardly upbeat, is not as weak as anticipated, while prices paid by producers last month were unchanged. This suggests the economy is slowing but not screeching to a halt, and inflationary pressure is still around. Enough reason for the Fed to make sure it doesn't overreact when making the next interest rate cut. Current expectations of a month-end 50 basis-point cut in the
fed funds rate are now about half of where they stood last week.
The benchmark 10-year
Treasury note closed down 1 to 103 22/32, raising its yield to 5.255%.
In economic news, the much-awaited
retail sales
(
definition |
chart |
source
) report indicated a rise of 0.1% in December. This is contrary to the forecast of economists polled by
Reuters
, who expected a decline of 0.4%. The latest numbers may check the current talk about economic collapse but it should be kept in mind that this advance is slight and follows successive drops of 0.5% and 0.1% in November and October respectively. Moreover, new car sales, which rose a strong 0.3%, helped its progress.
The
Producer Price Index
(
definition |
chart |
), which measures the prices paid by producers in the overall production process and is a key indicator of inflation, remained unchanged for December after having risen 0.1% the previous month. But the core PPI, which excludes the much more changeable food and energy components, rose by 0.3%, a substantial increase. Inflation may therefore remain an important consideration in the ongoing monetary policy.
Back to top
International
European stocks ended the day higher. Paris'
CAC-40
gained 132 to 5834. Frankfurt's
Xetra Dax
rose 25 to 6490. London's
FTSE 100
jumped 51 to 6166.
The euro was trading at $0.9516.
Asian stocks were also strong today. Hong Kong's
Hang Seng
rose 205 to 15295, while Tokyo's
Nikkei 225
gained 147 to 13348.
The greenback was trading at 118.43 yen.
For more on the world stock markets, check out
TheStreet.com's
global indices information.
Back to top