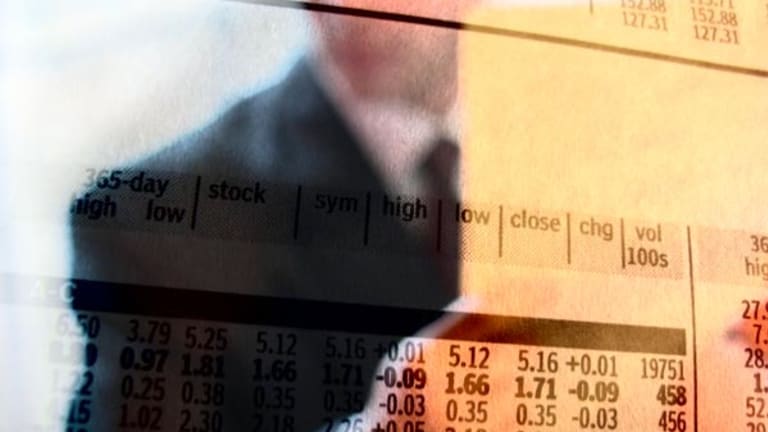 Friday's Market: After Conflicting Jobs Data, Stocks Sink in Thin Volume
Both the Dow and the Nasdaq slumped through an uninspiring Friday session.
Wall Street grappled with a mixed employment report and ditched out on a week-long rally, fearing that the economy just went from worse to bad. A bad economy is just too good, and fears were that the
Federal Reserve would hang back for the next six weeks, instead of
slashing the rates before the next meeting,
as they did on Jan. 2.
Therefore, the
Dow Jones Industrial Average dropped 120, or 1.1%, to 10,864 -- the biggest stumble since a 250-point fall on Jan. 5. The
Nasdaq Composite Index slipped 122, or 4.4%, to 2661.
According to the Facts of Life theme song, if you take the good and you take the bad, then well, you end up with the facts of life. So, looking at the latest
employment report, there were both good things and bad things. Unfortunately, none of those clarified the facts of life -- not from an economic perspective.
The unemployment rate rose to 4.2%, a 16-month high and an indication that the economy is indeed slowing. That's a good thing for people who are banking that the Federal Reserve will make an intermeeting cut before the
Federal Open Market Committee meeting on March 20. Then again, non-farm payrolls grew by 268,000 jobs during the month of January, a sign that economy isn't nearly as bad off as some people think. That's not a good thing for fans of a Fed cut during the month of February.
So, what's the deal? Is the American economy headed for a freezing February, one where economic data scream that the Federal Reserve needs to act now -- right now -- to stave off the dire consequences of a recession. Or, as this mixed employment report seems to show, does the economy has a little more pop left in it? Enough so the Fed can wait six weeks before making money cheaper?
These were just the two of the many questions hanging over this market. And as many people learned during the weeks following Election Day, markets do not like uncertainty.
Within the Dow, manufacturing and technology took it on the chin. Dial
3M
for murder, because this manufacturing behemoth dropped $2.82 to $108.73 today, continuing its volatile trading pattern since reporting lackluster earnings last week. Meanwhile
IBM
(IBM) - Get International Business Machines Corporation Report
dropped $3.78 to $110.27, indicating the overall weakness in technology.
Intel
(INTC) - Get Intel Corporation Report
,
Microsoft
(MSFT) - Get Microsoft Corporation Report
and
Hewlett-Packard
undefined
were weaker, too.
In fact, there just wasn't that much to root for within the blue-chips. 23 of the 30 industrials ended the day in the red while volume dried up.
General Motors
(GM) - Get General Motors Company Report
and
Johnson & Johnson
(JNJ) - Get Johnson & Johnson Report
the only notable winners.
The thin volume was quite apparent late in the afternoon, as both the Dow and the Comp slumped lower without anybody willing to step in and buy stocks at a higher price. The support just wasn't there for a rally. But lower-than-usual volume has been a hallmark of the last two weeks of trading, even when the market was moving higher.
The Comp was waylaid by the low volume. Sure, on Jan. 3, the Nasdaq Stock Market traded 3.1 billion shares for the first time ever. Well, today it did about half that. Technology was the market whipping boy, dying for the sins of a slowing economy, while idle traders watched the tape run red.
Cast a stone it at any sector, chances are it was down. Biotechs, computer gizmos, boxmakers, networkers, semiconductors, large-cap, small-cap, wireless, telecommunications -- all fell more than 2% today. Widespread tech fallout rocked the Nasdaq today, so here's a quick look at the sectors that fell and the leaders that paved the path to destruction.
Cisco
(CSCO) - Get Cisco Systems Inc. Report
dropped 7.2%, pushing the
American Stock Exchange Networking Index
5.6% lower.
JDS Uniphase
(JDSU)
was even worse, dropping 10.4%.
Yahoo!
(YHOO)
slipped 8.5%, while the
TheStreet.com Internet Sector Index
dropped 6.2%. As mentioned earlier, IBM took a kick to the teeth, so it would go without mention that the
Philadelphia Stock Exchange Computer Box Maker Sector
dropped 2.9%.
Xilinx
undefined
had been rallying lately, but as it fell 7.9% today, the
Philadelphia Stock Exchange Semiconductor Index
dropped 5.4%.
Market Internals
Okay, internals have been pretty boring lately. Winners have usually beaten losers, as a general market run-up floated a wide variety of sectors higher. That said, the timid rally lacks the support of the trading community. Volume has been very thin, as it was today. That's a far cry from weeks ago, when the Nasdaq Stock Market traded in excess of 3 billion shares for the first time, while the Big Board pushed past 2 billion.
And now, as volume stayed dry for yet another session, losers have begun to top the winners. Look out below.
Back to top
Most Active Stocks
Back to top
Sector Watch
Looking outside of the cloistered technology worldview, there was some hot and heavy action in other parts of the market. In fact, while tech slid, two areas jumped.
Natural gassers rose along with the price of crude, which hit $31 a barrel today. The
American Stock Exchange Natural Gas Index
rose 2.8%. Meanwhile, those defensive HMO stocks in the
Morgan Stanley/American Stock Exchange HMO Index
jumped 2.9%.
The
American Stock Exchange Securities Broker/Dealer Index
was a notable loser, dropping 3%.
Back to top
Bonds/Economy
Treasury prices are lower after having moved up for three consecutive days. The money market pulled back in the early session as hopes of yet another intermeeting interest rate cut decreased.
Employment data released this morning deflated some of that expectation, since the number of new nonfarm jobs created rose more than expected. At the same time, unemployment also rose more than expected. The jobless rate is now at its highest level in more than a year.
Yields are about 6 basis points higher for the notes, while those for the longer-dated securities are up marginally.
The benchmark 10-year
Treasury note lately was down 15/32 to 104 15/32, raising its yield to 5.150%.
In economic news, the
employment report
(
definition |
chart |
) showed that the number of new jobs, excluding those in farm-related industries, increased dramatically in January, to 268,000 -- much higher than expected. Economists polled by
Reuters
had forecast only 83,000 new jobs. Still, the current number could well be revised significantly, as data for the first month of the year fluctuates considerably. (Indeed, the December numbers were noticeably revised, with new jobs for that month now estimated at 19,000, far lower than the 105,000 initially reported.)
Average hourly wages remained unchanged after having increased by 0.4% at the end of the year. They had been expected to grow by another 0.3%.
The unemployment rate rose to 4.2% in January, from 4% in December. This is the highest jobless rate since July 1999. Economists had been expecting 4.1%. The augmented unemployment rate, which includes those who are willing to work but are not actively looking for a job, rose to 7.1%, the highest level since March. The pool of available workers rose to 10.37 million in January from 10.19 million in December.
The
Future Inflation Gauge
(
definition |
chart ) slipped to 112.4 in January, its ninth consecutive decrease. This indicates minimal inflation fears.
Factory orders
(
definition |
chart |
) in December were up more than expected, growing at a rate of 1.1% rather than the anticipated 0.6%. However, excluding the key transportation sector that comprises the aircraft industry, monthly orders actually dropped 0.8%. The drop reflects slowing new auto sales and weak year-end retail sales. Over the past 12 months, the average overall number has plunged. It stands at 0.5%, sharply lower than the 12-month high of 16.3% in June.
Finally, the
Consumer Sentiment Index
(
definition |
chart ) is at its lowest level in more than four years, at 94.7. However, it was revised slightly upward through the second half of January from a preliminary reading of 93.6.
Back to top
International
London was awash in fog as losses in telecoms and tech were offset by gains in oil and drugs. Good will toward retailers cast the final lot in favor of a positive close and the
FTSE
pulled out a gain of 4.6 to 6,256.4. That brings the weeklong move to a 38-point deficit overall.
Meanwhile, Germany's
Xetra Dax
got little support from other sectors as tech dropped off the table. Steep drops in chipmakers and telecoms helped push the Dax down 66.5 to 6638.2. The Parisian
CAC
also fell, losing 73.4 to 5826.4.
The euro continued to butt its head against the dollar, unable to push above parity. Lately, the euro, which recovered from November levels around the low 80-cent range, has been handcuffed around the 94-cent range. It last traded at 93.56 cents.
Tokyo followed the Nasdaq lower, with the
Nikkei 225
stumbling 75.9 to 13,703.6. Major technology names, especially leader
Sony
undefined
, took a swan dive as the yen firmed up and the American economy slowed down. And speaking of the yen, it last traded at 115.59.
Hong Kong's
Hang Seng
hit a new high for 2001, scraping 16,275 before a prodigious selloff dropped the index more than 200 points. It closed down 92.7 to 16,071.3.
Back to top