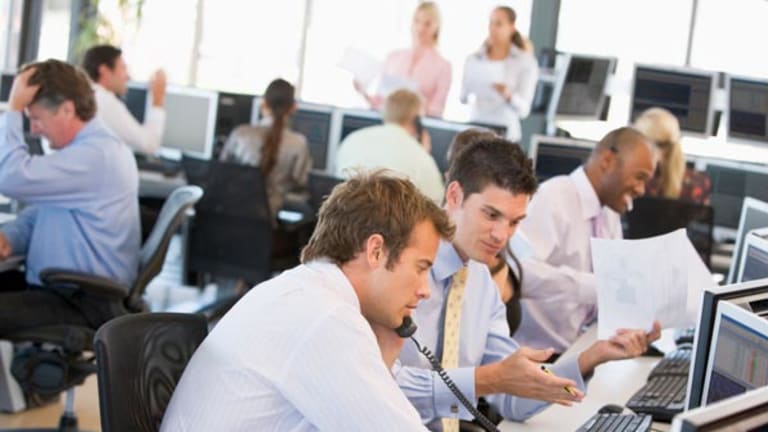 Publish date:
Friday Brings Stock Gains but Wall Street Down For Month
Wall Street suffered a terrible January but, hey, at least the last session of the month ended on the right foot.
Wall Street suffered a terrible January but, hey, at least the last session of the month ended on the right foot.
Wall Street may have weathered a terrible January, but at least the last trading day of the month was upbeat. 
Stocks closed at session highs on Friday, with the Dow Jones Industrial Average up nearly 400 points while the S&P 500 climbed 2.5%. Markets were bolstered by better-than-expected earnings reports from the likes of Microsoft (MSFT) - Get Report and Visa (V) - Get Report , a U.S. economy slowly chugging along and a surprise stimulus from the Bank of Japan.
But for the month as a whole, the markets remained down. Stocks started off the year with wild swings fueled by worries over China's growth, uncertainty over the Federal Reserve's rate hike timeline, so-so earnings, and a continued slump in oil prices.
The S&P 500 is down 5.2% for the month, the Dow has fallen 5.6%, and the Nasdaq has slipped 8%. And the selloff might not be over just yet, according to some market watchers. 
"It would not be surprising if the S&P 500 does, once again, test the new correction lows reached earlier this month," said Jim Paulsen, chief investment strategist at Wells Capital Management. "However, improved valuations, refreshed investor sentiment, a significant rally in both crude oil prices and raw industrial commodity prices and a surprising month of outperformance by emerging market stocks does spread a little cheer to chew on at the end of a dreadful month."
It remains to be seen whether the first pieces of economic data from the current quarter, due next week, will help stocks inch higher or prompt a wild ride back down. On the docket are personal income numbers and a snapshot of the manufacturing sector, to be be released on Monday, and the all-important January jobs report on Friday. 
Fourth-quarter earnings reports will continue, with statements scheduled from Alphabet (GOOGL) - Get Report , a component of the Action Alerts PLUScharitable trust portfolio managed by Jim Cramer, as well as Mattel (MAT) - Get Report , Gilead Sciences (GILD) - Get Report , Chipotle (CMG) - Get Report , Pfizer (PFE) - Get Report and UBS (UBS) - Get Report . 
Exclusive Look Inside: You see Jim Cramer on TV. Now, see where he invests his money and why Google, Apple and Facebook are core holdings of his multi-million dollar portfolio. Learn more now.
So far this season, 39% of S&P 500 companies have reported earnings. Results have largely beat estimates, though the performance range varies widely. Some, like Facebook (FB) - Get Report and Coach (COH) , breezed past expectations while industry heavyweights Amazon (AMZN) - Get Report and Apple (AAPL) - Get Report disappointed. 
The U.S. economy saw slower growth in the fourth quarter, though not as bad as some economists had feared. Fourth-quarter GDP rose 0.7% in the fourth quarter, down from 2% in the third quarter. Growth slowed as warmer weather curbed sales of winter clothing in the retail sector and businesses worked through excess inventory. 
Fed funds futures are now predicting no rate hikes from the Fed this year due to slowing economic growth and turmoil on international markets, although the the central bank kept the door open to a March rate hike at this week's meeting.
Global markets rallied after the Bank of Japan adopted negative interest rates for the first time in history in order to jump-start the world's third-largest economy. A negative rate of 0.1% will apply to excess reserves at the country's central bank to encourage commercial lenders to extend more credit. The stimulus in the world's third-largest economy will be in place for "as long as it is necessary," officials said.
Amazon (AMZN) - Get Report  dropped after its quarterly results fell far below estimates. The e-commerce giant earned $1 a share for the period, lagging far behind forecasts of $1.55. The Internet retailer said operating costs jumped 20%, partly from expanding its Fulfillment by Amazon service for third-party sellers during the busy holiday season.
Electronic Arts (EA) - Get Report slid on a weaker quarter, with revenue falling 5% to $1.07 billion despite strong results for its Star Wars Battlefront game. The video-game developer also issued weaker guidance for the current period, with projected earnings of 40 cents a share coming in a dime below consensus.
Xerox (XRX) - Get Report  rose after confirmation that the company plans to separate its document technology and services businesses into two entities. The company said the decision had little to do with activist investor Carl Icahn as previous reports had suggested, though Icahn will get three seats on the services company's board. The billionaire holds a stake of more than 8% in the printer company.