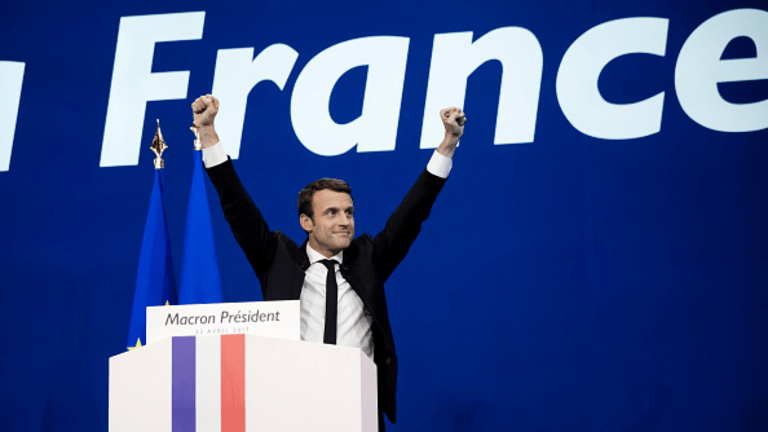 European stocks  are surging and the Dow is slated to open more than 200 points higher at the bell following a solid win for centrist Emmanuel Macron in Sunday's French presidential elections that appears to have diminished concern that the country may opt to leave the European Union.
The CAC-40 gained 220 points, to 4.33%, in the opening two hours of trading in Paris as traders repriced stocks in the wake of Macron's win and early polls indicating the 39-year old former investment banker holds a 20-point lead over far-right rival Marine Le Pen heading into the second round runoff on May 7. The benchmark is now trading at its highest level in at least nine years. 
Bank stocks led gains, both in France and around the region, with BNP Paribas SA (BNPQY) , the country's biggest lender, rising 8.55% to €67.32, with rivals Credit Agricole SA (CRARY) and Societe General SA (SCGLY) posting 8.9% and 9.8% increases respectively.
Germany's DAX index jumped 2.9% by 11:00 CET in Frankfurt, its biggest single-day gain on record with banks again leading the charge. Deutsche Bank AG (DB) - Get Deutsche Bank AG Report was marked 8.1% higher at €16.70 each while Commerzbank AG (CRZBY) , the country's second-largest bank, was seen 9.4% higher.
The region-wide Stoxx 600 Europe Banks index touched a new 52-week high of 183.22 on the back of a 4.4% gain in the opening two hours.
U.S. futures prices point to solid gains on Wall Street, as well, with the Dow Jones Industrial Average priced to gain nearly 212 points at the opening bell and the broader S&P 500 set for a 28 point bump at the start of trading.
European gains were enhanced by news that Germany's business leaders recorded their highest level of optimism in nearly six years this month, according to a key sentiment indicator, adding further fuel to a bullish outlook for the European economy.
The IFO Institute's business climate index, a benchmark for sentiment in the region's largest economy, was marked at 112.9 in April, up from 112.4 in March and ahead of the 112.4 reading anticipated by economists. The IFO's index of current business conditions also improved, rising to 121.1 from 119.5. Only the survey's expectations component -- which gauges business leaders' views six months from now -- recorded a decline, falling modestly to 105.2 from 105.7.
Britain's FTSE 100 advanced more than a 115 points, or 1.65%, but gains were tempered by both an elevated pound and a series of stocks trading without the right to their regular dividend.
Early market reaction to last night's results lifted the euro to the highest level against the U.S. dollar since early November, as the single currency rose to 1.0940 before paring gains in Asia trading to around 1.0867 at 10:20 BST.
Bond markets were also in focus, with benchmark 10-year U.S. Treasury yields rising 7 basis points to 2.32% in overnight trading as risk sentiment improved before paring the moves to around 2.30%. The moves haven't yet boosted the U.S. dollar, however, which remains firmly on the back foot at 98.89 against a basket of six global currencies.
The overall market rally, however, reflected both the emergence of Macron -- a former investment banker who served as Economy Minister under the current president, Francois Hollande -- and the early endorsements from rivals keen on supporting the 39-year old upstart in a run-off against the anti-European candidacy of Le Pen. Polls suggest Macron, a staunch European, holds at least a 20-point lead over Le Pen heading into the second round.
Macron secured 23.75% of the vote, which was spilt among 11 candidates, based on final official figures from France's Interior Ministry. Le Pen, the daughter of Jean-Marie Le Pen, who run unsuccessfully for President in 1995, finishing a distant second to Jacques Chirac, won 21.53% of the vote and will meet Macron in a run-off on May 7.
However, given the breadth of support for establishments candidates such as Francois Filion and Benoit Hamon -- who immediately endorsed Macron -- it is unlikely that Le Pen can win enough support in the head-to-head competition to secure her place at the Elysee Palace.
European bonds outside of German rallied hard, with benchmark 10-year French government bonds, known as OATs, were marked 12 basis points lower at 0.82% in early European trading, while corresponding debt from Germany, the region's biggest economy, rose 9 basis points to 0.35%. The moves put the extra yield, or spread, that investors demand to hold OATs instead of triple-A rated bunds at around 0.47%, down from 0.69% at the close of trading Friday and the lowest since January.