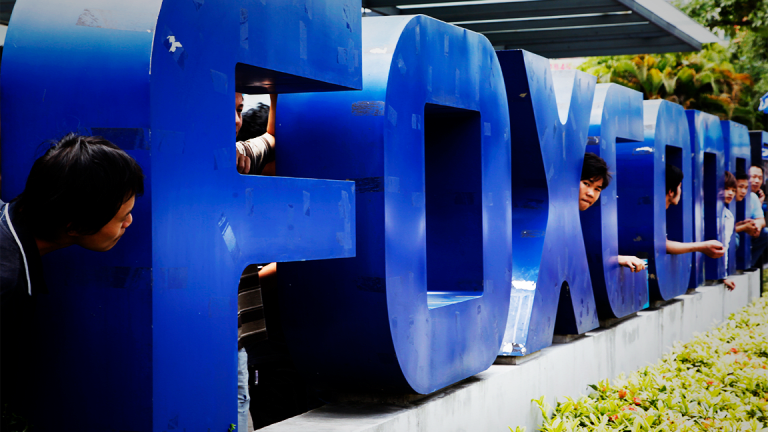 Foxconn Now Says It Will Go Ahead With Wisconsin Plant After Talks With Trump
President Trump trumpeted the news in a tweet.
Taiwanese contract manufacturing giant Foxconn said Friday it will move forward with a planned facility in Wisconsin, after saying earlier in the week that it would just be a research hub. But it was unclear exactly what kind of jobs would be brought to the facility.
"After productive discussions between the White House and the company, and after a personal conversation between President Donald J. Trump and Chairman Terry Gou, Foxconn is moving forward with our planned construction of a Gen 6 fab facility, which will be at the heart of the Wisconn Valley Science and Technology Park," the company said in a statement to news outlets. "This campus will serve both as an advanced manufacturing facility as well as a hub of high technology innovation for the region."
President Trump trumpeted the latest decision in a tweet.
The announcement by Foxconn, one of Apple's (AAPL) - Get Apple Inc. (AAPL) Report largest manufacturers, in 2017 to open the plant to make flat screen TVs and create 13,000 jobs there was touted by President Trump as a big win for U.S. manufacturing jobs. It was also controversial for the promise of $4 billion in state and local tax incentives.
Earlier this week, though, the company told Reuters that instead of a factory, it planned to create a "technology hub" for research, as well as some packaging and assembly operations. Louis Woo, special assistant to Foxconn CEO Terry Gou told Reuters that "in terms of TV, we have no place in the U.S. We can't compete." 
With the latest announcement, it appears that Foxconn has now done an about face.
Score a Touchdown with Jim Cramer's Big Game Special
Get access to the best stock picks in Jim Cramer's investment portfolio by executing a two-minute drill on our Big Game Special on Action Alerts PLUS, Jim's VIP club for investors. Sign up now through Feb. 4 and receive 58% off of the normal subscription price. Now that's a real touchdown!