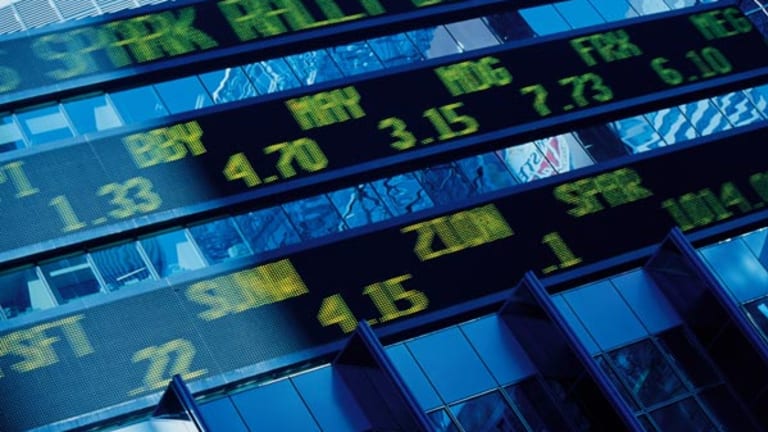 Publish date:
Four Tech Stocks With Deal Appeal
These names are worth owning independent of the possibility of M&A in the group.
These names are worth owning independent of the possibility of M&A in the group.
This column was originally published on RealMoney on May 22 at 1:13 p.m. EDT. It's being republished as a bonus for TheStreet.com readers. For more information about subscribing to RealMoney, please click here.
The press was in a tizzy recently about the possible linkup -- acquisition, partnership, whatever -- between two information technology bellwethers,
Microsoft
and
Yahoo!
. I don't know if these two companies will go to the altar, but with the current hot acquisition market --
News Corp.
going after
Dow Jones
,
Alcoa
wanting
Alcan
,
Thomson
eyeing
Reuters
-- the technology sector could well be ripe for some pairing up.
I don't invest by looking for companies that might be acquisition targets. But if an industry might have a wave of acquisitions -- and this is certainly possible in the technology sector -- companies in that industry are worth a look, especially those that also get the support of my guru strategies. That means I invest using purely quantitative strategies I've developed after reading published books by investors who have consistently beaten the market over the long term.
I've been looking at a number of technology companies. Four look like good investments, without regard to whether they might be acquired or make their own acquisitions. If they become M&A fodder, that would just be icing on the cake, as they say.
Satyam
I first wrote about
Satyam
( SAY) back on
Aug. 17, when its stock was trading at $18.72. Since then it has risen by nearly a third to trade around $25.
In particular, the guru strategy I base on the writings of Peter Lynch finds that this Indian firm, which does programming for clients on an outsourced basis, still has room to move up. The stock's price-to-earnings ratio is 27.97, while its growth rate, based on the average of the three- and four-year historical EPS growth rates, is 47.56%. That creates a P/E/G ratio (growth relative to P/E) of 0.59.
This is very favorable; any P/E/G south of 1.0 is acceptable. The P/E/G is the key measurement used in the Lynch strategy.
Also in Satyam's favor is its debt, which is only 3.49% of equity; that's very low. You could say that Satyam has virtually no long-term debt. This is a stock that has done well in the recent past, and seems likely to outperform in the coming months.
Ansoft
Ansoft
( ANST), a developer of software used to design electronic products, is a favorite of the strategy I base on William O'Neil's writings. The strategy likes the fact that the company's earnings have increased in four of the past five years, with one dip, which is acceptable.
Ansoft's EPS for the most recent quarter increased 50% when compared to the same quarter a year earlier. An 18% increase is the minimum acceptable under O'Neil's methodology.
The company's relative strength rating is 87. Relative strength is a measure of a stock's performance compared with the overall market during the past year, with 80 or more being acceptable and 90 or more being preferred.
The O'Neil strategy is distinguished by its search for stocks with the momentum wind filling their sails. These are stocks likely to break out into new higher-price territory. That's why the strategy wants the current stock price to be high, not low. Specifically, it looks for a current price within 15% of the stock's 52-week high. That's no problem for Ansoft, as its current price is within 1% to 2% of its 52-week high.
This strategy also likes stocks where at least one other company in the stock's industry has a relative strength index reading above 80. Ansoft's industry, software and programming, has 92 companies that fit this criterion.
Ansoft is also distinguished financially. It has no long-term debt, which is excellent, and its return on equity, 36.5%, is more than double the strategy's minimum requirement of 17%. Ansoft has plenty going for it, as measured by the O'Neil strategy's criteria.
Micros Systems
Micros Systems
(MCRS)
is another software company that the Lynch strategy likes. Micros develops enterprise applications for the hospitality and specialty retail industries.
Micros has a P/E of 30.34 and a growth rate, based on the average of the three- and four-year historical EPS growth rates, of 41.34%. This results in a P/E/G of 0.73, well within the desired bounds of 1.0 or less.
Despite the company's high growth rate, inventory relative to sales has fallen this year compared with last year (which is impressive). Plus, debt as a percentage of equity is only 0.69%, which is equivalent to virtually no debt. All of these variables speak well of Micros.
Infosys
Infosys
(INFY) - Get Infosys Limited Sponsored ADR Report
is the final company I want to discuss. Like Satyam, it's an Indian outsourcer of information technology services. I first wrote about Infosys way back on
Oct. 11, 2004, when the stock traded at $27.46.
In the 2 ½ years since, its price has doubled. It still has room to move up, according to the strategy I base on Martin Zweig's writings.
This strategy is based on the idea that for earnings to grow over time, they must be supported by a comparable increase in sales because there are only so many cost-cutting measures a company can implement to boost profits. Infosys does well by this measure. Its revenue growth, based on the average of the three-, four- and five-year historical EPS growth rates, is 42%, and its earnings growth rate is 40.58%.
The strategy also looks at earnings from various angles, and Infosys looks good from all of them: EPS for the most recent quarter was positive, it increased when compared to the same quarter a year earlier and earnings have been growing for the past several quarters.
Even better, EPS growth for the current quarter is greater than the historical EPS growth rate. That historical growth rate (which, as noted, is 40.58%) is way above the strategy's minimum of 15%. And earnings have increased in each of the past five years.
Finally, Infosys has no debt. That's always good to see.
All of these technology companies are strong, independent of the fact that technology may become subject to increased M&A activity. Add in the M&A factor, and this industry definitely has potential. If you don't have much technology in your portfolio, this is a good time to add some.
At the time of publication, Reese was long Infosys, although holdings can change at any time.
John P. Reese is founder and CEO of
, an investment research firm, and
, an asset management firm serving affluent investors and companies. He is also co-author of the best-selling book,
The Market Gurus: Stock Investing Strategies You Can Use From Wall Street's Best
. Under no circumstances does the information in this column represent a recommendation to buy or sell stocks. Reese appreciates your feedback.
to send him an email.
TheStreet.com has a revenue-sharing relationship with Amazon.com under which it receives a portion of the revenue from Amazon purchases by customers directed there from TheStreet.com.