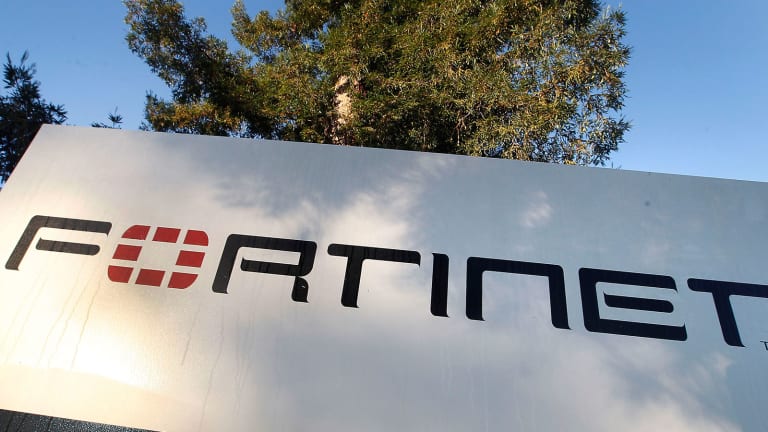 Publish date:
Fortinet (FTNT) Stock Soars After Q4 Revenue Beats Estimates
Fortinet (FTNT) stock closed in the green after the company reported better than expected 2015 fourth quarter revenue.
Fortinet (FTNT) stock closed in the green after the company reported better than expected 2015 fourth quarter revenue.
NEW YORK (TheStreet) -- Fortinet (FTNT) - Get Report stock closed up 6.75% to $28.14 on heavy trading volume on Friday after the cyber security company reported revenue that exceeded expectations for the 2015 fourth quarter. On Thursday after the market close the company reported earnings that were in line with estimates.
Revenue increased 32% year-over-year to $296.53 million for the quarter ended December 31, beating estimates of $296.22 million.
Earnings increased to 18 cents per share for the latest quarter, compared with earnings of 14 cents for the same period in 2014.
Sunnyvale, CA-based Fortinet also posted total billings of $380.9 million for the quarter, representing a 35% jump compared with the 2014 fourth quarter.
By the end of the trading day, 5.55 million shares of Fortinet had been traded, compared with its average daily volume of 2.44 million shares.
Insight from TheStreet Ratings
TheStreet's Chris Versace and Lenore Elle Hawkins wrote about Fortinet's latest quarterly results in a post on Growth Seeker. Here's what they had to say about the company:
While results were largely in line with estimates, we did not like seeing that the operating margin for the year came in at 13.2%, a bit below the 14% target for the year. On the other hand, we were pleased to see cash flow from operations of $69 million, a 94% year-over-year increase, and free cash flow of $60 million, a 101% year- over-year increase.

The company also announced a new $200 million share buyback program, which represents around 4% of shares outstanding at current levels and is likely to give share prices a nice boost and help achieve EPS targets in the coming quarters. Despite all of those positives, our primary concern is that forward guidance was lower than what was expected and we are concerned with the company's ability to maintain or improve margins.

We've been hearing a lot of concerns of slowing demand as companies report their earnings this reporting season, and today's GDP number, 0.69% growth rate, confirmed that the fourth quarter experienced significant slowing. We haven't heard much to convince us that the first quarter will see an acceleration -- if anything, the growing list of regional January Fed surveys points to further slowing. In our experience, companies tend to dial back spending during uncertain times like these.
Chris Versace and Lenore Elle Hawkins' "Fortinet's Solid Quarter Not Without Flaws" was originally published on 01/29/16 on Growth Seeker.
Want more from Versace, Hawkins and Wall Street's sharpest minds BEFORE your stock moves. Learn more about Growth Seeker now!
data by