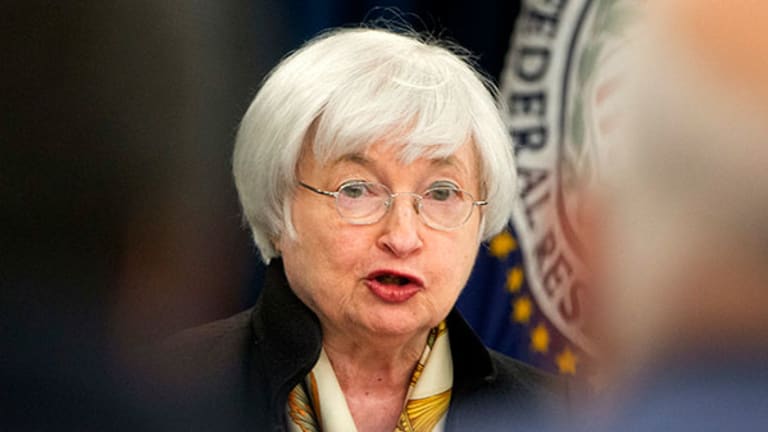 Former Federal Reserve Governor Mishkin Argues For Higher Inflation Rate Target on CNBC
Former Federal Reserve Governor Frederic Mishkin advocated for a temporary inflation rate target above 2% in an appearance on CNBC's "Squawk on the Street."
NEW YORK (TheStreet) -- Federal Reserve Chair Janet Yellen gave signs that an increase in the federal funds rate would soon be coming, during a speech she delivered at the Economic Policy Symposium in Jackson Hole, WY on Friday morning.
"In light of the continued solid performance of the labor market and our outlook for economic activity and inflation, I believe the case for an increase in the federal funds rate has strengthened in recent months," Yellen said.
Although talk that interest rates would increase as soon as September has swelled in recent weeks, former Federal Reserve Board of Governors member Frederic Mishkin said in an appearance on CNBC's "Squawk on the Street" Friday that a move in November is much more likely.
"I do think that the situation is more favorable to them raising rates," Mishkin said. "If it were me, I would not raise rates right now for reasons that I don't think that the inflation rate is moving sufficiently in the direction we need to see it move, but on the other hand, that's a judgment call."
Mishkin went on to argue that the Federal Reserve should temporarily aim for a higher-than-2% inflation rate because "they've been undershooting so much."
"The rejoinder to that idea, though, is that the Fed is having trouble reaching its current inflation target. Why would lifting the target somehow make it more achievable or favorable as an outcome?," CNBC's Michael Santoli asked.
"If you commit to aiming for a higher inflation rate than 2% -- I would think temporarily would be a reasonable thing to do -- then in that case, you're also committing, you're also indicating that you're not going to react as quickly to data coming in as strong," Mishkin responded. "In fact, what you'll do is you'll tend to keep rates low and I think that's certainly an appropriate thing for them to do."