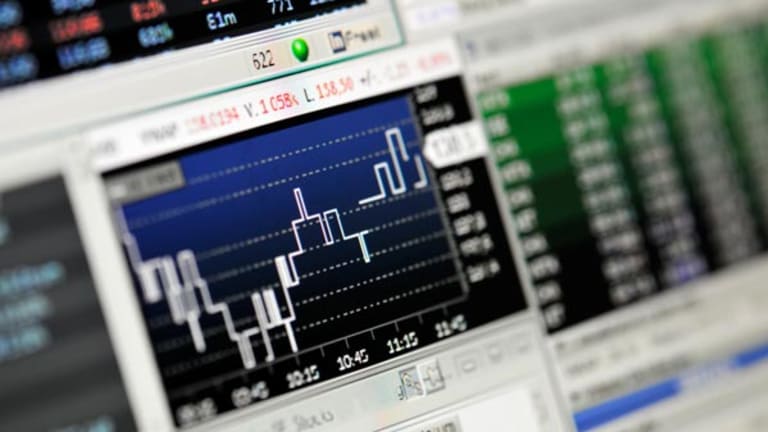 Forget Fountains, Grab a Basket of Youth
Play the fight against aging with two reasonably valued companies in this overheated sector.
This column was originally published on RealMoney on April 7 at 10:47 a.m. EDT. It's being republished as a bonus for TheStreet.com readers.
One investing concept I like is the "basket" approach. Jim Cramer often identifies a basket of cheap plays on a topic, and I like to apply this to my portfolio. If I pick up enough low-valuation stocks with growth prospects, I will make money because downside is minimized.
If I pick well enough, quite a few will go up. Some stocks end up cheap for a reason -- the company is irrevocably broken, or management stinks -- so it's important to diversify. Lots of ideas don't end up working.
I'd like to present two stock ideas in an area I believe is generally overpriced but offers great opportunity if we pick our spots selectively: antiaging. This is a hot area. No one likes to get old and our population is aging rapidly. The number of individuals aged 65 and older is expected to double by 2030. I was in a bathroom the other day with some mirrors placed so I could see the back of my head -- yikes! If you see me wearing a baseball cap, you'll know why. Thank goodness people are working on solutions to all that "ails" us.
I want to avoid large-momentum darlings like
Stryker
(SYK) - Get Free Report
,
Zimmer
(ZMH)
and
Allergan
(AGN) - Get Free Report
. Those are great companies, but such size always makes growth more difficult.
I try to find companies where unexpected growth will translate into a better multiple and outsized gains. I believe I've found them in
NuVasive
(NUVA) - Get Free Report
and
Viacell
( VIAC).
But before I go in-depth on these two eggs in the antiaging basket, I should discuss my neutral stance toward the market, which helps me manage my clutch. Please don't refer to me as a bull or bear; that is too limiting.
Any market participant who is a partisan is missing opportunities. I find it curious how often market commentators refer to the permabears, cults of permabears and their mischievous activities, holding stocks down and other dastardly deeds. The market works on supply and demand, not the collusive activities of strange antimarket advancing forces. If anything, there are many more forces colluding to have higher prices than lower. Basically, higher prices serve the interests of the majority of people.
That said, I am able to be negative about one stock or even the economy and be positive on another stock or sector simultaneously without suffering any cognitive dissonance. On TV, I witness commentators who are perpetually bullish on the market. For me, this renders their views irrelevant, because they are no longer objective.
A broken clock is right twice a day, but if we can create a state of open-mindedness beyond politics and the frustration of others disagreeing with our point of view, there's a good chance we can be right maybe three times a day.
With this and my longer-term time frame for assessment of success or failure in mind, please don't take too much meaning from (or comfort in) the short-term movements of stocks.
A $2 or $3 upward move in a $20 stock in a bull market is not validation of the longs or a demonstration of misguided negativity. There are plenty of bull cycles in secular bear markets where stocks do all kinds of strange things that have nothing to do with the longer-term trajectory.
Stay on top of the story and valuation. Company-specific issues such as options expensing may or may not prove to be major issues for the market. But in the short term, the market doesn't move on valuation -- it moves on momentum and emotions, neither of which validates a longer-term valuation stance on a particular position.
NuVasive
Medical-device company NuVasive focuses on spine disorders. The company offers a range of products including tools, software and implants for minimally invasive back surgery and repair.
Because we don't all do core workouts with Brooke Burke, back trouble is a common problem as we age. The less invasive approach and improved design of NuVasive's products make surgery a realistic alternative for a greater number of sufferers. NuVasive's technology allows the surgeon to access the spine through the patient's side rather than abdomen. The software allows doctors to use visuals to avoid nerve contact, minimizing complications. These newer surgical methods, combined with visualization software, allow more precise and effective surgery, which leads to less pain and shorter recovery times.
While I would not call this a value stock, I believe it represents good value at its current trading level, around $18.50. The company trades for roughly five times the 2007 sales estimate, and should be close to profitable on that revenue.
In February, the company guided revenue lower. While that is a concern and managing expectations is important, this is a young company that is growing rapidly. The small revision still represents greater than 42% annual revenue growth, and break-even results for the fourth quarter of 2005 is an impressive accomplishment after only three years of product sales.
I believe the recent drop in the stock related to that guidance represents a good entry point, and unless the story changes significantly, I expect NuVasive to remain a core holding of mine for years to come.
Management estimates the current U.S. market for spine fusion applications at $2.9 billion, and has a goal of achieving a 10% market share. Going forward, the market is expected to grow at least 10% annually. Given current market acceptance, an ever-broadening product line and current revenue levels, I see this as very achievable.
An added perk: NuVasive also has a robust research and development pipeline that includes an artificial disk for motion preservation called Total Disc Replacement. That particular product is more than five years out, but it could prove worth waiting for. In the meantime, if the company achieves its targets, applying an industry-favorable multiple of three to four times revenue generates a price target of roughly $40.
Viacell
Viacell represents my very long-term approach to playing the conquest of the problems associated with aging. Stem-cell research represents the ultimate antiaging solution, regenerative medicine, which is Viacell's focus.
The problem with stem-cell research is that no one is certain how or when it will yield results, or whether it can overcome stiff ethical opposition. The truth is, if it works, it is going to be pursued, and preliminary research indicates it is very promising technology. Stem-cell research in Spain produced encouraging results stimulating insulin production in diabetic mice, even reversing the condition. On the moral front, research is proceeding to develop more ways of extracting stem cells from sources other than embryos.
The great opportunity with Viacell is it has a growing business to help reduce cash burn and support research in stem-cell therapies. ViaCord, the company's umbilical cord blood bank subsidiary, is growing at a 20% annual clip, generating revenue of $43.8 million in 2005. Viacell indicated that is a sustainable growth rate; I believe that estimate is actually low.
Parents are increasingly aware of the potential to use blood from a newborn's umbilical cord for regenerative medicine in future. The reality is there are basically no mass-use therapies currently available for those umbilical cord cells. But imagine when there are; do you think any parent with the means to do so will opt out of storing their child's umbilical cord? As research in the field yields results, proprietary or not, it is sure to fuel growth in the cord-bank business.
I see ViaCord as a viable investment vehicle on its own, but Viacell also boasts an intriguing list of products under development, and partnerships with impressive companies like
Genzyme
( GENZ),
Amgen
(AMGN) - Get Free Report
and
GlaxoSmithKline
(GSK) - Get Free Report
. On March 13, Viacell announced encouraging preclinical findings evaluating unrestricted somatic stem cells in a small-animal model of myocardial infarction.
From my perspective, you are getting Viacell's research and development for free, because with a $200 million market cap, $60 million in revenue and a 20% growth rate, ViaCord alone makes this company a compelling investment. ViaCord contributed positive cash flow to the company in 2005.
There is also great opportunity for ViaCord to consolidate some smaller players and further accelerate its growth. Viacell has a sizable cash position of $60 million as of December 2005, and while FDA-approvable treatments resulting from stem-cell research are still in the future, news flow should be a positive stimulus for the industry in the coming years.
What better way to play an emerging technology than with a company that can win in two ways? ViaCord is a growth business already generating cash and reducing burn, while Viacell is pursuing research in a promising new field of medicine. Other industry players such as
Geron
(GERN) - Get Free Report
and
StemCells
(STEM)
don't have that luxury.
Both of these companies offer great growth opportunities at reasonable valuations in an attractive sector. Personally, I am very excited; maybe I won't have to suffer from aging.
Please note that due to factors including low market capitalization and/or insufficient public float, we consider Viacell and StemCells to be small-cap stocks. You should be aware that such stocks are subject to more risk than stocks of larger companies, including greater volatility, lower liquidity and less publicly available information, and that postings such as this one can have an effect on their stock prices.
P.S. from TheStreet.com Editor-in-Chief, Dave Morrow:
It's always been my opinion that it pays to have more -- not fewer -- expert market views and analyses when you're making investing or trading decisions. That's why I recommend you take advantage of our
to TheStreet.com's
RealMoney
premium Web site, where you'll get in-depth commentary
and
money-making strategies from over 50 Wall Street pros, including Jim Cramer. Take my advice --
At the time of publication, Bulwa was long NuVasive and Viacell, although holdings can change at any time.
Steven Bulwa is an independent portfolio manager based in Toronto. Under no circumstances does the information in this column represent a recommendation to buy or sell stocks. Bulwa appreciates your feedback;
to send him an email.