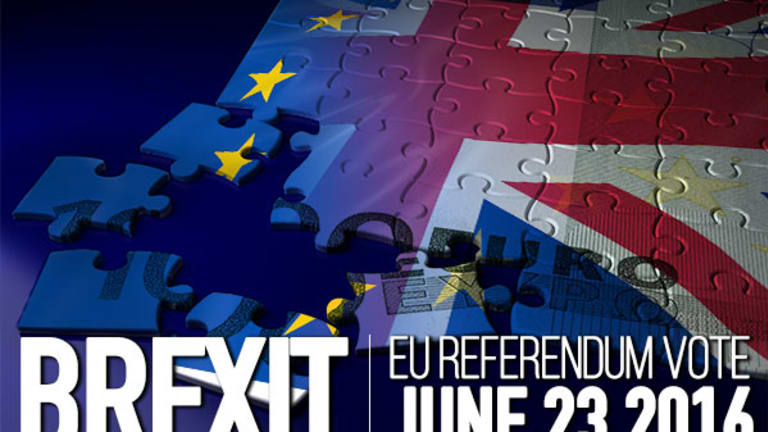 Ford Says 'Brexit' Will Cost Business Hundreds of Millions a Year
The car maker warns a U.K. retreat from the European Union would also jeopardize its car loans business.
Ford (F) - Get Free Report today has written to its 14,000 U.K. employees expressing its concerns about a possible "leave" vote in Thursday's referendum. It said that it could cost the business "hundreds of millions of dollars every year."
The U.K. goes to the polls on June 23 to decide whether it should leave the European Union. A Financial Times poll-of-polls today found that the "leave" and "remain" camps were neck-in-neck after last week's surge by the "leave" campaign.
Today, the Society of Motor Manufacturers and Traders, whose members include Jaguar Land Rover, BMWundefined and Toyota (TM) - Get Free Report, backed the "remain" campaign.
A separate letter signed by Ford Britain chairman and managing director Andy Barratt and Ford Credit Europe CEO Nick Rothwell stated, "We have deep concerns about the uncertainty and potential downsides for our business that could arise if the U.K. votes to leave the European Union."
The U.K. is the car maker's largest sales market in Europe and home to much of Ford's design, engineering and manufacturing operations. Ford Europe, which had been making "consistent financial losses", made a small profit of $259 million last year. "Our collective goal is to continue to turn the corner and create a vibrant Ford of Europe that consistently delivers a 6% to 8% profit margin," the letter stated.
The best way to achieve this, the company said, is for the U.K. to remain a member of a "reformed" EU.
In the case of a "Brexit", the car maker said that lack of trade freedom would have a significant impact of the company. The lack of trade agreements with Europe and other markets the EU has trade deals  with would result in a huge increase in tariffs.
"The U.K exiting the EU could ... result in a default to World Trade Organization tariffs of up to 2.7% on our engine exports and import tariffs of up to 10% on incoming vehicles. This would significantly impact our business," the letter stated. "The time taken to renegotiate trade agreements with the EU and other countries also risks leading to a prolonged period of uncertainty."
Ford also said that they may have to rethink its financial services business if there was an exit. Ford Credit Europe is registered and authorized as a U.K. bank. "Of the 19 European markets FCE serves, 12 are branches of its U.K. headquarters. This is known as 'passporting', and withdrawal from the EU could result in this freedom being withdrawn, posing a threat to this business model," the letter said.
At the time of publication, Jim Cramer's charitable trust Action Alerts PLUS held no positions in stocks mentioned.