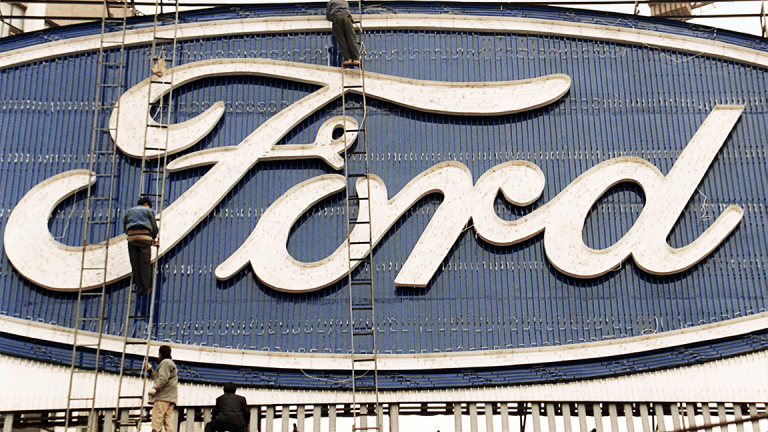 Ford Debt Takes Hit as Wall Street Questions Growth
Ford has has several problems internationally and now Moody's is taking note, as Wall Street ponders what's next for the company.
Wall Street is now recognizing Ford  (F) - Get Report  has a cash issue. 
Shares of Ford Motor Co. have tumbled more than 2% Friday to $9.48 per share midday as the company received a credit rating downgrade from Moody's Investors Service Inc. and as one big-time equity analyst expressed caution about the company's ability to sustain its current dividend if it doesn't enact some substantial changes.
Moody's Investors Service downgraded the car-maker's credit to Baa3 from Baa2, saying the credit outlook is "negative." The downgrade is based on Ford's international struggles, as it has been hit on several fronts in markets outside of the U.S. 
Ford's China business saw operating profits of $70 million in the first half of 2017, but swung to a loss of $633 million in the first half of 2018. Ford also said it "has no current plans to increase the manufacturer's suggested retail price (MSRP) on its import line-up in China," which doesn't help its margins. 
In Europe "continued losses are likely to worsen because of Brexit related costs from Ford's U.K. operation," Moody's pointed out. Ford's revenue in Europe was $7.6 billion in the second-quarter, just a 7% year-over-year increase. And its market share in the region went down to 7% from 7.3% from the year-ago period. While Ford did not provide sales guidance for its Europe segment, it did revise its total earnings per share guidance down to a range of between $1.30 to $1.50, in part because of its European segment. Guidance was "revised due to Asia Pacific and Europe," the company said on its second-quarter earnings release. 
Revenue concerns also led Morgan Stanley analyst Adam Jonas to take a skeptical, almost bearish, tone Friday. 
"The company must execute significant structural change." Jonas said, "The Moody's downgrade helps focus the attention of the markets across Ford's [capital] structure." On the debt front "Ford's 30-year and 5-year bond spreads both widened 20 to 25bps following the announcement," he wrote. " Ford's cost of debt remains more expensive than that of rival GM."
The recent developments will put material pressure on Ford's cash flow, Jonas thinks.
"We believe investors should anticipate Ford cash flow to fall substantially short of its dividend payment next year." Jonas did note that Ford has a strong balance sheet, and while it has seen marginal shrinkage in its cash position from December through June, its shareholders equity increased from $35.6 billion to $36.5 billion in that span, according to its financial statements. Still, Ford may not resume growth for a while, and instead will focus on de-risking in order to ultimately revamp its international presence. "Ford's balance sheet remains strong, but we believe this strength will be used to de-risk the global footprint and execute a necessary repositioning of the business model and portfolio," he said. 
To make matters worse, Ford said Friday that it will halt its plan to import its Ford Focus car into the U.S. from China, as a result of the 25% tariffs on China President Trump put in place in July. With the tariff, the planned import would make it a "very difficult business case for us," Kumar Galhorta, head of Ford's North America segment told reporters on a conference call. 
North America margins are seeing some compression because of higher costs, the note pointed out. US Tariffs on imported metals used to make cars have caused cost increases for car makers, including Ford.
Ford shares are down 25.41% this year.