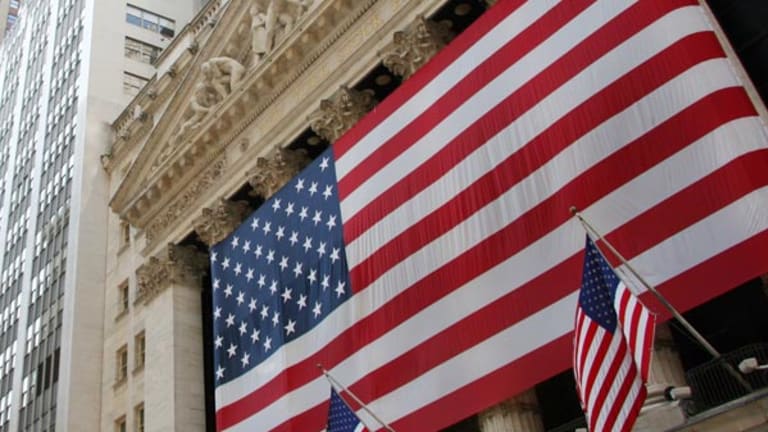 For Stocks, a Shiny New Quarter
Tech shares lead the way as investors shake off $50-a-barrel oil to open the fourth quarter.
Tech shares lead the way as investors shake off $50-a-barrel oil to open the fourth quarter.
Updated from 4:02 p.m. EDT
What a difference a day makes -- especially when it marks the beginning of a new quarter.
Stocks surged Friday, even as oil prices closed above $50 a barrel for the first time, on a beginning-of-the-quarter buying binge.
The
Nasdaq
closed up 45.36 points, or 2.39%, to 1942.20, and the
S&P 500
gained almost 16.92 points, or 1.52%, to 1131.50 -- their highest closing levels since early July. The
Dow Industrials
added 112.38 points, or 1.11%, to 10,192.65, as the blue-chip index recovered from Thursday's loss. All three major indices closed sharply higher for the week.
For the week, all three indices finished higher. The S&P 500 finished up 1.9%, the Dow rose 1.4%, and the Nasdaq gained 62.72 points, or 3.3%.
Volume on Friday was strong on the NYSE and Nasdaq, with advancing issues ahead of declining ones by a ratio of 7 to 3.
The 10-year Treasury note was down 15/32 to yield 4.18%, while the dollar was higher against the euro and the yen. Gold was lower.
Nymex crude reveresed course, with the November futures contract adding 48 cents to $50.12 in regular floor trading. Short-term supply worries persisted as the Nigerian government negotiated with rebels who have disrupted production in the past week.
Market-watchers were hard-pressed to attribute the rally to anything fundamental.
"I'm going to attribute
today's rally, more than anything else, to the fact that it's a new quarter," said Joe Liro, equity strategist at Stone & McCarthy Research Associates. The fourth quarter has tended to be strong in recent years, he said, adding that Friday's "economic numbers were no better than mixed."
Liro sees a modest rally in the fourth quarter. "Hopefully, we get the market to rally back to the March highs that we saw in the spring time; we'll be lucky if we do much better than that though," he said. Over the "last four or five weeks, we've seen third-quarter estimates pared back by about a percent overall for S&P 500 companies, and that fact leaves room for more upside surprises than downside surprises as we start seeing those earnings numbers in about two weeks.
"We saw strength in the economic news, and more specifically the construction spending number was positive, but there seemed to be a general sense that there's a turnaround in the market, and particularly in the outlook for growth stocks," said Ken Tower, chief market strategist at CyberTrader. "Growth stocks became very cheap as compared to value stocks, and so I think that's starting to attract some money to it."
Tower added that "we saw some good news out of the technology companies with the
PeopleSoft
(PSFT)
-
Oracle
(ORCL) - Get Report
news, which looks like it has been accepted positively in the market," Tower added, suggesting that the news bode well for Oracle's takeover play.
Friday's economic news was indeed mixed. On the down side, the University of Michigan reported its consumer sentiment index for September fell to 94.2. Analysts had expected a small increase to 96 points from 95.8.
But the Institute for Supply Management manufacturing index for September came in at 58.5 vs. a 58.3 consensus view and a reading of 59 in August. Construction spending rose by 0.8%, vs. an expected increase of 0.4%.
The day's political news had a limited effect on markets. Many media organizations published polls suggesting that Democrat John Kerry, the underdog, was the victor in Thursday night's debate with President George Bush, the market favorite.
According to Tradesports.com, futures contracts on Bush's re-election chances fell Friday to a low of 61.6% from an intraday high of 69.9% on Thursday. But most investors weren't moved.
"There's an overall anxiety about the election and the campaigning, and the fact that both candidates came off fairly well helps people lessen that feeling," said Tower. "Its not surprising that Kerry should get the good grades for yesterday's debate, because any time a challenger stands up alongside the president and conducts himself well, that comes across positively to the public at large."
Liro doesn't believe that the markets were reacting to Thursday's debates. "It really takes a couple of days for the nuances of these
debates to shake out. If in a week we start seeing a decisive move in the polls, one way or the other, it may influence the market," he said.
Tech shares continued their rise today because "the economic numbers are starting to suggest that the economy is moving out of the soft patch," said Peter Cardillio, chief market analyst at S.W. Bach & Co. "So the market now is discounting strong economic growth ahead along with improved earnings, particularly in the tech arena."
In corporate news, PeopleSoft said its board has decided to terminate CEO Craig Conway. It named its founder and chairman, Dave Duffield, as CEO, but Conway's ouster will make it harder for the software maker to fend off a hostile takeover bid from Oracle, and shares of PeopleSoft closed up $2.88, or 15%, to $22.83.
Shares of Oracle, which recently extended its $21-a-share offer and won a U.S. court ruling to proceed with its takeover, were also higher on Friday.
Shares of
Tivo
(TIVO) - Get Report
and
Netflix
(NFLX) - Get Report
were higher Friday after the two companies announced a deal to create a service that uses high-speed Internet connections to deliver DVD movies to home viewers. Shares of Netflix were up 5.9% to $16.33, while Tivo jumped 0.2% to $6.63.
Murphy Oil
(MUR) - Get Report
on Friday warned that third-quarter earnings would be lower than expected due to Hurricane Ivan-related production stoppages. The company now expects earnings between $1.15 and $1.35 a share in the third quarter, below the Street's expectation of $1.39 a share.
Another corporate warning came from
Alliance Gaming
(AGI) - Get Report
, which said restructuring costs and slower business in its first quarter would hurt earnings. The company said it would produce losses in the range of 9 cents to 14 cents a share. Analysts had expected earnings of 11 cents a share.
Defense contractor
Titan
(TTN)
announced Friday it had been awarded a five-year contract valued at $1.05 billion by the U.S. government. The company will provide engineering, technical and shipbuilding services to the Navy. Shares of Titan were up 2.3% to $14.29.
Shares of
Merck
(MRK) - Get Report
opened higher after dropping 27% Thursday on news that its arthritis drug Vioxx would be pulled from the marketplace. Shares closed at 33.31, up 31 cents, or 0.94%.
Shares of
Bristol-Myers Squibb
(BMY) - Get Report
rose after U.S. regulators approved its drug Abilify for the treatment of manic depression, or acute bipolar mania.
Overseas markets were higher, with London's FTSE 100 up 1.9% to 4660 and Germany's Xetra DAX gaining 2.6% to 3995. In Asia, Japan's Nikkei added 1.5% overnight to 10,985, while Hong Kong's Hang Seng was closed for a holiday.